Modern smart scales can measure more than just a user's weight; they also capture other useful health metrics, which is good motivation to use them frequently. But for those mornings when you would rather not know how you're weighing in, Withings' new Body Smart scale will still take those measurements, but hide them from its built-in screen.
Long before smartwatches transitioned to being wearable health monitors, Withings' smart scales were measuring everything from a user's weight, to muscle mass, to BMI, to even their heart rate. All of that information is wirelessly synced to a smartphone app, which makes it easy to track changes in health over time.
Withings has slowly expanded the type of health data captured by its smart scales, and over a year ago, it announced its Body Scan scale, which adds a retractable handle with four additional electrodes allowing it to record six-lead electrocardiograms (ECGs), as well as provide body fat, muscle mass, and bone mass measurements for a user's torso and their individual limbs. The Withings Body Scan scale still isn't available yet (the company expects it to be available in the US later this year), but today the company announced another addition to its smart scale line with fewer features, but also a price tag that manages to squeak in under $100.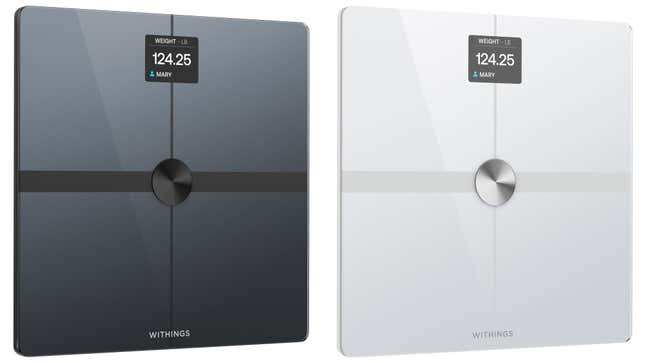 The new Withings Body Smart scale doesn't do ECGs or let you know if your legs aren't swole enough, but it still offers a comprehensive selection of health metrics, including weight, accurate to within 50 grams, which can even be recorded without telling you. A new feature called 'Eyes Closed Mode' will hide the user's weight from the scale's screen, and instead display encouraging messages of motivation, or other information like the day's air quality or weather forecast.
As with previous versions of the device, the Body Smart uses multifrequency bioelectrical impedance analysis, which measures the resistance and reactance of tissue to a small imperceptible electrical signal sent through the body, from one foot to the other. This allows the Body Smart scale to also measure fat mass, muscle mass, water weight percentage, and even visceral fat, which the company describes as "the type of fat that surrounds the internal organs that has been linked to an increased risk of heart disease and diabetes." The idea is that, by having a better understanding of their body makeup, users can make smarter decisions about diet and exercise moving forward.
Through a software update coming to Withings' smart scales in May, the Body Smart will also be able to determine a user's Basal Metabolic Rate (BMR), which is a measurement of how many calories the body is burning at rest while maintaining its basic vital functions—data that can be used to make more informed choices when it comes to caloric intake.
The Withings Body Smart is available starting today for $99.95 in a white or black finish with a full color LCD screen.