Hugh Jackman has revealed his supposedly final outing as Wolverine will have a bit of an unusual title, eschewing both a number and its hero's traditional name. Perhaps more importantly, the movie will also eschew "CG fuckathons," according to the script itself.

Jackman announced the film's title on social media, posting a grainy image of a new poster for the film, revealing the Logan name as well as the image of Wolverine holding the hand of a small child:
Here's a clearer version of the poster, courtesy of director James Mangold:
G/O Media may get a commission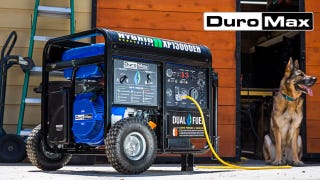 Black Friday Sale
DuroMax Generator Sale
Mangold also tweeted out a picture of Logan's screenplay, giving us a few clues as to the tone of the movie. Here's the image in full for clarity (don't forget to click the magnifying glass to enlarge it!):
According to Mangold, it's the second page of the screenplay—so considering the first line of dialogue we see from Logan in it is simply "Fuck" followed by getting into a fistfight with a group of hoodlums called the Bangers, Logan is definitely learning into its R-Rating.

What's most interesting about the page is how the script describes the movie's approach to violence. Calling out the "hyper choreographed, gravity defying, city-block destroying, CG fuckathon"of other action films (perhaps superhero film in particular) the script declares that Logan's characters will get hurt and die from anything, rather than having destruction reign down around them while they escape relatively unscathed.
That apparently applies to Wolverine himself, too—described as being older (the film has been frequently rumored as loosely adapting the "Old Man Logan" comic book storyline), with his powers not as functional as they once were... including his mutant healing factor, leading to a "constant state of chronic pain" and Logan turning to booze, and an apparent ever-sense of danger for the hero.
Looks like Logan is going to be quite a bit different from what we've seen from past Wolverine movies.