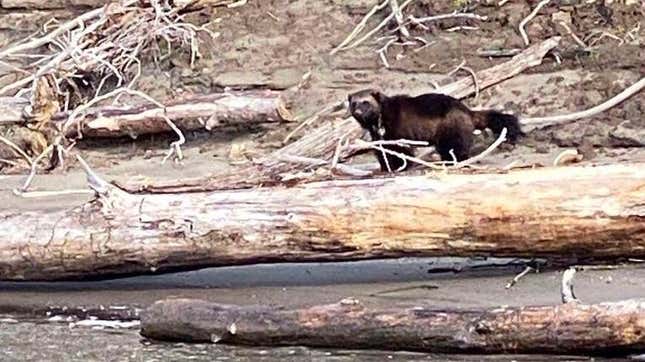 A wolverine sighting was reported outside Portland, Oregon on Monday, marking the first sighting outside the Wallowa Mountains in over three decades. The animal was thought to have been eradicated from the area in 1936, making this sighting highly unusual.
io9 Interview: Oscar Isaac Was 'All In' on Moon Knight
Two people who were fishing on the Columbia River called in the sighting to the Oregon Department of Fish and Wildlife (ODFW) which sent out wildlife biologists who verified that the wolverine had been in the area. The biologists discovered a set of wolverine tracks, but no other sign of the animal was found.
The ODFW did not immediately respond to Gizmodo's request for comment.
Wolverines are the largest member of the weasel family; they look a bit like small bears. Despite their intimidating nature, wolverines are reportedly not a threat to humans, and there have been no documented attacks. They are primarily found in Alaska and regions of Canada, but also have smaller populations in areas of Washington, Idaho, Montana, Wyoming, and Oregon.
"Given the proximity to Portland, we were very surprised when this report came in and elated when we were able to verify the sighting," ODFW District Wildlife Biologist Dave Keiter said in a press release. "We really appreciate the people who reported this rare occurrence and Cascadia Wild who helped us confirm the report and begin monitoring efforts."
The ODFW said in the release that it is unlikely the wolverine is still in the area, saying it can cover 30 miles in one day, but alongside the nonprofit organization Cascadia Wild, ODFW is utilizing information from its non-invasive monitoring stations which collect hair from passing animals using a strong-smelling attractant. The device will provide DNA samples which can help figure out whether the wolverine is still in the area.
"It is likely that this animal was dispersing as the habitat in the area doesn't meet the life history requirements of wolverines. … Chances that it remains in the Portland metro area and is detected again by the sampling devices are relatively low, but it could be observed again as it continues its travels," the press release said.
The ODFW reported 20 wolverine bait stations were set up in the fall and winter of 2021-2022 in Northern Oregon but only spotted one wolverine in the area. Based on the photos taken of the wolverine on Monday showing healed injuries on the animal's front foot and the "unique coloration on the chest," it was identified as a resident adult male and has been documented to roam the area since 2011.
A study documenting and analyzing the wolverine occupancy in the area will be carried out in another five years. The ODFW said in the release but also encourages individuals to reach out if they see any unusual animals, particularly wolverines, in the area by contacting Cascadia Wild's wolverine tracking project.