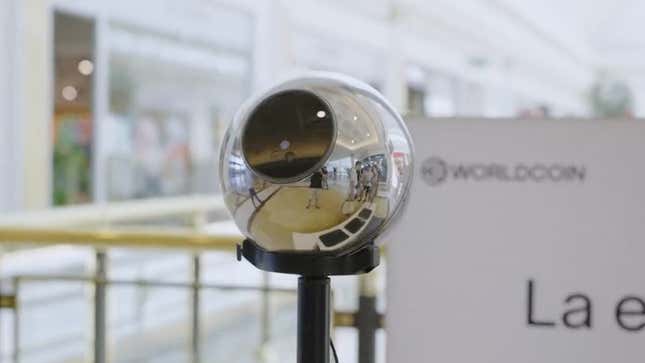 OpenAI CEO Sam Altman's sci-fi-tinged, iris-scanning cryptocurrency project Worldcoin began rolling out services internationally today. The extent to which Worldcoin actually delivers on its promise of a "new global digital currency," however, may vary dramatically depending on where users are located.
I Gave Sam Altman a Copy of My Eyeballs | Future Tech
On Monday, Worldcoin announced it has officially begun rolling out its "World ID" decentralized identity protocol and its "WLD" cryptocurrency tokens. In the 35 cities where Worldcoin is available, users can submit their iris scan to a local "orb" device and receive a share of WLD "simply for being human." The company has reportedly already verified two million volunteers' World ID's at orbs across 30 different countries since the company was founded in 2019, though many in developing countries have complained they never actually received any currency in exchange for forking over their eyeprints.
Altman believes the project, which uses a creepy basketball-sized metal orb to verify the identities of individuals through eye scans like India's Aadhaar, could help distinguish humans from bot armies and serve as a unique identifier to facilitate the tech world's favorite form of economic redistribution: universal basic income.
"Worldcoin is an attempt at global scale alignment, the journey will be challenging and the outcome is uncertain," co-founders Alex Blania and Altman wrote. "But finding new ways to broadly share the coming technological prosperity is a critical challenge of our time."

The startup claims it's managed to sign up more than 40,000 people per week into its World ID program during its beta stage. Now, Worldcoin says it's increasing its orb capacity worldwide up to 1,500 which it says will increase sign-up capacity fivefold. Worldcoin referred Gizmodo to the founders' announcement letter when asked for comment.
The buzzy startup has received hundreds of millions in funding from top tech investors like Andreessen Horowitz and LinkedIn co-founder Reid Hoffman in part as a means to solve the supposed age of AI amplified income inequality hastened by companies like Altman's OpenAI. Supporters of universal basic income, like Altman and former Democratic presidential candidate turned crypto shill Andrew Yang, believe it could provide a stable economic baseline for workers who may find themselves displaced or made redundant by AI systems. In Worldcoin's case, that redistribution theory relies on the success of its WLD token. The token's prices rocketed upward on Monday from its initial price of $1.70 before dropping back down to $2.35 according to CoinMarketCap.
One notable market where Wordcoin's redistribution vision won't work as intended however is the United States. Uncertainty stemming from the Securities and Exchange Commission's recent crackdown on cryptocurrencies has apparently made it too risky for the company to operate fully in one of its founder's home counties. Altman, who's spent the better part of the last six months artfully persuading US lawmakers to take a light approach to AI regulation, seemed less interested in fighting an increasingly uphill battle against crypto regulators.
"When we started thinking about this, we didn't think it would end up as 'world minus the US coin' and here we are," Altman said in an interview with the Financial Times. "I'd say there's 95 per cent of the world's population not in the US. The US does not make or break a project like this."
Blania, the company's other co-founder and CEO of Tools for Humanity, would rather the public not associate Worldcoin with the crypto industry at all.
"Crypto is hopefully a label that will get dropped over the coming years anyways, and it's just essentially the technology that you use to build certain products," Blania said during an interview with Bloomberg News.
Worldcoin off to a rocky start
Worldcoin has had to traverse over a number of roadblocks on its route to an official launch. A BuzzFeed News investigation into the company detailed hundreds of complaints from Orb users around the world who claimed they were never paid after giving up their Iris scans. Orb operators in charge of convincing people to stick their eyeballs up to the estimated $5,000 devices have similarly complained of harassment, arrests, and late payments.
Worse still, the company's growing collection of biometrics data has already helped usher in a small black market of irs data buyers. In China, buyers were reportedly discovered purchasing verified World IDs from users in Cambodia, and Kenya for around $30 each. The company previously told Gizmodo that the incident was limited to a "a few hundred instances" of fraud. Hackers have also previously figured out ways to install password-stealing malware on several orb devices.