Last month, Re/code reported that Amazon was in talks to create a streaming music service to bundle with Prime subscriptions. Now, the Wall Street Journal is reaffirming that rumor.
The Journal reports that Amazon is "hoping to offer an on-demand music-streaming service" to Prime customers—but it also cites people familiar with the matter as claiming that it "may limit how much a person can listen to any given song."
Apparently Amazon has been in extensive negotiations with record companies and music publishers seeking to license music for the new service—though it is, apparently, far from a done deal, largely down to financial terms. From the Journal:
Amazon has told record companies it would pay them out of a fixed pool of money, according to people familiar with the matter, instead of compensating them based on how often users listen to their songs. Music companies are seeking to withhold their newest music from the service, a person familiar with the matter said, though details were unclear as the negotiations are in process. The retailer has told some music companies that it plans to impose time limits on how long a user can listen to a given song or album on the service. The average duration of that limit couldn't be learned.
G/O Media may get a commission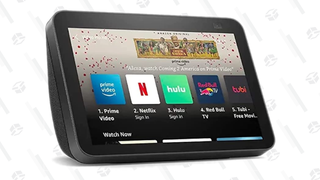 There are conflicting reports about exactly how big that pot of money is. But—if the rumors are true—Amazon's dominance in the sector will likely depend on how it stacks up against the likes of Pandora and Spotify in the eyes of the record labels. Let's wait see. [Wall Street Journal]
Image by MikeBlogs under Creative Commons license.