If your Facebook friend suddenly debuts an especially patriotic avatar this week, it might not be because they're extra excited about the 4th of July. To combat all that gay in their timelines, some conservatives are calling for true Americans cover their profile photos with American flags instead.
To counter the 26 million or so Americans who have added rainbow flags to their profile pics to celebrate marriage equality, those against the ruling are slapping stars and stripes across their avatars. Now they can understand why using the American flag might be confusing, right? Some might say that never in its entire history has the American flag stood for equal rights as much as it does right now. Now that the Supreme Court of the United States of America has legalized gay marriage in the United States of America. See what I'm saying? Nevertheless...
G/O Media may get a commission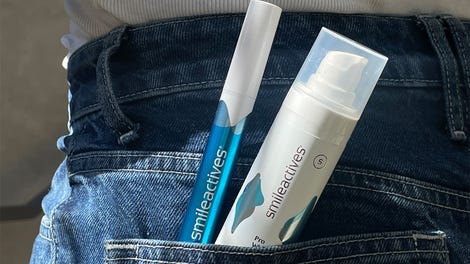 58% off
Whitening Powerhouse Pen & Gel Duo
A tool similar to Facebook's rainbow-maker can be found on RightWingNews.com. I wasn't able to find too many people who had used this specific tool (which to be honest doesn't work very well) but there were certainly plenty of avatars which had been American-ized, with some people like this radio host promoting the tool itself:

I did also find a conservative dog who was speaking out against the Supreme Court ruling:

The American flag as a symbol of anti-gay marriage sentiment is just sad. First of all, it's not really the opposite of a rainbow flag, it's more just, like, pro-US. It's especially misguided because so many people will be wearing and/or waving American flags this weekend—maybe even more than usual to celebrate a very good week for the country.

Update: There are some other American flag profile generators (here and here) which claim they are purely patriotic in their intentions (at least, they might be?). Which makes it even more awful that some are trying to convince others to use the American flag imagery as an anti-rainbow symbol when some people might actually want to show how proud they are to be Americans. Oh, and there's also a Russian flag generator which is supposedly not anti-gay but some have decided to use it that way, just because it's not rainbow.
Update II: The creator of the American Flag Profile Picture Tool (one of the links I included in the first update) sent me this email: "On Sunday a friend and I decided to make a flag overlay for people's Facebook photos. Unfortunately, we found out that some right-wing website was doing something similar but in an effort to remove the pride flags. Then yesterday we found your article. We would like to have the article updated because we are not associated with nor condone that behavior. Our goal was to bring people together. We wanted to remind everyone that we do have things in common (especially in this divided climate lately). So we would greatly appreciate if you could separate us from those other sites. Thank you in advance!"
Again, it's a shame that people who actually want to show their support for the country—especially this week!—have to worry about this kind of thing.