Amidst last year's presidential election, Silicon Valley was publicly at odds with Peter Thiel's support for Donald Trump. But that wasn't enough to convince people like Y Combinator's president Sam Altman to stop working with Thiel. Now, in what has to be one of the stealthiest announcements ever, the partnership between Y Combinator and Thiel has come to an end.
Buzzfeed News confirmed with "a source familiar with Y Combinator's management structure" that Thiel hasn't been working with Y Combinator for a while. He was one of ten part-time partners that advised startups in Y Combinator's incubator. The part-time partners program was quietly ended last year, and some of the partners moved over to the new "experts" program. Thiel wasn't one of them. Buzzfeed explains how this info first surfaced:

On Thursday, a tweet from the account of social networking company Gab – whose founder was kicked out of Y Combinator – noted that a March 2015 blog post announcing Thiel's appointment as a part-time partner at Y Combinator had been updated. That update currently reads "Edit: Peter Thiel is no longer affiliated with Y Combinator."
Seriously, this is a hilarious way to announce that your controversial partnership has ended:
G/O Media may get a commission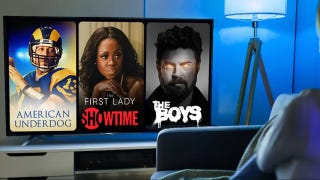 UNDER $1
99¢ Prime Video Channels
Altman caught some flack back in 2016 when he was willing to denounce Trump's policies regarding a Muslim ban (and compared the man who is currently our president to Hitler), but wouldn't denounce the powerful Thiel who has his hands in numerous facets of the tech and business world. Thiel, a founder of PayPal, who secretly bankrolled a lawsuit against Gizmodo's former owner Gawker Media resulting in the company's bankruptcy, was one of the only prominent members of Silicon Valley to publicly endorse Trump during the 2016 campaign. It became especially laughable when Altman wrote a blog post titled "Time to Take a Stand," in which he called for the tech industry to resist Trump's egregious disregard for humanity and decency. But at the same time, he couldn't even take the tiniest stand against his colleague who was helping Trump get elected and advance his agenda, beyond some weakly-worded statements.
So, it seems the easy way out was to end the program that Thiel was part of, start a new one with a different name, and bye bye relationship.
We've reached out to Y Combinator and Peter Thiel for comment on this story and will update this post when we receive a reply.
Update: This piece has been updated to include details of Peter Thiel's involvement in Gawker Media's bankruptcy.
[Buzzfeed]