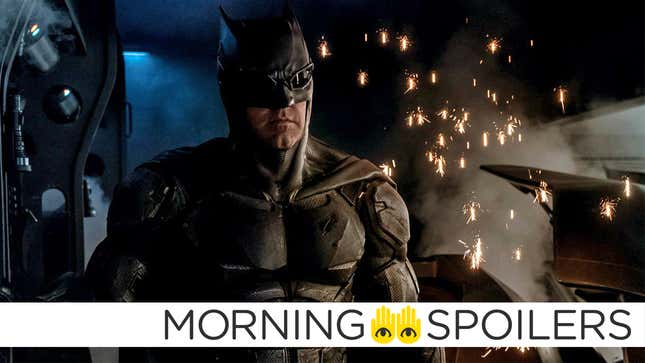 The Russo brothers' next project after Infinity War could be a Valiant Comics TV show. Of course the Power Rangers movie has a post-credits scene. Get another glimpse at the Inhumans show with more set pictures. Plus, the Defenders are in action in new videos from the set, and a new look at Transformers: The Last Knight. Spoilers, roll out!

Boogeyman's Director Talks Working on Bigger Budget Horror

The Batman
According to Variety, it's going to be a while until Matt Reeves begins work in earnest on the standalone Ben Affleck Batman movie—due to his contract for War for the Planet of the Apes, production will likely not begin until 2018.
What does this mean for now? Basically, any casting rumor is probably gonna be worthless:
---
Wonder Woman
Director Patty Jenkins confirmed on Twitter that boxer Anne Wolfe has been cast as Artemis.
---
Darkmouth
David Pimentel and Douglas Sweetland are slated to direct an animated adaptation of the YA fantasy series from author Shane Hagerty and publisher HarperCollins, which focuses on an overeager teen who becomes a monster hunter. [Coming Soon]
---
Power Rangers
Speaking with Collider, director Dean Isrealite promised a post-credits scene, because this is a superhero movie coming out in the year of our lord 2017.
It was always gonna be a coda. It was always gonna be sort of a post-credits scene. The only thing that we debated about that was where it comes two and a half minutes into the…after the main one ends, or is it gonna come right at the end of the credits. So we decided to kind of break the credits up.
---
Transformers: The Last Knight
Isabela Moner spoke about her character, Izabella, at Nickelodeon's Kids' Choice Awards.
---
Despicable Me 3
A new trailer introduces Gru's twin brother, Dru.
---
Mayhem
Here's a poster for an upcoming horror movie that sounds like The Belko Experiment meets Snowpiercer with a biohazard twist, and starring The Walking Dead's Steven Yeun.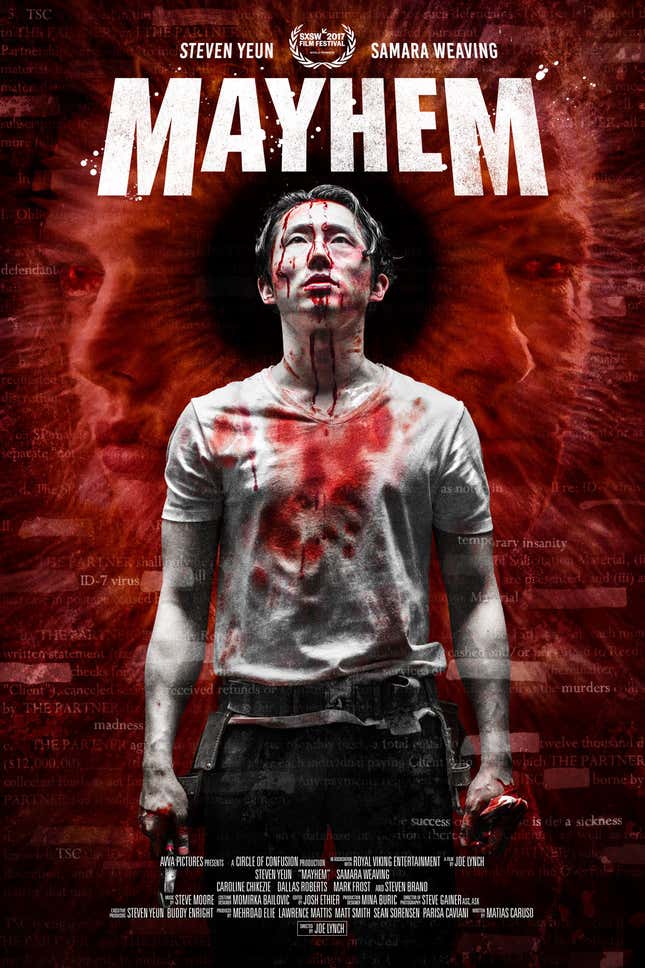 Coming Soon has the synopsis:
A dangerous virus, one that prevents the infected from controlling their inhibitions, is discovered in a corporate law building, the very same firm that recently cleared an infected man on murder charges. When a quarantine is issued and the building goes on lockdown, all hell breaks loose inside, while a disgruntled employee (Steven Yeun) and an irate client (Samara Weaving) must fight and even kill their way to the top to "have a word" with the corrupt executives who wronged them before time runs out.
---
Tremors 6
Director Don Michael Paul shared a photo of Jamie Kennedy inside the digestive tract of a Graboid on his Instagram page. Apologies if you were eating your breakfast/lunch, depending on time zone.
---
Quantum & Woody
The Russo Brothers are producing a TV series based on the Valiant comics series Quantum & Woody, according to The Wrap. The series follows two estranged adopted brothers who become crimefighters shortly after meeting each other in adulthood and getting superpowers.
---
Cloak & Dagger
Gina Prince-Blythwood spoke to Black Film about directing the Freeform pilot:
I've just been a fan of Marvel. When I heard what the story was about, it was right into my wheelhouse and the fact that my boys are big comic book guys and honestly, three years ago I was watching a Marvel show and my youngest ask when will we have a black superhero. The fact that we're so excited for Black Panther to come out, and the fact that I got to put something out on TV with a young female superhero and a black superhero was just a gift.

I came in to do the pilot so I'm excited for the opportunity to do it. It was such a great script and to be able to help create the look of the show was exciting for me. I love that they are starting to open up and broaden who there are bringing in.
---
Big Hero 6
Disney XD's Big Hero 6 series has been renewed for a second season, before the first has even started airing! [Coming Soon]
---
Inhumans
Even more set pics from Hawaii have turned up online, and here, if you squint juuuust hard enough, you get a glimpse of Medusa's hair and signature purple gown.


---
The Defenders
Some set footage has leaked to Youtube. The video shows a brief scene with Jessica Jones, Luke Cage (carrying a possibly injured Misty Knight), Danny Rand, and a bloodied Collen Wing from that most deadly of enemies: a post-production effect.


---
Once Upon a Time
Finally, the two-part season six finale is titled "The Final Battle, Parts I & II."


---
Additional reporting by Gordon Jackson. Banner art by Jim Cooke.