Publisher's Note: This missive is straight from the desk of GUNNAR Co-founder Jennifer Michelsen (featured authoritatively above). As you'll read, she is very passionate about the state of your eyeballs. So much so that she'll be in the discussion threads below to answer your questions. So let her know what you think — whether you agree or disagree with what she has to say.
We have become moths to a flame. Addicted. The flame is burning us right now with minor, annoying stuff like dry eyes, blurry vision & headaches, as well as long-term, more serious problems that can lead to blindness. The government mandates that the flame be of the cheap, crappy variety. Introduced in 1939, fluorescent lights are energy efficient, but are complete shit that emit HEV light that damages some pretty important parts of your eyes. It's the same with CCFL, LED, and OLED technologies. Get enough bad light, and you WILL go blind. This isn't breaking news.
We're human. We need light in order to see and process data. Whether we're inside or outside, bad light is usually there (UV and HEV). We have become conditioned to put on sunglasses for protection outside — they've become an 'I can't live without' fashion accessory.
Ever thought about what staring at your computer/mobile/TV/video games is doing to your eyes? I'll give you a hint — it's the same, only worse...because it's not reflected light, it's direct. The light guys have sold you on thinking it's safe, even good for you. It's not. They know it's bad and they don't care. Bottom line — it's cheap. Needless to say, like other cheap crap, you get what you pay for, and, surprise — it's bad for you. Look up at the ceiling and you will probably find florescent lighting there also. You're surrounded. You know it's BAD TO STARE AT THE SUN...do you really think it's ok to stare at a light bulb (computer)? I'm not making this up.
G/O Media may get a commission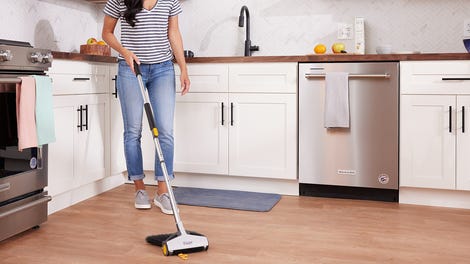 BOGO 50% Off
Flippr - BOGO 50% Off
We make GUNNARS.
GUNNARS redefine the way you look at the digital world and protect your eyes from the bad stuff. Yes, I am trying to sell you something. This is America; trust me, I'm not getting rich trying to protect your eyes. It costs money to design and manufacture products. It costs more money to manufacture products that are the highest quality available while convincing your investors that margin is not your primary mission.
Battery life may allow you to stare at a screen for ten hours straight, but it doesn't mean you should. Just like cars weren't designed for someone to be texting and driving. But shit happens. You wear a seatbelt in a car and you should be wearing GUNNARS at your computer. GUNNARS are protection for your eyes.
Since the first electric light bulb in the late 19th century, technology has progressed at a ridiculously fast rate. Your eyes haven't changed. Ok, that's not entirely true...the truth is that now we're destroying them at a similarly ridiculous rate. Someone infograph that. You cannot go to the genius bar and order a new pair of iEyes if yours start to fail. You cannot download an eye upgrade every year, but you can protect them. Just like you do outside.
SEE THE LIGHT YET? (See what we did there?)
I'm not your mother, but I'm going to tell you "you'll go blind'' if you don't start taking care of your eyes. RIGHT NOW.
Consider GUNNARS to be your next VS technology upgrade: VISION 2.0.
We get crazy questions all the time about other eye strain solutions...eyestrain apps, eye drops, glare protector. I'll say this one more time...NO, computer programs that change the color of your screen a little bit don't work. Start with bad light and change the color a little bit, and you just have bad light in a different color. LIGHT is only one of the problems. Here are the rest:
BLINK. By design, humans automatically reduce the amount of blinking when visual concentration is required, causing your eyes to dry out. That is bad because dry eyeballs allow even more damage. GUNNARS are wrapped to reduce dry eye problems.
FLEX. You're staring about 1-3 feet away. Imagine flexing your biceps constantly for hours. That's what your ocular muscles have to do constantly to stay focused in the mid to near distance. GUNNARS fix that by allowing your eye muscles to relax.
GLARE. Check out the glare off your glossy _insert device name here_. GUNNARS have anti-reflective coatings. Enough said.
Cheap safety glasses don't fix the problems. Computer programs don't fix the problems. Glare screens don't fix the problems. Eye drops don't fix the problems.
GUNNARS DO.
Although GUNNARS are clearly the mack daddy of computer glasses, your eye doctor can make you a custom pair from some "other" brand, if absolutely necessary. Just DO something! And get an eye exam, too. The number of geniuses who tell me they have 20/20, then proceed to tell me they've NEVER had an eye exam...are you serious? Also, your regular prescription glasses might be making the situation worse. You need computer glasses.
It's not rocket science. Let me slow it down:
Tint: Filters HEV Light
Shape: Improves Focus and Reduces Dryness
Coatings: Reduces Glare & Visual Noise
Material: Lightweight & Reduces Distortion
Frame: Ergonomically Designed for Comfort
Rx: Carl Zeiss Vision (160-year-old company. They know optics and they're the best. The difference between optics in a disposable camera lens and a high-end DSLR lens is similar to the difference between knock-offs and GUNNAR lenses. What is your vision worth?)
Failure to fix these issues will result in vision damage. If you don't believe me, here are some Google stats on increased MYOPIA, MACULAR DEGENERATION, and other eye health-related problems in America over the past 20 years. Vision issues currently cost the US $51B annually.
HSA/FSA, vision insurance, and benefits generally cover computer eyewear. Want free GUNNARS? Ask your HR department to contact us at b2b@gunnars.com. We work with numerous companies that offer them to their employees for FREE — because they CARE! Prescription: Rx GUNNARS.
Why are you still here? Vision is everything. GUNNAR.
LOOK for us on Twitter: @GUNNAROptiks
LOOK for us on Facebook: /GUNNAROptiks
I'll be in the discussions below to answer your questions — because I want to know what you think.