There are so many top-notch stalwart Vertigo series that it's hard to keep track of them all, and it's always a bummer when they're canceled. G. Willow Wilson's Air falls into both of these camps: it's awesome and going under.
I feel a tad sheepish recommending a book after its been canceled, but if you like the sound of a globe-trotting series about phantom nations, Amelia Earhart as a recurring character, lost Jules Verne manuscripts, and an acrophobic protagonist flight attendant hopelessly intertwined in the weirdness, by all means check this Eisner-nominated series out. M.K. Perker's art is also good stuff, and it gives the series a photo-real veneer.
Remember, Batman will stay in print until the sun snuffs out. Fly the flag of your favorite lesser-known titles and characters (get Pip The Troll airbrushed on your Camaro or something). Air is a strange, fun, and not screamingly bombastic title that deserves some love in its final days. After seeing many a fun Vertigo series snuffed before its time (I had a soft spot for Steven Seagle's American Virgin), let's at least raise a glass to this one.
What other titles may be in your wheelhouse?
- DC Universe Legacies 1 (DC): Len Wein helms this 10-part series recapping the superheroic history of the DC Universe.
G/O Media may get a commission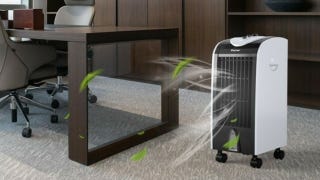 Save $10
Evaporative Portable Air Conditioner Cooler with Filter Knob
- Zatanna 1 (DC): Paul Dini takes on one of the only two superheroines who can pull off fishnets (looking at you too, Black Canary). It's an ongoing.
- GI Joe 18 (IDW): Chuck Dixon starts an all-new storyline featuring such Joe luminaries as Covergirl, Downtown, and Tripwire.
- The Walking Dead 72 (Image): Michonne sporting an evening gown and a katana on the cover is too good.
- Avengers 1 (Marvel): It's The Big Avengers Relaunch starring The Big 2.5 (Thor, Iron Man, and Bucky Cap).
- Dark Tower Gunslinger 1 (Marvel): A chapter in Stephen King's Dark Tower comic series begins under the aegides of Robin Furth, Peter David, Richard Isanove, and Sean Phillips.
- Age Of Heroes 1 (Marvel): A multi-creator tie-in featuring oft overlooked heroes like Captain Britain and Doctor Voodoo.
- Atlas 1 (Marvel): Jeff Parker's pulp heroes series goes back to 1.
- Joe The Barbarian 5 (DC/Vertigo): If you like Sean Gordon Murphy's Wolverine Alphabet, you'll gdig his pencils on Grant Morrison's story of a kid hallucinating a fantasy world in the throes of a diabetic shock.
- Stargate Vala Mal Doran 1 (Dynamite): SG-1's heroine gets the comic-book treatment.
Legion Of Super-Heroes Vol 6 1: Paul Levitz gives comicdom's most retconvoluted teen squad a new ongoing.
As for trades, we have The Ghoul hardcover (IDW; Steve Niles spins a yarn about a monstrous supernatural detective), reprints of volumes 1 & 2 of Frank Cho's females and fauna comic strip Liberty Meadows (Image), and the Judge Dredd Complete Case Files Vol 15 trade paperback (Rebellion; featuring a story by Garth Ennis and pencils by Carlos Ezquerra and Steve Dillion).
As usual, you can find a list of this week's releases here and the location of your friendly neighborhood comic shop here. Happy reading, folks!