Summer is almost here, and that means one thing: Escape! Everywhere in the Northern Hemisphere, humans will be fleeing their buildings and shedding their protective outer garments, even as the sun grows hotter and more intense. But for some of us, simply fleeing to large bodies of water isn't enough — we need to escape into stories.
And there's no greater summer beach reading than a really imaginative, cool adventure story. That's why we've compiled this ultimate list of genre books, that are out now or coming this summer, which make great companions on your voyage to the beach.
Note that this isn't an exhaustive list of all the books we're excited about this summer - we've picked ones that we think will make good escapist reading for your plane rides and long summer days lazing around.
Top image: Detail from Caliban's War cover art by Daniel Dociu.
---
Out Now:
G/O Media may get a commission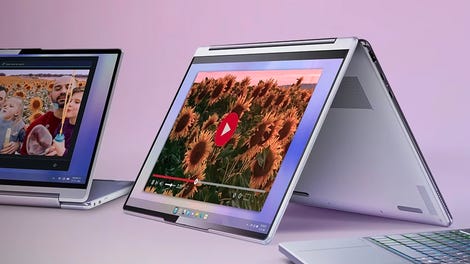 up to 70% off
Lenovo Spring Clearance
We loved this fun novel, out now in paperback, where high school kids in a dystopian future try to transform their lives — and save the world — by finding the ultimate easter egg in their favorite immersive game world.
This is the latest novel in Novik's beloved Temeraire series, an alternate history in which the Napoleonic Wars are fought with dragons. Needless to say, the dragons alter the balance of power in the world, and the fate of the Americas is quite different from what it was in our reality. That's what this novel explores, as the great dragon Temeraire and his captain Laurence go on a desperate mission to the Incan empire — where they discover a dragon culture unlike any they've ever seen before.
We gave a rave review to this eco-thriller about the war that comes after global warming. Full of unlikely allies, and even more unlikely spies, this is a terrific exercise in worldbuilding where bestselling author Buckell imagines the geopolitics of a world where the Arctic Ocean opens up new trade route — and creates strange new cultures in the process. Smart escapism, and perfect to bring to the beaches on the Arctic shore.
There's a reason why we called this book "pure crack." It's a fast-paced, weird adventure about alternate realities and what happens to the fabric of reality when your wishes come true. If you want your mind blown this summer, pick up a copy of this book.
In this young adult novel, award-winning author Hopkinson tells the story of Scotch, a mixed-race kid dealing with normal high school problems of fitting in and figuring out who she is — until her skin starts exuding a weird black substance, and her brother disappears. What is the "chaos" that's taking over her city, and can she stop it before everything is swallowed up like her brother was?
---
May:
It's the twelfth Sookie Stackhouse novel, and our intrepid heroine has to juggle a murder mystery (who is that dead person on Eric's lawn?) while dealing with Eric's current taste for the blood of a younger woman. The perfect novel for vacation reading.
Robinson's already given us a view of terraforming Mars — now he gives us a whole solar system, three hundred years into the future. An unexpected death leads Swan Er Hong, who once designed worlds, into a plot that could wind up destroying them instead. And the fallout could force humanity to face up to both its past and its future. This looks like Robinson's most thrilling book in years.
The author of the acclaimed Inheritance Trilogy goes High Fantasy with the first book in the Dreamblood duology. You can check out our review, in which we call it "a great tale of magic, religion and war, but also a story of all the hard lessons and choices growing up entails."
Bacigalupi returns to the world of Ship Breaker, for another post-apocalyptic environmental thriller that, by all accounts, is even more intense. Mahlia and Mouse escape from the drowned cities into the jungle, but their peace is shattered when they find a wounded "half man" — a bioengineered war beast named Tool — and face a tough decision.
The author of the acclaimed Easy Rawlins novels returns to science fiction, with two short novels published as a flip book. He's cooked up two fascinating thought experiments that also double as page-turning thrillers. In one, the Demigod Prometheus — who's been chained since he brought fire to humanity — finally escapes and comes to present-day Earth. In the other, scientists creating a new kind of animatronics for movies discover something that could transform the human race.
---
June:
The final chapter in the Newsflesh trilogy, the saga of the zombie uprising and the new-media people who attempt to chronicle it. And this time, the revelations are faster and more insane than ever. It's not too late to subscribe to this post-apocalyptic RSS feed, before the zombies get to you. Read the first chapter here.
The award-winning hard science fiction author brings us another great near-future story about how technology transforms the world. And this time, he's dealing with global communication and telepresence — and the ways everything changes when we discover an alien artifact that just wants to help us communicate. Expect a ride that's both thrilling and mindbending.
This is the Scalzi novel we've all been waiting for — one in which his wry wit and his clever insights into human weirdness could be deployed to the absolute best effect. It's an insanely meta tale of the starship Intrepid, where ensigns and other cannon fodder always seem to die on away missions, while the senior officers survive — but then one ensign starts to discover the truth about the Intrepid's true nature.
The sequel to Leviathan Wakes, which we called "as close as you'll get to a Hollywood blockbuster in book form." This time, James Holden and the crew of the Rocinante are dealing with an alien invasion, an "alien protomolecule" wreaking havoc on Venus, and a missing child. And the missing child may just be the most challenging of the three.
This is the debut novel that a whopping 50 agents turned down — and then it got a fantastic book deal, after multiple publishers fought over it. It's easy to see why: Alexander, a nurse in real life, writes a fun, breezy novel about a nurse who goes to work in a clinic where the patients aren't human. And she stumbles on a centuries-old supernatural feud that no amount of Fentanyl may be able to solve.
What if you want a real epic this summer? One which spans 10,000 years of future history and deals with huge, unimaginably cosmic ideas? There's pretty much only one author who's going to give it to you: Reynolds, who starts a whole new saga with the Poseidon's Children series. It starts 150 years in the future, when Africa is the world's dominant technological and political power — but everything changes when Geoffrey Akinya discovers a strange secret on the Moon. Huge, mind-bending stuff ahead.
---
July
This is the one to thrust into the hands of all your friends who are still into Twilight. The tagline "Friends don't let friends date vampires" is enough to hook almost anybody. How would you keep your best friend from dating a vampire who's inexplicably hanging out in high school?
Could this be your new fairytale obsession? Set in the dustbowl town of Slow Run, Kansas, Dust Girl follows Callie, a young girl whose mother goes missing in a dust storm — and then she receives a series of cryptic clues to search for her mother in the Golden Hills of California. Soon enough, she's caught between warring fae factions.
Stross returns to his Laundry Files universe for a fourth outing, in which an American televangelist with miraculous healing powers becomes uncomfortably close to the British Prime Minister. And the agent who's sent to investigate could cause a bigger disaster than the one she's supposed to be preventing, if Bob can't keep her in check. Could this be the time Bob fails to save the world?
Britain's best-kept secret is back, with a weird take on the locked-room mystery, drawing on Golden Age science fiction. This time around, the reader knows that Jack is the killer from the first page — but the solution to the mystery of the three murders will still be a shocking surprise. While all your friends are reading regular murder mysteries, you can blow their minds with this one.
Acosta returns with a cool new take on the "sinister boarding school" story — Jane Williams goes to the exclusive Birch Grove Academy on a scholarship, and finally has a group of friends and a sexy new love interest, the headmistress' son. But then she starts to notice ominous signs — including the recent suicide of a teacher and the mystery of the fate of the previous scholarship student, whose place she took. Expect a supernatural, disturbing take on class issues, plus a page-turning mystery.
---
August:
Ridley Scott's followup to Blade Runner may never actually happen — but in the meantime, there's this thought-provoking, eerie tale of self-replicating von Neumann ("vN") robots in a near-future Earth. Amy just wants to be just like regular human girls, even though she's actually a humanoid robot, capable of growing to adulthood much more quickly — and then she discovers that not only is she different from humans, she's also not like any other robots. It's a mile-a-minute thriller, that also manages to pack in tons of fascinating discussions about artificial consciousness.
Actually we're not sure when this is coming out in the United States — but fingers crossed. Meanwhile, it's a legal import. It's the sequel to last year's The Depature. The Committee has been vanquished and its robot enforcers lay dormant — but the ruthless Serene Galahad is ready to step into the power vacuum, taking control of the Committee's remaining infrastructure. Meanwhile, whatever trashed the Earth is still out there — and it's hurtling towards Mars. Space adventure as only Asher can deliver it.
The author of Queen City Jazz returns with a mind-bending alternate history that sounds like the strangest thriller ever. Sam is a young enlisted man in 1941, whose older brother is killed in Pearl Harbor. During World War II, Sam invents a device that will remove the human race's capacity for war itself, and he's seduced into giving the plans to a mysterious woman. And the device works — although the world is transformed in ways that are difficult to predict. The novel goes all the way up to the 1960s, when Sam and the mysterious spy have to team up to stop the Kennedy Assassination. This is the long-awaited paperback edition of this novel, which came out in hardcover in 2007.
Bond's debut YA novel explores the mystery of Roanoake, the lost colony, in a whole new way — as a pair of 17-year-olds in the present day discover that they may hold the key to bringing the missing colonists back. It's got a teen romance, a supernatural mystery, and some insane surprises that will no doubt keep you flipping pages.