YouTube has barred a channel belonging to parents who were convicted of child neglect after they stirred controversy for their prank videos depicting abusive behavior.
Mike and Heather Martin lost custody of two of their children and were sentenced to five years of probation last year. Authorities began investigating the Martins after other YouTubers, like Amanda the Jedi and Phillip DeFranco, started posting videos calling out the prank videos on the family's DaddyOFive channel, which had about 750,000 subscribers at its peak. Maryland Child Protective Services found that two of the children had experienced "observable, identifiable and substantial impairments of their mental or psychological ability to function," Frederick County Assistant State's Attorney Lindy Angel told the Baltimore Sun at the time.
Amidst the controversy, the Martins reportedly made the DaddyOFive channel private and deleted videos.
The Martins then moved from Maryland to West Virginia with the three children they still have custody of, and continued posting videos on their FamilyOFive and FamilyOFive Gaming channels, which had more than 400,000 subscribers combined, according to CBS affiliate WUSA9. The outlet, which has been reporting on the family recently, observed that the channels seemed to be a "toned down version" of DaddyOFive, but still depicted concerning activities.
WUSA9 reported that the channels were taken down by YouTube on Wednesday evening.
G/O Media may get a commission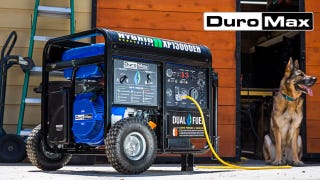 Black Friday Sale
DuroMax Generator Sale
"Content that endangers children is unacceptable to us," a YouTube spokesperson said in a statement to Gizmodo, explaining the decision. "We have worked extensively alongside experts in child safety to make sure we have strict policies and are aggressively enforcing them. Given this channel owner's previous strikes for violating our Guidelines prohibiting child endangerment, we're removing all of his channels under our Terms of Service."
The Martin's responded to YouTube's decision in a written statement to WUSA9: "Our family has worked very hard to heal and reestablish ourselves over the past 18 months. Through a lot of hard work and introspection, we are all doing well, and are happy. YouTube is something we enjoy as a family, and we will continue to do it, within the strict boundaries we have set for ourselves. For the sake of our privacy and continued healing, I have no further comment or anything past, or present at this time."
DeFranco, one of the YouTubers who originally spotlighted the apparent abuse in DaddyOFive, posted a video saying YouTube's action was "a bit late," but the right decision.
[WUSA9]