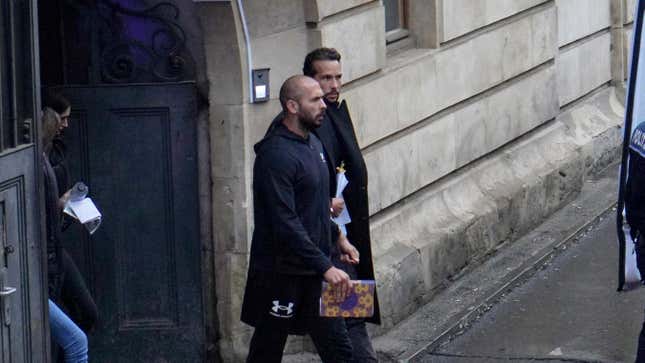 After signing up to YouTube as a new, 13-year-old user, Sky News found that YouTube flooded the feed with Andrew Tate videos, despite the professional misogynist being banned from the platform. The report highlights criticisms that YouTube is algorithmically pushing young boys to become fans of the toxic influencer who's facing human trafficking charges in Romania.

Meta's Apparent Firing Goof
In their investigation, Sky News posed as the fictional user and scrolled YouTube, Instagram, and TikTok to test whether or not those platforms would push content from controversial misogynist Andrew Tate and his equally awful brother, Tristan. After scrolling through YouTube Shorts for less than two hours, Sky News found nearly 30 videos featuring Andrew Tate and his brother that appeared in their account's feed, with the frequency of Tate videos increasing as time went on. Tate was banned from the platform in August 2022 after gaining fame on social media for spouting misogynist viewpoints.
"Following careful review of content flagged by Sky News, we removed some channels for violations of our circumvention policy, which prohibits uploading content from a previously terminated channel," Jack Malon, a YouTube spokesperson, confirmed to Gizmodo in an email.
Gizmodo opted to recreate the experiment by creating a brand new YouTube account posing as a 14-year-old boy (Google prevented a sign-up for a 13-year-old) named Joseph and scrolling through Shorts for 1 hour and 17 minutes. After scrolling through videos including a skit of a man coercing a woman to cheat on her husband with him in an airplane bathroom, a compilation of moments in women's soccer that involved players in vaguely sexual positions, and vape tricks on a cable talent show, but Andrew Tate never came up.
Sky News also conducted the experiment on Instagram Reels and TikTok by setting up an account on those platforms for the same fake 13-year-old boy. The outlet said that Instagram Reels served up fewer Tate videos and none appeared on the TikTok account's feed. Deliberately searching "Andrew Tate" on TikTok revealed dozens of videos both of his old content as well as some videos championing him. The search results on TikTok also include a warning message about hateful content.
Andrew Tate is a 36-year-old kickboxer turned social media personality who racked up millions of views, subscribers, and followers for spouting misogynistic views on his platform. After a meteoric rise to the upper echelon of content creators, for better or for worse, Tate and his brother were arrested in Romania in December 2022 for alleged human trafficking, along with two other suspects. Despite his arrest and ban from social media seemingly being the end of the Tate saga, his effects in teenage boys still linger. Teachers told Insider that teen and tween boys—some as young as 11 years old—are heralding Tate as an idol and talking about women in derogatory and misogynistic fashion in their own classrooms.