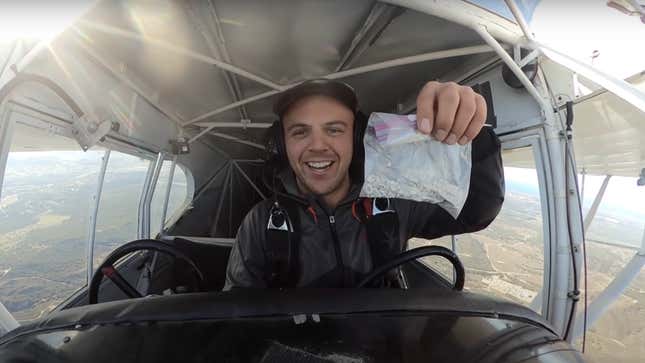 A YouTube pilot has pleaded guilty to intentionally crashing an airplane and intent to obstruct a federal investigation. Trevor Daniel Jacob, 29, of Lompoc, California ejected himself from an airplane he was flying in November 2021, claiming there was no safe place to land, while the plane crashed somewhere near the Los Padres National Forest.
Caleb McLaughlin Wants to Play Static Shock
Jacob installed numerous cameras on the plane before takeoff, according to a DOJ press release, and had equipped himself with a parachute and selfie stick, all of which captured Jacob ejecting himself from the plane and parachuting to the ground. He uploaded the 12-minute video to YouTube which has 3.1 million views at the time of writing. The video shows Jacob taking off before claiming the plane was malfunctioning 35 minutes later when he parachutes out of the plane and the video shows it crashing into the side of a mountain. Jacob records himself hiking through the park and complaining of exhaustion before being picked up by local farmers.
Jacob reported the incident three days later and told the Federal Aviation Administration (FAA) that he did not know where the airplane crashed, but according to a DOJ press release, the United States Department of Transportation had opened its own investigation and found that he and a friend returned to the wreckage site on December 10. The two reportedly flew by helicopter to the scene of the crash where they secured and carried the wreckage to Rancho Sisquoc in Santa Barbara County and loaded it onto Jacob's vehicle.
The report says Jacob cut up the wreckage and disposed of it in trash containers around the airport over the course of a few days, and Jacob admitted in the plea deal that it was done with the intent to obstruct the investigation. As part of his plea, Jacob admitted he had received a sponsorship deal from a company that sold numerous products including a wallet. Jacob agreed to promote the wallet in a YouTube video, and as part of his plea agreement, he confirmed that he had hoped to make money through the video.
The press release said he "further admitted he lied to federal investigators when he submitted an aircraft accident incident report that falsely indicated that the aircraft experienced a full loss of power approximately 35 minutes after takeoff." The release continued, "Jacob also lied to an FAA aviation safety inspector when he said the airplane's engine had quit and, because he could not identify any safe landing options, he had parachuted out of the plane."
The FAA revoked Jacob's pilot license in April of last year, and according to the release, his plea of one count of destruction and concealment with the intent to obstruct a federal investigation carries a sentence of up to 20 years in federal prison. A sentencing date has not yet been announced.