Here now, ripe for examination, is a zoomable, aerial view of San Francisco in 1938. Despite its age, the map's resolution is very, very impressive, which makes it endlessly fascinating to explore in Google-Maps-like fashion.
The image is a composite of 164 photographs, captured by aerial photography pioneer Harrison Ryker and stitched together by curators at the David Rumsey Map Collection. According to the Collection's website, the map's resolution is "generally better than one foot," but this is incorrect. In a guest post at the Google Maps Blog, President of Cartography Associates and Collection-founder David Rumsey writes that the image's resolution is, in fact, about 1 meter per pixel. That's still damn impressive. Higher, certainly, than many people probably realize was possible at a time that predates the mainstream adoption of television.
Those with time to kill would be advised to open the 1938 map in one window and Google's modern aerial map in another, and then zoom-in on various regions of San Francisco that have been separated by more than 70 years' time. (Another, perhaps better, option: use Google Earth's historical imagery feature to toggle back and forth between the two time periods. A shortcut: load up this .KML file of the 1938 map in Google Earth.) Golden Gate Park, for instance, looks very much the same:
While other parts of the city have been transformed entirely, the sand dunes that were once found on the Western edge of the Sunset district (which have since been built up into housing developments) being one of the starkest examples:
G/O Media may get a commission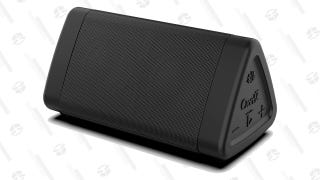 Save 31%
Oontz Angle 3 Portable Bluetooth Speaker
Head to the David Rumsey Map Collection to play around with it yourself, or have a go in the interactive applet featured here. Either way, you'll want to visit the DRMC blog for tons more background on Ryker and the process by which this composite came to be. Rumsey's guest post on the Google Maps blog is also worth checking out.
Via Peta Pixel