Chinese smartphone and networking equipment manufacturer ZTE scored another concession from the White House on Tuesday, with Reuters reporting that the Department of Commerce had decided to grant it a "temporary reprieve" from a ban on purchasing components from US companies that recently led to ZTE shutting down its operations.

ZTE is the company the White House essentially sentenced to death earlier this year for allegedly violating sanctions on Iran and North Korea, slapping it with a seven-year ban on purchasing or using US-made components in its products. That is, until Donald Trump struck some kind of backroom deal with Chinese leader Xi Jinping to lift the penalties in exchange for around $1.7 billion in fines, a total shuffle of its senior management, and a guarantee to allow unannounced site visits by US officials.
The Senate voted to intervene against Trump's decision to negotiate, citing in part concerns from the intelligence community ZTE could be using its products to spy on the US. But as of late June, senators were negotiating with Trump to allow him to lift the ban in exchange for tighter security restrictions, an approach endorsed by the House. On Monday, Bloomberg more or less proclaimed congressional hawks' efforts to keep ZTE out of business dead as a doornail.
With Congress willing to compromise with Trump on the issue, the Commerce Department is apparently working to get ZTE back in order as soon as possible. According to Reuters, the temporary order on Tuesday allows ZTE to purchase some US components necessary to maintain its current networks—and it's slated to be back at full capacity as soon as it completes transferring $400 million to the US as a security deposit against future fines:
The escrow agreement is still pending, according to a source. Until it is executed, ZTE cannot deposit the $400 million in escrow necessary to get the ban lifted.

While the denial order is still in place, the authorization grants a waiver to some companies that do business with ZTE to do so for one month, a source told Reuters.

The waivers allow for a limited type of activity but does not authorize any new business.
G/O Media may get a commission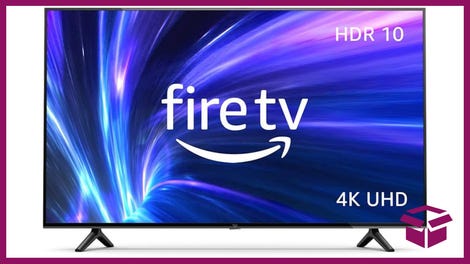 42% Off
Amazon Fire TV 50" 4K Smart TV
Reuters added a Commerce Department official told the agency last month they expect the $400 million to be deposited in the "next couple of days."
No word on whether the temporary waiver will allow ZTE to finally fix its broken New Jersey-made urinal.
[Reuters]