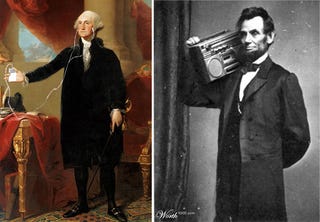 Happy Presidents Day, where we honor our first president, George Washington, born in 1732, and our 16th president, Abraham Lincoln, born in 1809. What does this have to do with gadgets? Well, there were plenty of techno-devices in the lives of these presidents, and some of them were precursors to those we worship today. Just not nearly as shiny. We follow the origins of some of these devices, tracing them from their primitive roots all the way to their appearance on Gizmodo:

George Washington, 1st President, 1789-1797
1790: The United States issues its first patent to William Pollard of Philadelphia for a machine that spins up cotton. Patents? Look at the mess that's turned into.
1791: John Barber invents the gas turbine. Hey, that's why we have jet engines for model airplanes.