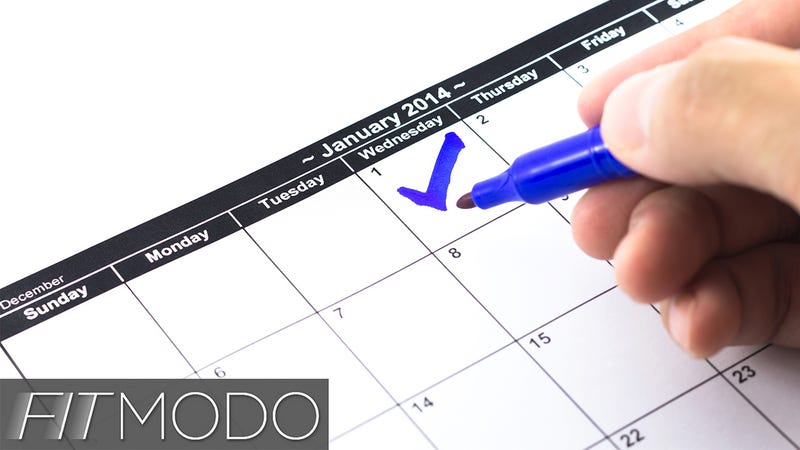 Raise your hand if you kept all of your New Year's resolutions in 2013. Good, okay, now only raise your hand if you weren't lying just now. Ahh, nice to see both of you. We always start the new year with the best intentions but, man, old habits die hard. Let's see if we can do better this year. Here are five tips that might just help.
Welcome to Fitmodo, Gizmodo's gym for your brain and backbone. Don't suffer through life as a sniveling, sickly weakling—brace up and get the blood pumping! Check back on Wednesdays for the latest in fitness science, workout gear, exercise techniques, and enough vim and vigor to whip you into shape.
Technologize
Eventually we'll all be slaves to robots and computers but, in the meantime, let's make them work for us. The website Gym-Pact (and its accompanying iOS and Android apps) are custom-built to help you follow through on the goals you set for yourself.
Essentially, you input how many times you want to work out in a week. Then, if you don't meet your workout goals, you have to pay. Like, pay actual money. There's an upshot, though: If you do hit all of your workouts, then Gym-Pact pays you! I guess there's always a surplus of slackers. It's pretty slick, and that cold hard cash (incoming or outgoing) might just provide the extra motivation you need.
Of course, there are plenty of other ways you can tech yourself out for fitness. A simple activity tracker like the Fitbit Force, the Withings Pulse, or the Basis B1 Band will give you insight into your daily activities and can help set goals and precisely track your progress toward meeting them.