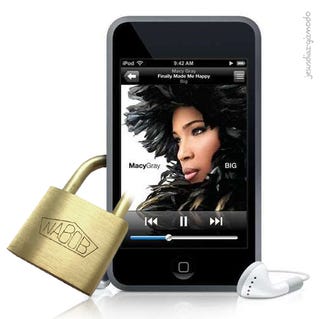 Condensed explanation: Digital rights management is a corporate pain in the ass that stops you from doing whatever you want with music and movies in the name of fighting piracy. But there's more to it.
Straight up, you run into DRM pretty much every day. Bought music from three of the four major labels or any TV show from iTunes? Played a game on Steam? Watched a Blu-ray movie? Hello, DRM. If you wanna get technical about it, digital rights management and copy protection are two different, if similar things. Digital rights management is copy protection's sniveling, more invasive cousin—it isn't designed simply to make it harder to steal content like straightforward copy protection—you thieving bastard you—but to control exactly how and when you use media. We're going to cover both here, since they both refer to technologies that restrict what you do with music, movies and more.
There are, approximately, 10,742,489 kinds of DRM and copy protection. Almost every company or format has its own flavor that works in a slightly different way from everyone else—Apple's iTunes-smothering FairPlay, Blu-ray's BD+, the restrictions built into every gaming console. They've gotten more complex and nuanced over time, too, as content delivery has evolved. For instance, elementary-school DRM would simply keep you from copying or converting or doing other unseemly things to a file, like playing it on a non-sanctioned device. Or you might remember old-school CD keys, before the days of online activation. Today's DRM, like for movie rentals, music subscriptions or software, constructs more elaborate obstacle courses, nuking videos 24 hours after you press play, or allowing a certain number of copies.
Many of these work in similar ways—files are encrypted with the DRM flavor of the day, and they're unlocked or decrypted for your use by authorized programs and devices. Think of it like a secret handshake that only certain programs or pieces of hardware know. Often, they're tied to an account like on Steam or iTunes. This makes it easy for the Man to keep track of and manage what you're doing with stuff—how many copies you've made, how many machines you've authorized to play your content, whether your monthly all-you-can-eat music subscription is still active, that kind of thing. DRM-busting cracks look for ways to strip that encryption out to allow free usage, copying or modification of the file.
So, aside from the fact that DRM keeps you copying or modifying content, and playing it on whatever damn player you wanna play it on, and maybe limits your time with a movie to a fleeting window, it doesn't sound so bad. Okay, it does. But it can get worse—like when DRM breaks. For instance, Valve's Steam network had a hiccup in 2004 that meant people were locked out of the game they paid to play. Or when Windows cocks up and tells users their OS isn't genuine. Or Sony's infamous rootkit CDs. Or when DRM servers are shut down, rendering music useless. The list goes on.