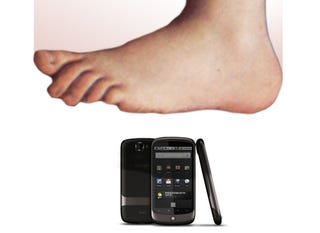 74 days after the iPhone was introduced at $600 a pop (six hundred dollars), one million were sold. The Droid, at $200: 1.05 million. The Nexus One? An estimated 135,000 units. By any measure, that's a total sales flop.
These numbers don't add up because the phone is good.
The Nexus One is only sold online and though T-Mobile, but 135,000 units is a ridiculously tiny amount. Especially when the Nexus One was announced for a long time on the most popular web page in the world: The Google home page. Only the Nexus One and Google's Chrome have been announced in that sacred place, which is used by a gigazillion people every day. It's the most watched, most expensive advertising spot on the planet.