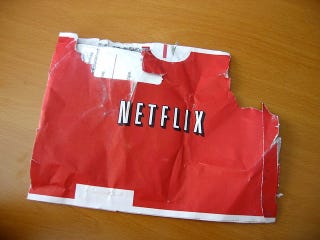 Adage reports that Netflix is replacing its chief marketing officer Leslie Kilgore. You don't say? I'm nearly as surprised as I was when yesterday was Thursday. Netflix' marketing was nothing short of disasterous last year.
It's little wonder the company is looking for someone new. Kilgore has been running Netflix marketing since 2000, and obviously has done a lot of good work in that time. But 2011? Sheesh. It was an utter disaster. And much of that can be laid at the feet of bad marketing.
The thing is, Netflix' actual product—video delivery—remained solid. In some ways (like its new iPad or Android apps) it even improved. But marketing and messaging was an outright disaster. I mean, it took one of the most-recognized brands in technology, split it in half, and renamed its main business after a foul-mouthed, dope-smoking kid on Twitter without ever bothering to secure the handle.