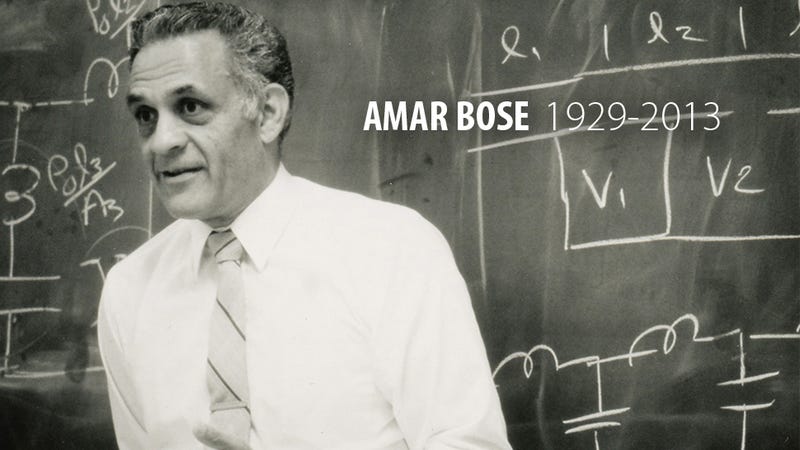 Dr. Amar Bose, the man who founded one of the best-recognized consumer audio equipment brands in the United States has died at the age of 83. The MIT-trained electrical engineer, professor, and entrepreneur significantly altered the way people think about consumer audio, especially over the last few years as audio technology has become increasingly small and portable.
Dr. Bose was born in 1929 in Philadelphia, and holds both undergraduate and graduate degrees in electrical engineering from MIT. He also served on the MIT faculty for 45 years. There, he was widely recognized for his excellent teaching as well as his pioneering research in acoustics and loudspeaker design.
And it was this research that lead Bose to found his famous audio company in 1964. Indeed, the company's slogan is "better sound through research". Bose's original product was the odd Bose 2201 speakers, which each featured 22-full-range drivers installed into a box-shaped like an eighth of a sphere. The idea was that with a pair placed in the corners of a room, you could achieve "sound realism". The product only lasted one year.
Over the years, Bose moved towards what we recognize as mainstream products for personal and car audio. Though Bose wasn't always the first to market with certain gear, it frequently made products with the right combination industrial design and audio quality. They satisfy a market of affluent consumers who aren't exacting audiophile nerds.
While Bose certainly wasn't the first company to try to make expensive audio products for very large numbers of people, it's hard to think of any company that had more to do with mainstreaming $500 clock radios (the precursors to iPod docks) and $300 headphones (long before Beats ever got there).
As Bose grew into one of the largest audio brands in the world—its revenues in 2011 were reportedly $2.8 billion—the company has been criticized for producing overpriced kit. We'll leave that discussion to another time and only note that its noise-canceling headphones are amongst the best you can buy for the money.