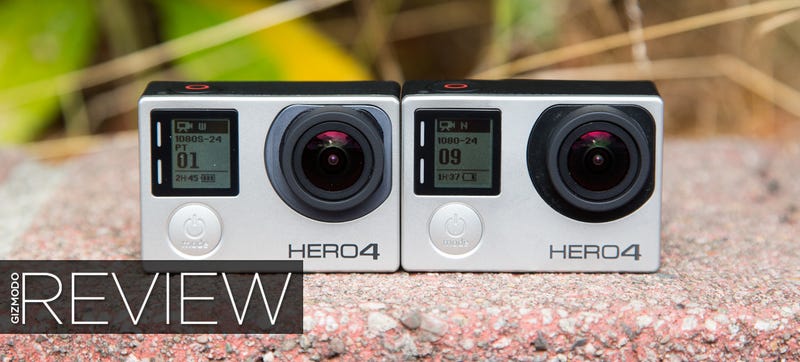 You know how people call every kind of facial tissue "Kleenex," even if it's technically from another brand? These days, GoPro is practically synonymous with action cameras. I can't use any other action cam without someone asking me, "Is that a GoPro?" But there's a damn good reason why GoPro is on top of the world.
The new GoPro Hero4 Black and Hero4 Silver are two of the very best action cameras you can buy. Most of the competition isn't even close. For whatever reason, though, we haven't done a full-on review. Let's fix that now.

So what's an action camera, anyhow?
If you're asking yourself, "Why wouldn't I just shoot video with my phone?" you probably don't need an action cam. Modern smartphones typically shoot excellent video, but action cams are valuable because of their form-factor. They're small, light, aero/hydro-dynamic, and tough. You bust them out in circumstances where using your phone would be impractical, or hazardous. You wouldn't stick your phone to your surfboard and paddle out into six foot waves. You wouldn't strap your DSLR to your head and go snowboarding. But if you want to strap one to your baby, your dog, a firework, a flying drone or a ceiling fan, they're good for that, too.
What's a GoPro? A tiny, boxy little action camera that's typically one step ahead of the pack in image quality and features—plus an absurd number of mounting options made both by GoPro and by third-party companies. Everything from 3D printed 360-degree camera rigs to aerial photography drones (i.e. the popular DJI Phantom rigs) are built specifically to house GoPro cameras. There are also steadicams, selfie sticks, surfboards with GoPro mounts built directly into the deck. It gives you a ton of options.
Which brings us to the GoPro Hero4 Black, the new flagship $500 model. And the GoPro Hero4 Silver, which is $100 cheaper than the Black, but almost identical. The Black's claim to fame is an ability to shoot 4K video at 30 frames per second, and 1080p video at 120fps (for some very sweet slo-mo.) The Silver's processor is a bit slower, so it can't manage those higher frame rates, but the optics, the image sensor and everything else looks just as good. Basically, if you're shooting 1080p at 60fps, the two are indistinguishable.
Oh, except that the Silver has an LCD screen which is very handy for lining up shots and review footage on the fly, which is nice for adjusting settings because it's touch-sensitive too. It's a bit counterintuitive that the flagship Black edition is the one that doesn't have the screen, but… yeah, I don't know how that happened.
In terms of design, the Hero4 cameras basically look just like the Hero3 and the Hero3+. It's that same little box that GoPro's been using for the last three years, and that means it's compatible with basically all of GoPro's mounts and housings since 2012. Mics and lights are shifted around slightly, but the only major difference is that the battery panel is now on the bottom instead of the back. It actually makes the battery a little tougher to access when the camera is in a housing, but I guess they had to make room for the touchscreen on the Silver.
Speaking of housings: The waterproof housing that comes with both cameras is rated down to 131 feet deep, which should be more than enough for all but advanced-level SCUBA divers. By comparison, Sony's flagship action cams come with a case that's waterproof down to just 15 feet, which probably won't even be enough for vigorous snorkeling.
In or out of the housing, you can adjust all a GoPro's settings using just three buttons, and it's even easier on the new Hero4 cams. Now, the side button gives you quick access to the settings for whichever mode you're in (e.g. video, photo, or multishot). There's still a fair amount of button-pushing involved to swap modes, but it's a hell of a lot easier than it used to be. For example, to simply change the video resolution and get back to shooting, it took a minimum of 10 clicks on the Hero3+. It takes only four on the Hero4.
I've found the GoPro mobile app to be pretty reliable and intuitive, too. You can remotely control the camera, start/stop recording, and adjust pretty much all of the camera's settings, in addition to framing shots, quickly playing back footage, and transferring photos and videos over to your phone for quick sharing. Most every action cam has an associated app now, so while it's nothing to write home about, it's a solid performer.
Unfortunately, the same can't be said of GoPro Studio, the company's video editing software. It has some good ideas, like templates that allow you to just drag and drop clips into cuts that are pre-timed to music, but it's a buggy, crashy mess. Fine adjustments are often impossible, and I've been halfway through edits when suddenly it can't find any of my media, and I spend an hour trying to reconnect every lost clip (one by one because it can't do batches!), only for that to fail and to have to start the whole project again from scratch.
It needs some serious work, but at the same time, pro-grade applications like Adobe Premiere really struggle with 4K footage and 120fps frame rates (on my two year old, maxxed out MBP), and that sucks a lot, too. Basically, if you're buying this camera to shoot 4K or high framerates, prepare for editing to be a real pain in the junk. Anything under 1080p60 should be fine on a reasonably new system.
There are some new additions too, like Bluetooth, though its integration is a little confusing. The Bluetooth (which currently only works with iOS) doesn't connect directly to your phone, but rather uses it to know when your phone is nearby to reduce power consumption when pairing with Wi-Fi. It would be nice if you could record audio through external Bluetooth mics or integrate with Ripcurl's Search GPS Surf watch to put your videos on a map. So far it doesn't do any of that. However, a new accelerometer inside the camera can detect changes in orientation, letting you mount the camera upside down without worrying about needing to flip the footage afterwards. Well, after an upcoming firmware update, anyways.
That's all good stuff, but the real reason the GoPro remains our pick is much simpler…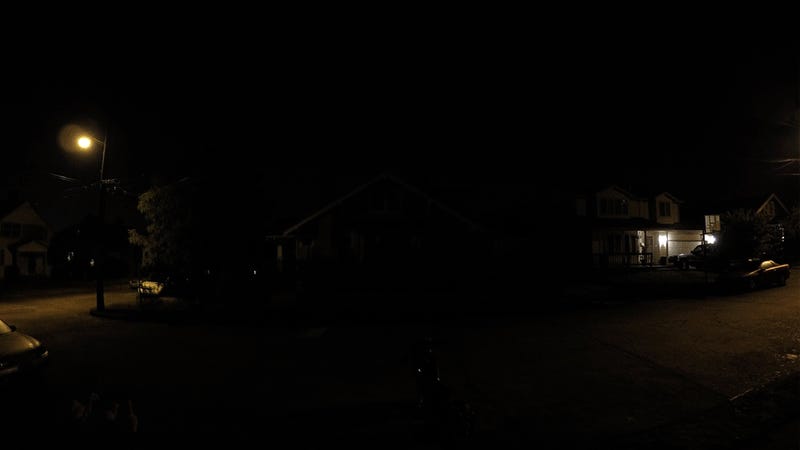 Image Quality
Simply put, video shot with the Hero4 (both Black and Silver editions) looks better than the competition. The upcoming 4K Sony Action Cam might put GoPro to the test, but for now it's no contest. Details are sharper, colors are more accurate, and critically, the GoPro has excellent dynamic range. Even when a subject is backlit by the sun, you can usually see their face. It feels like HDR, and it's really impressive. Also, the low-light capabilities are much improved this year, as you can see in the GIF above comparing a Hero4 to a Hero3+. GoPro also has the most video modes, resolutions, and frame rates to choose from.
Let's take a look at some of those:
The above video contains footage of the Hero4 Black's banner features, namely 4K at 30fps and 1080p at 120fps. Both look really, really good. I especially think the surf and deep water shots stand out for clarity and evenness. If you want to see more 4K samples, check this video, and if you want more 1080p at 120fps, click this.
As you can see in this comparison video, the Hero4 Silver does a really nice job keeping things balanced and exposing correctly. It's the best in low light, it has very solid audio (when not inside its waterproof case), and colors are pretty true to life. Obviously, this video only shows it against three other cameras—all of which are $100 or more cheaper than the Hero4 Silver—but still, it's the clear winner in these tests (make sure you watch at full resolution).
Additionally, the Black edition is getting a few new and very sweet modes, which you can read about here from when we got our exclusive first hands-on.