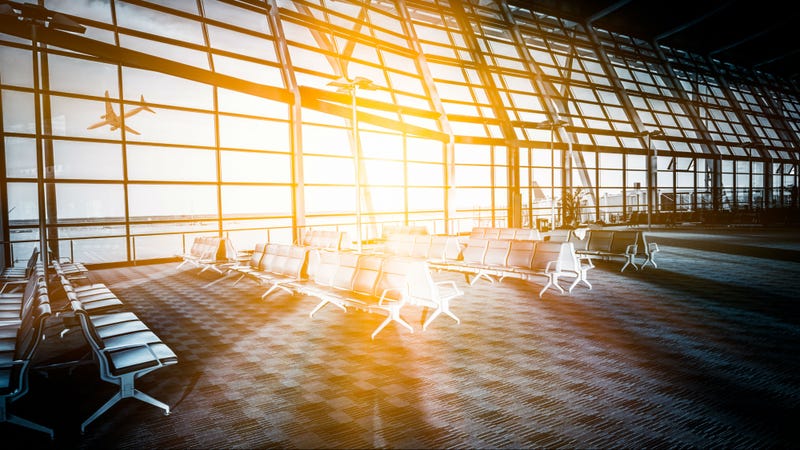 Starting today, Americans will engage in the county's annual combat ritual: Holiday Travel Season—a brutal tradition pitting travelers against the monolithic security and transportation apparatus in a race to their respective destinations. Believe it or not, it's possible to make it through with your dignity intact. It just takes a bit of planning.
The frustration mounts the moment you set foot on the airport curb. Bobbing and and weaving your way through the herds of flailing travelers, skycaps, and rental luggage carts is bad enough. But it's once you make it past the doors that the real challenge begins: Check-in.
---
Don't Check Out While You're Checking In
The Airlines for America trade organization estimates that some 25 million people will be flying this holiday season, and apparently most of them are trying to get onto your flight, right now. Avoid the traditional face-to-face check-in line if you can; they're typically much longer, move slower, and are filled with more large families (and their menageries of bags).
Use the self-service kiosks if at all possible, assuming you only have carry-on bags. Or, better yet, use your airline's online check-in option and print your boarding passes before you even arrive at the airport. The major airlines—American, Delta, United, JetBlue, and Southwest—all offer the service either at their websites or through their apps, as do a number of regional outfits like Frontier.
If you're unfortunate enough to have checked baggage, be prepared for the possibility that some or all of it will be smashed, rifled through, misdirected, or lost. Probably a combination thereof. Luckily there are a number of tools that can help minimize that blood pressure spike when you realize that your bags really aren't simply stuck down on the conveyor belt, they're halfway to Poughkeepsie.
Affix a GPS tracking tag like the Trakdot to know exactly where your gear is at all times. Also be sure to use TSA-approved locks—which open with a master key that only the TSA has—on your bags to keep hungry-eyed handlers out of your stuff. And if the airline still manages to bungle the return of your bags, remember first to breathe and then begin your mantra, "don't get mad, get results."