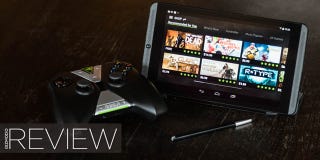 Nvidia's Shield tablet was made for playing games. That's what it's best at. But it's also much more. In fact, it should probably be your next Android tablet no matter how much button-mashing you do.
What Is It?
The Shield is Nvidia's first real tablet, and the first tablet at all to be driven by the absurdly powerful K1 processor. It's a pure Android device with an 8-inch, 1920 x 1200 screen, running stock 4.4 Kit Kat. Most importantly (and impressively), it's a console impersonator, complete with (optional) Wi-Fi direct controller, and an HDMI port for connecting to your TV. It's the most powerful Android tablet you can buy, with a shockingly reasonable price tag.
Why Does It Matter?
Nvidia's K1 processor is nuts. It's a 192-core Kepler-based chip, which is to say desktop power in a tablet-sized package. For your average Android app this is very much overkill, but paired with K1-optimized games (11 at launch, hopefully more to come), the Shield tablet offers unprecedented power in such a tiny package. This really is console-grade gaming inside a totally unassuming tablet.
The Shield tab is also an exciting spearhead into not only the world of niche-interest tablets but gaming tablets, gaming tablets that are a little more traditionally tablet-y than, say, the Razer Edge. This is hopefully the first of many, increasingly powerful and increasingly well-tuned games machines that are also just great tablets.
Design
The Tablet
A little on the chunky side, but still a slick little 8-inch tab. It looks kind of like a giant HTC One, complete with the pair of front-facing speakers (in addition to two more on the sides). At 9.2 mm thick, it's thicker than pretty much every other tablet out there including the iPad Air (7.2), iPad mini with Retina (7.5), Nexus 7 2013 (8.7), and the Kindle Fire HDX (7.9). It's exactly the same thickness as the Surface Pro 3, an actual computer. It's also a bit on the heavy side at 390 grams.
It doesn't feel ridiculously heavy though. It works just fine one-handed. It just feels a little husky in comparison to featherweight contemporaries like the 8.4 inch Galaxy Tab S, which weighs in at nearly 100 grams less. But the Shield tab is a powerhouse. Light isn't what it set out to do. And I can still fit it in my back pocket, which is all that really matters.
Weight aside, the Shield tab still looks and feels great. Its heft is very evenly balanced and the way its sides taper slightly inwards makes it thinner and deliberate. The chamfering around the buttons and the screen lend it a conservative and stately look all gaming mature gaming hardware should have. The single green line above the micro USB charging port and a dot on the power button are the only splashes of color here. Other gaudier gaming-centric devices—hello, Razer—could take a few notes on not overusing green.