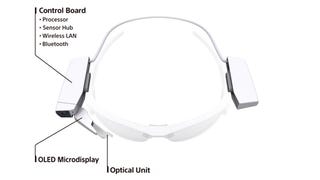 Sony has announced a new display module that clips onto the frame of any piece of existing eyewear in order to turn it into something more akin to Google Glass.
Google has announced that Glass is getting a hardware update following its extended Explorer testing feedback—but current owners won't get upgraded.
A couple years ago we saw Epson's Moverio make its debut. It was kind of like a double-eyed Google Glass, but it had a lot of issues. It was bulky, it was dim, it didn't have any sensors. Basically, it didn't do much. Today, the BT-200 is here, and it's undeniably much, much better. The only question is, who's it for?
Those ahead of the curve enough to be in possession of Google Glass can now swap their existing pair of smart specs for an updated version of the hardware—free of charge.
Few medical instruments evoke the stomach-churning dread that needles do, especially when finding the vein takes multiple stabs. But thanks to a new wearable trans-dermal imaging system from Evena Medical, even neophyte nurses will be able to tap your veins without turning your arms into pin cushions.
According to a report by the New York Times, Google will today announce a rich new set of musical features for Glass which will provide a better audio experience for those who choose to wear the devices.
Microsoft may have not hopped on the smartphone bandwagon especially early, but they aren't about to be left behind again. According to the Wall Street Journal, Microsoft is already working on its own smartglasses. Yup.
Vuzix, which specializes in technofancy optics, is so eager to ride the coattails of Google Glasses that they're releasing their own version: the Vuzix Smart Glasses M100. The M100 smart glasses run Android Ice Cream Sandwich and has a 720p camera along with Wi-Fi, Bluetooth and head-tracking sensors. Which means,…
Here's a pair of glasses from PixelOptics that replace bifocals, changing from distant vision to close-up with the flick of a switch. Sure, this prototype is rather odd-looking, but its developers say future versions will be indistinguishable from conventional eyeglasses. The technology works using an extremely thin…