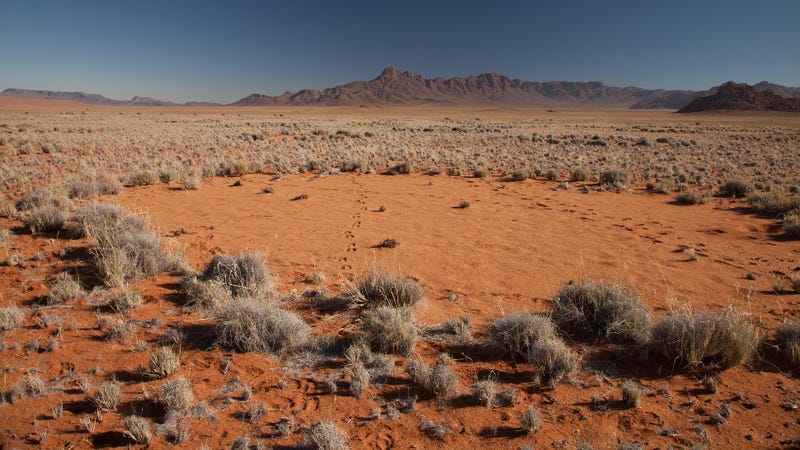 For decades, scientists have struggled to understand the strange circles of barren land that litter the Namib Desert. Called "Fairy Circles," their formation has been attributed to everything from supernatural forces to poison gas and subterranean insects. Now, scientists may have finally solved this enduring mystery.
A new study published in Nature has found that Namibian Fairy Circles are the product of not one, but two ecological forces. By combining field observations and computer models, researchers from Princeton University, the University of Strathclyde in Glasgow, and several other institutions, have shown that the interaction between both termites and self-organizing plants (i.e. plants that either clump themselves together or disperse according to the availability of resources) is sufficient to explain this enigmatic landscape feature. Importantly, this new theory could be used to solve similar mysteries around the world.
Found at the intersection of grasslands and the desert, Namibia's Fairy Circles are hexagon-shaped patches of bare soil that are surrounded by rings of tall grass. These features, which number in the millions, measure anywhere from six to 115 feet (two to 35 meters) wide, and extend for hundreds of square miles across southern Africa's Namib Desert.

Over the years, a number of explanations have been posited to explain the strange features. The circles have been attributed to self-organizing plants, grazing ants, subterranean termites, poisonous shrubs, and even toxic gases, such as carbon monoxide, that leak from the ground. Locals say they're the work of supernatural forces.
Of all the theories, however, root-eating termites and self-organizing plants have emerged as the leading candidates.