What if something as simple as an old plastic bottle filled with water could mean the difference between light and darkness? Rudimentary as it may sound, the almost no-cost solution is uplifting the quality of life of thousands of families in the Philippines, who either have no access to electricity or use dangerous kerosene lamps or shoddily wired light bulbs that have been known to cause fires. These basic lamps basically act as skylights — except much more powerful — and amplify the rays of the sun and act as light bulbs during the day, using no electricity at all. The organization behind the installation of the bottle lights, Isang Litrong Liwanag or 1 Liter of Light, was started by Filipino student Illac Diaz just a few years ago but their cause has inspired so many that now they've committed to a goal of placing 1,000,000 bottle lights in Filipino households. Read on to see how 1 Liter of Light has energized the people of its country to participate in lighting the way for their own future through this fascinating initiative.
While it may seem unfathomable to those of us who take having a readily available light source for granted, millions of Filipinos in impoverished areas and slums go about their daily lives without any kind of indoor light at all. And many of those lucky enough to have lamps run the risk of fire-related incidents involving faulty electrical connections (according to the country's Bureau of Fire Protection). Not having light often means not being able to work or study, and ultimately a loss of productivity or a chance to better your lifestyle. Taking this widespread problem as a challenge, 1 Liter of Light has begun installing its recycled solar lights and upgrading people's lives, one home at a time. The initiative, part of the My Shelter Foundation group spearheaded by Illac Diaz, has already mobilized its army of volunteers, students and homeowners to install 10,000 of these incredibly basic but ridiculously powerful solar lamps throughout Manila.
So how do the lights work? Using an idea originally conceived by Alfredo Moser, a band of resourceful students from MIT working with My Shelter Foundation found that they could mimic a light bulb by filling recycled one liter plastic bottles with just two common substances — water and bleach. The lamps can then be installed into a home's roof in just an hour by cutting a small hole, plugging the bottles in and then sealing it off. The students found that despite not being connected to any type of electricity, the plastic and water can defract natural light and push it to every corner of a small house. Just one liter of the water and bleach mixture in a plastic bottle can give off the same amount of light as a standard incandescent 60 watt light bulb! The bleach keeps the water free of germs and one solar lamp can keeping working for as long as five years.
G/O Media may get a commission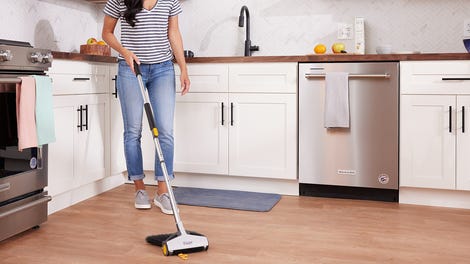 BOGO 50% Off
Flippr - BOGO 50% Off
If the idea that person's life can be made drastically better through an object that is so affordable and easy to make inspires you, you're not the only one. 1 Liter of Light has ignited the passion of volunteers and sponsors from all around the world as well as Filipinos in the communities where the solar bulbs are being installed. It seems everyone from the city's smallest children to even the local penitentiary's inmates are getting involved and helping produce recycled bottle lights!
And even though they've touched and brightened the lives of so many already, Isang Litrong Liwanag has no intention of stopping. They're aiming to install their solar lamps in one million homes in the Philippines and around the world by the end 2012.
If the story of 1 Liter of Light has sparked your desire to make a difference, see how you can donate or volunteer with them here, and help them meet their aim of lighting up four million homes on four continents by the end of 2013.
This post is republished from Inhabitat in partnership with Federated Media and smartwater.