The past decade or so has seen huge changes to the way we shop, thanks to e-commerce and online retail. But that's just the beginning. We're on the verge of a huge revolution in the way we shop, as physical retail spaces become more virtual, and smart businesses find more ways to get you the exact item you want, with no waiting. Several innovations, from augmented reality to 3D printers, are already changing the way we think about browsing and shopping.
Here are 10 futuristic shopping experiences in the real world. They've all been created pretty recently, and most of them are ones you can visit today.
1. Tesco Virtual Supermarket in Korean Subway Station
The British supermarket chain and advertising agency Cheil came up with a unique shopping experience in a South Korean subway station. Instead of just standing around waiting for the next train, consumers could shop for groceries. Here's how it works: a wall-sized billboard shows pictures of common grocery items, and you can scan the QR codes of each item using your smartphone. Then these groceries are delivered to your home within the same day. [via DesignBoom]
G/O Media may get a commission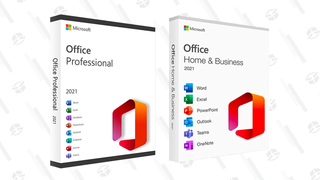 89% off
Microsoft Office Professional 2021 Lifetime License
2. Surefoot
When you're racing down a mountainside at 100 miles per hour, you really want your ski boots to be comfy and to fit properly. And that's where Surefoot, which has a number of locations, comes in. They create customized ski boots, tailored exactly to your feet, right on the spot. The process includes scanning every contour of your feet with a special scanner to create the orthotics that will go inside the boot. And then creating a custom shell that's exactly the right size and shape. And finally, the lining — which is created in minutes using a special foam that creates a "negative" of every bump and contour on your foot. You end up with a totally unique ski boot that's fitted just for you. [via Sierra Journal]
3. Intel's Connected Store.
This is a concept store, but it could exist in the real world soon — Intel has developed the technology for it already. Soon enough, you'll be seeing more interactive billboards that project images onto a glass, plus smart kiosks and self-service point-of-sale pads. And instead of regular billboards and signs letting you know what's on sale in the store, you'll see signs customized to you, based on the information on your smartphone. And this "smart store" will also save energy by powering down devices that aren't needed.
4. The Apple Store
Yes, we know. Still, Apple's shiny glass and steel boxes may be omnipresent, but they have made some major innovations in retail. Partly, there's just the spare, open design in which clutter has been minimized and the space appears calm and peaceful. But also, there's the fact that every sales associate can check you out right on the floor, using an iPhone as a cash register and swiping your credit card on the spot, using Square's point-of-sale technology. (And some retailers are letting you pay via Square without pulling out your credit card, transferring payments just using your phone.)
Photo by bgreenlee/Flickr
5. The Cupcake ATM
Seriously, why isn't there one of these near my house? I would go there every night, around three in the morning. Sprinkles Cupcakes is launching a "cupcake ATM" at its Beverly Hills location — which is sort of like an old-school automat. But you get freshly baked cupcakes at any hour. 24 hours a day. As Sprinkes' Nicole Schwartz explained to the Atlantic Cities:
The machine is attached to our bakery, which is essentially a 24-hour operation. By the time our closers leave at night, it's 11 p.m. and our bakers arrive in the wee hours of the morning (2 or 3 a.m.!). We'll constantly be restocking the automat with freshly baked cupcakes so the cupcake you receive will only have been baked a couple hours earlier.
Soon these "cupcake ATMs" will be open in 10 cities across America.
6. The "Flatflat" Store in Harajuku, Tokyo
This store not only looks insanely cool — it also merges the virtual and the real in a super innovative way. It lets customers experience Hangame, an online games portal. It's based on the concept of "the Future Park," in which virtual elements are combined with a real physical space, and the "curved cave forms," white walls and neon light tubes are supposed to arouse your curiosity and lead you deeper into the space. The curved neon tubes draw your attention to various areas within the store. [via DesignBoom]
7. Materialise.com
This one's a bit different — 3D printers are on the verge of transforming retail utterly, as they become more affordable and the materials they use become more versatile. Probably within the next year, you'll start to see more retail outlets that let you bring in a CAD design and then walk out later that same day with the finished item. For now, though, the closest you can come is Materialise's huge facility of prototyping machines. They claim to have the largest rapid prototyping and manufacturing facility in the world — so they can make anything and send it to you right away. There's also Shapeways, which can create whatever you want, from jewelry to gadgets.
8. The "Magic Mirror"
This one could be everywhere soon — but for now, it's just been tested at one shopping center in Manchester, UK. The "magic mirror" lets you try on clothes without getting naked or even going inside a fitting room. The device uses movement sensors and a special depth-sensing camera, similar to what an xBox uses, to judge your body size and shape and how far you are from the camera. And then it shows you how various styles and colors of clothing will look on your body. You can try on clothes from several different retailers, inside the shopping center, and then buy the actual clothes on the spot.
9. Fiesta Mart in Houston, TX
This one's a bit older, and sadly no longer exists — in 1989, Fiesta Mart in Houston became a tourist destination because of its innovative retail experience, including a 10,000 square foot hydroponic garden sloping upwards along one wall. The garden included "seven levels for growing, with another 2,000 square feet for seedlings," according to the Victoria Advocate. Sadly, Fiesta Mart was bought out in 2004, by which time the in-store hydroponic wall had been shuttered already. Photo by WhispertoMe
10. 3D virtual home remodeling with 3DVIA
This one is still just a concept, but it's coming soon — you'll be able to build a 3D computer model of your house, and then preview how different remodeling options and add-ons will look. You can see how it'll look if you knock down a wall or expand the kitchen outwards or whatever. This will totally change how you talk to home builders about renovating your space. [via CTSmith]