It's the longest day of the year and the start of vacations, lemonade, and bee stings. It's the summer solstice. Here are 10 stunning shots of our sun, by you.
Winner: Long Engagement
I liked the idea of using this public art piece and the sun to make it look like the diamond was glowing. Used Google photos to adjust contrast and saturation levels.
Nex 6 50mm prime lens @ 1/200 ISO 200 F22.
- Marc Solomon
---
Battleship
Here is the latest sunset, taken from the highest point in the east, atop the peak of Mt.Washington, NH at 6288 ft.
- Josh Wardell
---
Good Morning
G/O Media may get a commission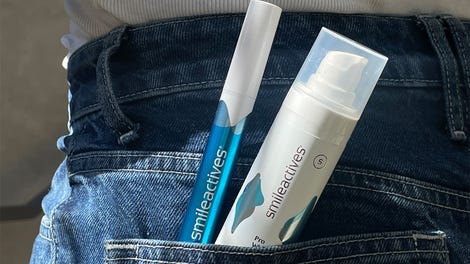 58% off
Whitening Powerhouse Pen & Gel Duo
Shot shortly after sunrise on Mt Washington on one of the overlooks. Developed in Lightroom. Canon T4i - 40mm - f/11 - ISO800 - bracketed shot [1/4000. 1/1000, 1/250]
- Long Hong
---
B&Beautiful
My wife and I were staying at A Little Organic Farm and Cottages Bed and Breakfast this weekend just outside Paso Robles, CA. We woke up at 5AMto learn how to milk the goats, but the sunrise really took our breath away. Equipment used was a handheld Canon D60 with a Canon 15-85mm lens stopped way down for depth of field and to show some solar flare.
- Ryan Neptune
---
Hike
This picture was taken on 6-21-14 while camping. It was shot on a Canon 60D through an EF-S10-22mm lens with an ISO 400 and f/3.5 at 1/640 sec.
- Clairmont Miller
---
The Core
Just moved to Long Island City a few weeks ago and figured I'd use this contest as an excuse to explore the city a bit. Found out that Gantry Plaza State Park is about a fifteen minute walk from the new apartment and grabbed this shot.
28 mm on a Nikon d610 f9 1/800
- Adam Valley
---
AZ Sunset
Just got done working on my Xterra in the AZ heat and remember the contest. Ran into the house, grabbed the T2i and took some shots from the driveway. I originally wanted to pull an HDR photo together, but ended up liking how the foreground was blacked out to add more focus on the setting sun. Edited in Picasa with lomo and HDR-ish processing. Hope you enjoy an AZ sunset like I do.
- Jacob Keeler
---
My Local Park Does Not Look Like Your Local Park
For the Solstice my wife and I decided to go down to stanley park and enjoy a picnic and the sunset. For this photo I used my canon 7d with a tokina 12-24mm f/4 at 12mm at f/22 for an exposure of 0.4 sec. and used lightroom to bring out the yellows and blues that were there just not captured by the camera.
- Aaron Webster
---
Cactus View
I took this at Sunset (7:30pm) in the Sonoran Desert just north of Mesa, AZ, which is about 25 minutes north of where I live.
Camera: Samsung NX2000 Focal length: 50 F Number: 10 Exposure Time: 1/40
- Andrew Ordway
---
Sun, The Cloud's Dinner
I wanted a shot that would highlight the sun on the solstice, and I liked the way the clouds setup for this image. It was captured with an iPhone 5S, and in Paint.net it had minor contrast and brightness corrections. Than I used a drop ripple filter around the sun to bring it out a little more as the main subject of the picture.
- Jonas Demuro
---
Amazing shots all around. To be honest, I debated between The Core and our winner for far too long. And as we all know, the days are only getting shorter now.
Find the big shots on flickr.