As Airbnb has expanded, it's come under fire from ornery landlords and wary neighbors—being blamed, in at least one case, for driving up citywide rent prices. But at the same time, Airbnb gives us access to an unprecedented number of otherwise inaccessible buildings. For example: Right now on Airbnb, you can stay overnight in a home designed by Frank Lloyd Wright and a home designed by his son, Lloyd Wright.
But the Wrights are only the beginning. Curious what other big names we could find on the rental site, we dug in and found a few of the most interesting offerings. From a condo in Frank Gehry's NYC tower to a shipping container home, check 'em out below.
---
Gehry's "infamous" Berlin building—directly adjacent from Brandenburg Gate—is mostly known as a bank's headquarters. But it also contains a handful of residential apartments. Price: $216.
G/O Media may get a commission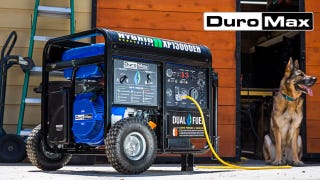 Black Friday Sale
DuroMax Generator Sale
---
Sowden House designed by Lloyd Wright
A "Mayan-style" home designed in 1926 by Lloyd Wright—the eldest son of the more famous father—which has appeared often in movies and photos shoots over the years. Price: $2500.
---
An "off-grid" cabin designed by young Californian architect Michelle Kaufman, who specializes in sustainable prefab homes. Price: $250.
---
Gehry's famously reflective Lower Manhattan tower holds several hundred condos, each with a unique floor plan thanks to the building's irregular organic facade. Price: $3498 (per month).
---
This Icelandic cottage looks like it hails from the early 1970s. In fact, it's only a few years old—built on land nearby the country's famous Geyser. Price: $220.
---
A Swedish lime quarry turned boutique hotel (for some reason), Hotel Furillen is known for its austere cement rooms. A lesser-known luxury? Its classic Airstream 534, located nearby. Price: $206.
---
A classic example of Wright's vision for Prairie Style domestic architecture, the Schwartz House in Two Rivers, Wisconsin, is also one of the only pieces of Wright-designed architecture that's evert been rented out to visitors. Price: $395.
---
This collection of homes in Mallorca is built out of standard shipping container modules—each roughly 14 feet wide—that have been retrofitted as luxurious condos. Price: $115.
---
A Case Study-inspired Sonoma House built by the Northern California partnership in 2001. Price: $400.
---
Brooklyn architect Terri Chiao designed and built these "room within a room" spaces in her own Bushwick loft, with the express purpose of renting them on Airbnb. Price: $118.
---
Located deep in Vermont's Mad River Valley, this neo-Brutalist home won an AIA Award in 2010. Price: $500.