Exactly 350 years ago today, New York City became New York City. The city itself already existed, of course: As the Dutch colony of New Amsterdam. But on September 8th, 1664, the British gave it its permanent moniker, which makes today its name-day.
We've seen all manner of maps illustrating how NYC has grown over the centuries, but one of the coolest—and least appreciated—is the bird's eye view. These are images that are, loosely speaking, maps; but thanks to a little artful perspective, they give us much more of a sense of what the city was like in each case. You'll notice that the format was popular in the last half of the 19th century, as artists searched for ways to depict the immensity of the growing city not just horizontally, but vertically.
In honor of NYC's nameday, we've rounded up some of the best, leaning on BibliOdyssey's amazing 2011 roundup and David Rumsey's collection as sources. Enjoy.
---
1660: The Earliest Known Map of Manhattan
G/O Media may get a commission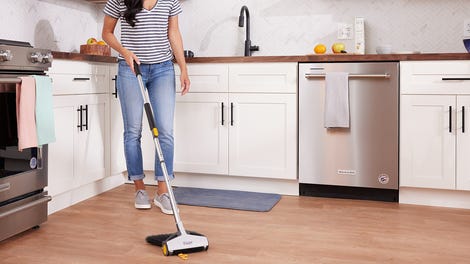 BOGO 50% Off
Flippr - BOGO 50% Off
Drawn four years before New Amsterdam became New York, this is the earliest known map of the city—drawn by Jacques Cortelyou, the surveyor general of the tiny Dutch colony. The city was mostly a fort, and most of Manhattan was wilderness.
Image: NYC99.org.
---
1859: A Natural Harbor
This unusual view of the city was drawn from Wallabout Bay, or the present-day site of the Brooklyn Navy Yard, which is already emerging in the center of the map.
Image: NYPL.
---
1873: The Great Bridge Takes Shape
Up until the late 19th century, you took a water taxi to cross from Manhattan to Brooklyn. But by 1873, the city's first—and arguably best—bridge was taking shape... And suddenly, the to-be outer boroughs didn't seem so far away. It wouldn't be long before they'd become part of the city in name, as well as function.
---
1874: A City of Ports
This romantic map, drawn just a year later, gives us a good look at the dense lines of docks that became the nervous system of the city.
Image: Columbia University.
---
1880s: Two Cities and One Bridge
This 1880s view of the city comes from this excellent roundup of bird's-eye maps of New York by BibliOdyssey. With the Great Bridge intact, New York no long looks like two competing cities—though it would be a few more years before Manhattan and Brooklyn joined forces.
Image: Peacay/Bibliodyssey.
---
1891: An Industrial Boomtown
Thanks to this fantastic lithographic bird's eye view, also uncovered by BibliOdyssey, we get a sense of what NYC was like in the 1890s: An industrial hive that was growing exponentially as hundreds of thousands of immigrants arrived to work in this boomtown.
Image: Peacay/Bibliodyssey.
---
1909: Growing Up and Out
Just one more from BibliOdyssey's incredible collection: A 1909 map showing the verdant countryside around the city.
Image: Peacay/Bibliodyssey.

---
1939: Landmarks Emerge
In 1939, NYC hosted the World's Fair—and this map, a promo published by Sinclair Oil, was designed to give visitors an idea of where to see the sights. They look fairly similar to today's.
Image: David Rumsey.
---
1962: Midtown Booms
The German artist Herman Bollmann created this painstakingly exact view of Midtown in the early 1960s, capturing the race upward and the development of crucial pieces of infrastructure.
Image: David Rumsey.
---
1985: Every Window In Midtown

Constantine Anderson spent two decades drawing an incredible axonometic view of Midtown, which he published in 1985 (above is a detail). According to Codex99, it shows "every single window, door, awning, even telephone booth and mailbox in Midtown."
Image: Codex99
---
2013: Denser Than Ever
An incredible view of Central Park from the air, created by AirPano, shows the city as it stands today. The burst of tall building on the right is about to get even higher, though, as a handful of supertall residences rise on the southern edge of the park.
Image: AirPano/Mashable. Lead image: Columbia University.
---