Airports are coming full circle. Back in the golden age of air travel, flying was a luxurious experience. And then, after 9/11, the industry sank to its lowest. Tightened security and the rising cost of fuel made air travel almost excruciating. But it's getting better, especially at airports.
Top image: Robert Churchill/Getty Images
Although wait times still average about 108 minutes, airports are improving their spaces by adding greenery, spas, better food options, improved security lines and ways to unwind.
"It's a way to improve the overall traveler experience and increase dollars spent while in the airport," said MacAdam Glinn, the national aviation director and senior vice president at Skanska USA, a construction and development company that has built, renovated and redesigned several airports.
Here's a look at some of the latest trends, many of which will make you happy to travel again.
G/O Media may get a commission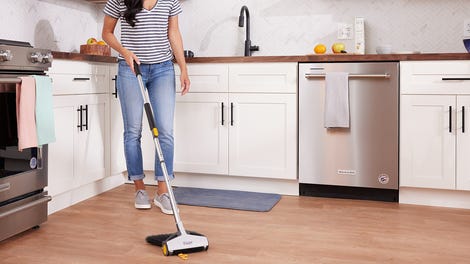 BOGO 50% Off
Flippr - BOGO 50% Off
1) Butterfly Gardens
Many airports are finding ways to increase the amount of green space. We're not talking artificial palm trees here, but butterfly gardens. At Singapore's Changi Airport, Terminal 3s has a two-story tropical garden filled with more than a thousand butterflies that represent about 50 different species. Stainless steel mesh keeps the insects inside while allowing fresh air in.
Image: John S. Lander/Lightrocket/Getty Images
2) Roof Decks
Instead of bringing the outside in, several airports are making it possible for passengers to step outside. At Burlington International Airport, for example, travelers can spend their time strolling the roof deck, watching the planes take off and land and soaking in the sunshine.
3) Dog Relief Areas
It's not only humans that need a little green space. Pets could use some grass and a few bushes, too. At Miami International Airport, travelers can take their dogs to one of four fenced relief areas to get a little, well, relief.
4) Hydroponic Garden
At Chicago's O'Hare International Airport, a hydroponic garden is growing between Terminals 2 and 3 on the mezzanine level of the ORD Rotunda Building. There, 26 towers nurture more than a thousand plants, including herbs and lettuces. Some of these are harvested and used in dishes prepared at the airport's Tortas Frontera restaurant. Owned by chef Rick Bayless, this restaurant boasts locally sourced and organic food.
5) Better Food
Speaking of locally sourced, many airports are replacing fast food joints with restaurants that provide a higher-end experience.
"The more local and more authentic the options are, the more revenue," said Glinn.
Seattle-Tacoma International Airport was one of the early adopters of this philosophy, said Glinn, and others have followed suit, including San Diego International Airport. As part of their recent Green Build project, San Diego added gates and security lines and expanded their concession area to include more options that feature local restaurants.
In fact, not only did the airport's latest terminal renovation receive a LEED Platinum certification — the first in the world for an airport terminal — but it also won three awards this year from Airport Revenue News for Best Concessions.
6) Food Trucks
Known for keeping things weird, Portland takes the concession experience at their airport to another level. They've brought in food trucks. Recently, they invited the mobile versions of Pok Pok and Koi Fusion, both of which are super local and have tons of fans. The food trucks will be at the airport for a six-month period as part of a program to give small businesses a shot at selling to an international crowd.
7) Farmer's Markets
This past summer, Portland International Airport also began hosting a farmer's market, hosted by Capers Café. Travelers will find berries, melons, apricots and peaches and other produce for sale each Tuesday and Thursday at Concourse C. The fruits and veggies come from local growers in Hood River, Troutdale, Mt. Hood, and farmers along the Columbia River.
8) Spas
Traveling is stressful and those long layovers can be oh-so aggravating. Not to worry. Spas are popping up in airports all around the country. This one at Chicago O'Hare International Airport offers the full relaxation menu, including massages, facial, manicures, pedicures and reflexology.
9) Yoga Rooms
The best therapy between cramped flights might be stretching your body long. Yoga rooms are another amenity showing up at airports. In these quiet, serene space, weary travelers can shed the hustle and bustle of the outside world to find their inner peace and just breathe.
10) Natural Lighting
Even in the golden age of air travel, airports were mostly huge warehouses lit artificially. But this is changing. More and more airports are breaking down walls and putting up windows to let natural light stream inside. Not only does it make people happy, but the sunlight also reduces the cost of electricity.
10) Consolidated Checkpoints
After 9/11, airports scrambled to set up security checkpoints. They did so by the seat of their pants and the results were long lines and inefficient processing. Today, many of those spaces are getting a makeover. Reno-Tahoe Airport recently renovated their space and consolidated two separate checkpoints into one that can be expanded and contracted depending on the flow of travelers.
"You can have ten lanes across or you can go down to two or three lanes," said Glinn. It's a better way to staff the airport, he said, and it's less confusing for travelers.
Glinn said several other airports are following suit, including Greenville-Spartanburg in South Carolina, Tampa International, Fort Lauderdale, Philadelphia International, and JFK. Expect shorter lines and faster processing.
12) TSA Pre Check
Another way to get through the security line faster is to sign up for TSA Pre Check. It's ideal for frequent travelers. Simply fill out the application, pay the $85 processing fee and mail it in. After a couple of weeks, you might be called to the airport for a short interview to prove you're you. Once you're approved, you'll be given a Known Traveler Number, which you'll use when booking your next flight.
People approved for TSA Pre Check go through the special "fast" lane. They don't need to remove their shoes or jackets and they don't have to put the laptop in a separate bin. They just walk right through, just like the good ol' days.
This article by Tracy Staedter originally appeared in Discovery News