Feeling bored? You need a store that sells ridiculous, confusing products that probably shouldn't even exist. Let me introduce you to one of my favorite online retailers: Dealextreme.
It's one of the internet's largest purveyors of cheap tablets, obscure cables and amazing off-brand oddities.
Need a knock-off GoPro? They've got it. Some sexy lingerie that probably won't fit you? Yup. I usually use them to pick up cheap adapters or components, but every time I shop with them, I come across something weird, ridiculous and fun. Here are some of my favorites.
---
Way Too Many "Shock-Your-Friend" Toys
...including one that looks like a gun, shocks you and lights on fire. That sounds completely safe.
---
Horrible Rubber Animal Masks
G/O Media may get a commission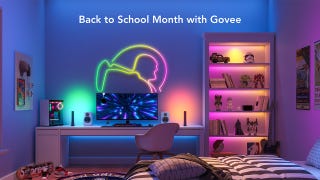 Back to School
Back to School Month with Govee Sale
Because horse head masks are too mainstream.
---
Fully Assembled Useless Machine
See that switch? Flip it, and a mechanical arm will come out and flip the switch the other direction. It's a machine that turns itself off when you turn it on. That's it. This thing is a best seller. Why are you buying this?
---
The Air Power Soccer Disc

Like hovercrafts? Soccer? Air hockey? Boy howdy, then do I have the floating, ball-themed floating disc for you. Enjoy.
---
Digital Buddha Jukebox
I don't know what a Digital Buddha Jukebox is, exactly, but I absolutely need one.
---
A $200 Telescope For Your iPhone
There are hundreds of smartphone lenses on DealExtreme, but this one is the biggest. That makes it the best, right? Right.
---
Electric Nose Massager
Have you ever thought to yourself, "boy, I could really go for a nose massage?" Never? Me neither, but someone, somewhere, did.
---
A Steam-Powered Engine That Never Stops Spinning
Okay, technically it's a " DIY Low Temperature Stirling Engine." The "DIY" consisting entirely of "putting this thing on top of a cup of hot water." Hours of... heat monitoring fun.
---
Cassette Adapter MP3 Player
A fully functional portable MP3 player that you can also shove into a tape deck. It's the ultimate MP3 player for people who drive a car from the 1980s and somehow don't have a smartphone. I've actually considered buying a cassette player just so I have an excuse to buy this thing.
---
This Cable Wrangler That Looks Like a Ctrl Button For Some Reason
I love keyboards, but I don't understand this.
---
USB Rechargeable Cigarette Lighter w/ Money Detector Function

I was completely on board with this until I read the words " money detector function." I'm pretty sure it means "counterfeit detector," but I prefer to imagine this as a magical, USB-powered device that finds money. Don't ruin that dream for me.
---
Outdoor Durable Anti-explode Glasses
Guaranteed not to explode, apparently.
---
Multi-Function Bomb Shape Rechargeable Game Alarm Clock
A bomb-shaped alarm clock. That's fine, but it's the description that concerns me: "Press red button, count down 10 seconds, reciprocal one of the 4-color cables, it will stop if right, or it will explode if wrong." So... wake up or you're dead?
---
Tactical Outdoor Self-Defense Pen
Ah the humble pen: an essential tool of the free press and, apparently, also a versatile self defense weapon. Seriously, drop the words "Tactical Pen" into YouTube and you'll find dozens of pen-based fighting tutorials. Check it out:

Awesome. No normal pen will do, of course—you need a weaponized writing implement: something with "high-hardness" a "shock-proof cap" and, of course, an ink cartridge: just in case you wanted to actually use the pen to write something down.
This is actually starting to sound feasible to me. I think that means it's time I get off the internet.