Some say that pets start to take after their owners, but to what extent? Will Socks start bogarting the remote? Are you going to have to pry the iPad out of Buster's paws? Actually, uhm, yeah; looks that way. It also looks adorable.
---
Iggy hones his hunting skills with a tablet
Source: rautiocination
---
Parrot on a bicycle, NBD
G/O Media may get a commission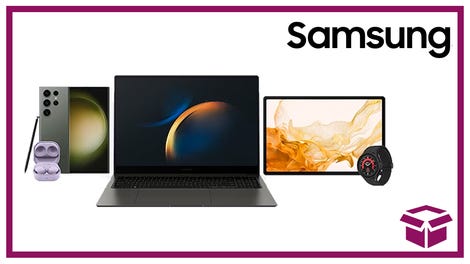 24 hour deals
Discover Samsung - Daily Deal
Photo: China Photos/Getty Images
---
Oldie but goodie: Tillman, the skateboarding bulldog
Source: rnickeymouse
---
Rico the war dog wears goggles to protect his eyes
Photo: Senior Airman Elizabeth Rissmiller/U.S. Air Force
---
African bullfrog crushes it at Ant Crusher...
Source: KoreanFrogMania
---
But he's got some competition
Source: ThatSpecialGuy
---
Sammy, the canine Bob Ross
Photo: Matthew S. Gunby/AP
---
This elephant appreciates the Galaxy Note's ample proportions
Source: technivator
---
Petra, the Alsatian from the BBC's Blue Peter, answers some fan mail
Photo: John Pratt/Getty Images
---
Cat gets a relaxing neck massage
Source: PETSAMI
---
A dog tunes in to the wireless (1929)
Photo: Fox Photos/Getty Images
---
Two dogs get a blowout
Source: PETSAMI
---
This cat loves the radio (1926)...
Photo: Monty Fresco/Topical Press Agency/Getty Images
---
While these cats have serious physics to learn
Source: Funnycatsandnicefish
---
Printing important cat documents
Photo: whitecat sg
---
Planning important cat vacations
Photo: Evan Lovely
---
If you have a tech-savvy cockatiel, invest in a screen protector
Source: yasico
---
Nora, the world famous piano cat
Photo: norathepianocat.com
---
Sophie the Roombacat
Photo: barbostick
---
Does your pet use gadgets? Pics or it didn't happen.