Would you know that each of these 19 drawings actually started as a photograph for this week's Shooting Challenge? Because they certainly would have fooled me.
WINNER: The Girl With The Super Awesome Boyfriend
My super awesome boyfriend - who happens to be the best music producer in Toronto - sent me the link to your contest and I thought it would be fun to participate. But in all seriousness, I took this shot as a self portrait and to recreate it through other mediums such as line art (for this contest), acrylic painting, sketching, and mixed media. Canon EOS REBEL T3i, ISO 400, Aperture f/4, Exposure 1/30th, Focal Length 18mm, 18-55mm lens
- Isabel
G/O Media may get a commission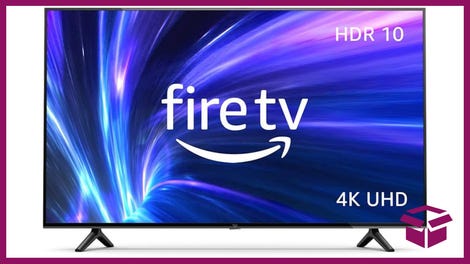 42% Off
Amazon Fire TV 50" 4K Smart TV
RUNNER UP: Man of Few Words
Took the picture of myself, made line art. Canon T2i, ISO 100, 1/50 sec. F~4.0
- Paul
Unwilling
I decided to take a shot of my partner as he was always unwilling to be a model for me but when I explained the picture wouldn't show "him" took it at this angle in order to emphasize his previous unwilingness to be a model and decided to play up on this in order to create a more dynamic shot. I used an xperia ray 8mp smartphone in order to take the photograph. I cannot supply the iso etc due to it being shot on a smartphone but as far as I am aware it was an exemor lens. I relied on a strong natural lightsource supplemented by artifical lighting in order to achieve a good balance between the light and dark which would be needed for my image. I used artifical lighting in order to achieve a clean shadow formation on my subject in order to more easily apply inked look.
- Eulich McGeown
Blue
I took a friend in the studio recently and inked him after i saw the contest. You guys perviously discovered my work I am the artist behind the batman light minting. Taken with iPad2, drawn over and painted with SketchBook for iPad and sized images with Photoshop Touch.
- John
Peek
Taken with iPad2, drawn over and painted with SketchBook for iPad and sized images with Photoshop Touch. And then sent via mail app for iPad.
-Rene
Myself In My Room
I took this photo of myself in my room. Enhanced contrast and nothing else too special, then followed the provided tutorial. This is my first attempt of anything like this. I must say though, I found myself getting addicted a little and could easily spend several more hours playing with different brushes and tools I've never used before. Thanks for another educational challenge! These things introduce me to aspects of Photoshop and post processing that I would probably never experiment with. Panasonic Lumix GF1 with Pancake 20mm 1.7 lens, ISO 100, Vivitar flash bounce
-Aaron
Punched
I took a quick snap miming punching myself in the face using the front facing camera to better frame the shot. Since the point was to make an illustration based off the photo, the quality didn't matter as much as the pose. Once I had the pose I was looking for, I imported to Photoshop, and set the photo layer to about 30% opacity, and drew with the pencil tool over the image using the Cintiq. I then used the lasso tool to select areas for shading, and filled in with a sponge textured brush, using the eraser tool to soften the edges, and applied a color halftone filter. I added a few illustrative flourishes like the drool, the white outlining, and the motion lines to emphasize the punch. Tools: iPhone 4 front facing camera, Wacom Cintiq.
- Clay Yount
Ugh, I'm still going back and forth about the winner this week. I love the chosen shot because it's flowing and gorgeous. But the "runner up" has an almost Shel Silverstein ink quality to it. There are so many different approaches that post production tools allow us to take that the end results are clearly just a matter of taste. See the full gallery below, with wallpapers on flickr.