It's Friday night in the City by the Bay, you and your boys are out from Concord, rolling deep in your old man's Escalade through North Beach. But what club do you hit up first, where all them bitches at? With a new service debuting today, you'll know.
SceneTap, by the Chicago start-up that shares its name, is a mobile app that displays the number and gender ratio of participating night spots. Each venue is outfitted with a camera at the entrance that observes the faces of patrons as they enter and exit, then feeds the data through facial recognition software to count the respective numbers. This is then pushed to the mobile app and into your brain, letting you know where, in fact, all the bitches are at.
This system has already drawn the ire of San Francisco's resident hyper-privacy weirdos and self-imposed "privacy advocates" who argue that the company hasn't done enough to protect venue patrons from having their pictures taken in public and does not warn them strongly enough that the taping is occurring.
"It is in fact creepy!" wrote Rebecca Jeschke, a digital rights analyst for the EFF, wrote to Ars Technica on Thursday. "Looking at the privacy policy, they say they don't keep video or stills, but are silent on if they keep the measurements and other data they collect in order to make their conclusions about gender and age. That's a big question for me."
G/O Media may get a commission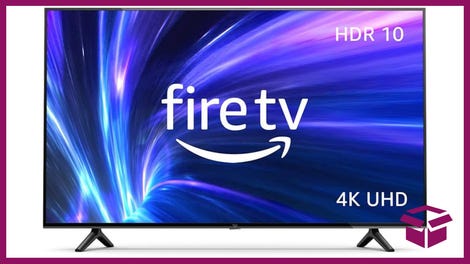 42% Off
Amazon Fire TV 50" 4K Smart TV
This despite SceneTap's CEO already noting that, "once the data is triggered, the images are overwritten, deleted, gone. There are no tapes. There is no video feed either. No one can go to www.scenetap.com and see what is happening. It's all data and numbers-that's it. And since we're only focused on the door, you're free to do keg stands and dance like Bernie or hit on that bartender all you want-we do not track you in the venue" in an open letter to San Francisco.
The kerfluffle has already caused several venues to pull out of the project including Mr. Smith's, Southpaw, John Colins, and Bar None (the last one which, if you're looking for hot blonde girls that say "umm" and "like" a lot, is the perfect place for you to hit up first).
As a native San Franciscan, I've got to say that this is a petty issue to protest even by our own hippie standards. Bars, clubs, restaurants, even McDonald's film you from the second you step foot on-premise for security purposes. They let you know they are doing so by putting a little sticker in the window that says so, just like SceneTap does. Does calling it a security camera make it more legit than calling it a "people-counter" camera? No. What's more, are we even sure that the venues are properly disposing of their old security footage? Do we give a shit if they are? No, because these places are public—there is no explicit right to privacy. Now granted SceneTap is a douchey app set up to assist douche bags to more efficiently sleaze their way through my fair city, but these constant, shrill cries for absolute privacy sound suspiciously like the mating calls of Luddites. [Ars Technica]