In just about a decade, much of the world has forgotten that film cameras ever even existed. For this week's Shooting Challenge, not only did participants shoot on film—they used crumby, often expired disposable cameras to do it.
Lead Shot
I took a Fujifilm Quicksnap flash 400 apart a little to get to the lens and shutter, I tied a small piece of string around the shutter so I could have a bulb setting. Put the plastic cover back on and took some shots outside of my house. I forgot to put my motorcycle away, so I decided to take a photo of it at night. The exposure it around 15 seconds and I have no clue what the streak of light is.
-Steven Twardzik
Pinwheel

I used a DiFox color plus premium edition "happy click" with a 400ASA. When the bright yellow poorly fitted cardboard outside was peeled back, it revealed a disposable with Spanish printed on it, taped together with gaffer's tape at the corner. Deluxe!
My boyfriend came home with a two pack and the rules of this contest on Friday. I had a killer sinus infection, but there was a kick ass sunset in progress, so I ran around the terrace in my slippers, mostly taking photos of that. When I decided that I needed a little something extra in there, I popped this pinwheel flower that a guy I work with gave me when boyfriend and I got engaged two weeks ago. I think the soft focus in the foreground and the puffy white sunset clouds in the background make for something kind of magical. Most of my other shots were crap, but I really liked the whole "I have no idea what I just shot" aspect of shooting with this little box. I've kind of forgotten what that was like.
-Bree Bolger
G/O Media may get a commission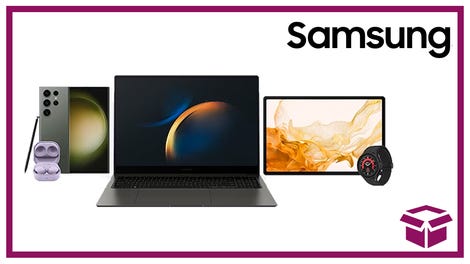 24 hour deals
Discover Samsung - Daily Deal
Windows

Data:
~ Boots Single Use Disposable Camera (£5.99)
~ Comes with 27 exposures
~ Camera had flash, but it wasn't used here.
~ 400 ISO
~ Developed at Boots the Chemist through their 1 hour processing service.
~ Scanned using Canon CanoScan N670U flatbed scanner.
It's been a few years since I last used film, and predictably, a lot of the photos I took didn't come out quite as well as I hoped. It's odd how you learn to take things for granted when you're using digital — things
which you really can't take for granted when you're using film. Including lighting and making sure your flash is turned on! I also noticed as I looked through my pictures that some of them came out with a slightly blurry appearance. I eventually settled on a photo I took at the Gallery of Modern Art. The windows at the stairwell are painted, and I've always had a thing for taking pictures of light coming in through stained or otherwise coloured glass. It's also probably the sharpest of the lot.
-Fiona Conn
Double Exposure

I'd recently found and used up an old black&white disposable I found in a box not too long ago, and it reignited my interest in using something other than digital. So when my boyfriend and I were browsing through Gizmodo and saw the weekly contest about disposable cameras, we instantly wanted to get out of our comfort zone and try our hand at it. We bought a two pack of Fujifilm Quick Snap Flash 35mms and set out looking for ideas. I knew right off that I wanted to attempt multiple exposures. It took a few frames to finally figure it out but we got there eventually. After taking photos of random things (hoping they'd be layered), I decided I wanted more of a method to the chaos. I convinced my boyfriend to be my muse and shot different aspects of him (his hands, shoulders, arms, face, feet, and hair) against a muted backdrop so the color of his skin would be a meshed focal point. And I'm pretty happy with how it came out.
-Mai S
Windshield Filter

This shot was unplanned but worked out the best. It was taken through the windshield while riding in a friend's car. The blue-tinted strip of glass at the top provided a great faux cross-processed sky. Taken
with Fujifilm disposable (400 speed film), developed at Costco while I impulse-bought bulk items I didn't need, and resized in Photoshop.
-Nick Sprankle
WINNER - Fishing Circa 1850

I used a CVS-brand disposable camera with ISO 400 film. (I looked for one with expired film, but their stock was all well within expiry.) As it turned out, the film still had PLENTY of character...I don't know if the noise and oversaturation I saw in most of the shots is normal for an inexpensive film camera, but I'm pretty sure that the giant red smear that ate its way through the final six frames of the roll is not par for the course. After looking through the 27 images I saw a few shots that really highlighted the character of the film, but the images really weren't all that interesting to me. I had a neat shot of a farmer and his daughter making apple butter over a bonfire with a corn field as their backdrop, but there was just something about it that wasn't quite right. The farmer was facing the camera and smiling. I hate pictures like that. So instead I submitted a picture of this guy fly fishing in the Perkiomen Creek. This shot of one of the final six on my roll, which means that there was a giant red/yellow stripe eating over half the frame. With just some cropping a desaturation I manged to get what I think it a pretty cool silhouette with some 1800's warmth and haze in the image. It kind of reminds me of the cover of a book.
-Chuck DeLuca
Thanks to the 22 participants in this week's Shooting Challenge. The disposable camera seems to take photos a lot like those trendy toy cams, but the barrier to entry is even lower. I will reiterate, if you haven't shot film in a while—or maybe if you've never shot film at all—it's a worthwhile exercise to grab a 35mm and try it out, if only for the butterflies you get as you pick up the developed shots,scanning through them for the first time. If nothing else, you'll appreciate how much has changed in just a few years. Full-size photos on flickr. Gallery below.
Gallery (one page view)

When I'm not coordinating Shooting Challenges, I'm working on my site Life, Panoramic. We've recently published photos from Manchester, Gettysburg and Glasgow.