Need an excuse to get psyched for comics this spring? Well, we've got 25! Here's five-squared of the most promising new series and miniseries slated for springtime. Brace yourself for new Avengers squads, Caveman Batman, and drunk Hellboy!

PHILIP K. DICK'S ELECTRIC ANT #1 (Marvel, April)
Written by David Mack
Art by Pascal Alixe
Cover by Paul Pope
Dick's classic tale of a man who is unwittingly a robot...with Kabuki's David Mack and Paul Pope covers? Yes, please.
G/O Media may get a commission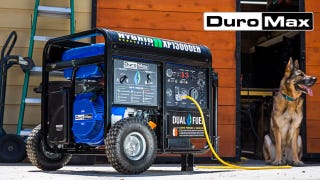 Black Friday Sale
DuroMax Generator Sale

ULTIMATE COMICS AVENGERS 2 #1 (Marvel, April)
Written by Mark Millar
Art & Cover by Leinil Francis Yu
Mark Millar may have the Punisher join the Ultimates. Wrap your head around that. Leinil Francis Yu art adds a rocket-powered spoiler to any superhero vehicle.

SPIDER-MAN: FEVER #1 (Marvel, April)
Written by Brendan McCarthy
Art & Cover by Brendan McCarthy
A Brendan McCarthy psychedelic Spider-Man fable sounds awesome. Just check out his trippy concept art.

S.H.I.E.L.D. #1 (Marvel, April)
Written by Jonathan Hickman
Art by Dustin Weaver
Cover by Gerald Parel
The secret history of SHIELD, guest-starring Leonardo Da Vinci and Issac Newton. Are we looking at The League of Extraordinary Gentlemen vs. Galactus?

BRIGHTEST DAY #0 (DC, April)
Written by Geoff Johns & Peter J. Tomasi
Art by Fernando Pasarin
Cover by David Finch
The new, shiny future of the DC Universe begins here! My guess? Judging from the title, instead of Zombie Lanterns, we're looking at ANGEL LANTERNS.

THE FLASH #1 (DC, April)
Written by Geoff Johns
Art and cover by Francis Manapul
Geoff Johns brings Barry Allen back to the fold with this ongoing series. Welcome back, fleet-footed friend.

DOC SAVAGE #1 (DC, April)
Written by Paul Malmont
Art by Howard Porter & Art Thibert
Cover by J.G. Jones
The Man of Bronze returns with a new ongoing title. Expect pulpy goodness, 1930s-style.

TURF #1 – GEM OF THE MONTH (Image, April)
Written by Jonathan Ross
Art & cover by Tommy Lee Edwards
BBC stalwart broadcaster Jonathan Ross is penning a supernatural crime miniseries with Tommy Lee Edwards, who advised the Hughes Brothers on the aesthetics of The Book of Eli.

ASTONISHING SPIDER-MAN/WOLVERINE #1 (Marvel, May)
Written by Jason Aaron
Pencils & Cover by Adam Kubert
Jason Aaron from Scalped pens an ongoing about Marvel's Odd Couple. I hear they both have a thing for redheads.

ASTONISHING X-MEN: XENOGENESIS #1 (Marvel, May)
Written by Warren Ellis
Art & Cover by Kaare Andrew
Emma Frost's melting posterior notwithstanding, this comic has a lot to offer - Andrew's art is idiosyncratically awesome and Ellis has been injecting some high-concept weirdness into the X-franchise.

DAZZLER #1 (Marvel, May)
Written by Jim McCann
Pencils & Cover by Kalman Andrasofszky
A parental-advisory Dazzler one-shot in which she battles Dr. Doom (among other supervillains)? Blood on the dance floor, I'm there!

AVENGERS #1 (Marvel, May)
Written by Brian Michael Bendis
Pencils & Cover by John Romita Jr.
BMB and JRJR assemble CA, IM, and T. MFOMG. Look out for the debut of Ed Brubaker's Secret Avengers #1 this month as well.

BATMAN: THE RETURN OF BRUCE WAYNE #1 (DC, May)
Written by Grant Morrison
Art by Chris Sprouse
Cover by Andy Kubert
After Final Crisis, Bruce Wayne is displaced in time and must wend his way back to modern day. Witness his various chrono-crazy incarnations, such as Caveman Batman, Viking Batman, and Malibu Batman.

BIRDS OF PREY #1
Written by Gail Simone
Art and cover by Ed Benes
Oracle, Black Canary, Huntress and Lady Blackhawk get the righteous return they deserve. With Gail Simone, no less!

SUPERMAN: WAR OF THE SUPERMEN #1 (DC, May)
Written by James Robinson & Sterling Gates
Art by Aaron Lopresti & Matt Ryan
Cover by Eddy Barrows
The long-running "Planet Krypton" storyline reaches a breaking point. It's Superman vs. General Zod and several thousand other peeved Kryptonians. This series will ship weekly throughout May.

THE LEGION OF SUPER-HEROES #1 (DC, May)
Written by Paul Levitz
Art and cover by Yildiray Cinar & Wayne Faucher
Paul Levitz relaunches the Legion after the events of Legion of 3 Worlds and Adventure Comics. I want all Matter-Eating Lad, all the time.

ZATANNA #1 (DC, May)
Written by Paul Dini
Art by Stephanie Roux & Karl Story
Cover by Stephanie Roux
Zatanna has a new ongoing about her foibles fighting supernatural crime in San Francisco. Anticipate 300% more backwards talking than your average comic. Can we get a Constantine cameo, eteP fo evol eht rof?

I, ZOMBIE #1 (Vertigo/DC, May)
Written by Chris Roberson
Art and cover by Michael Allred
Mike Allred art + the brain-eating adventures of a she-zombie detective + $1 comic = yup.

HELLBOY IN MEXICO (OR, A DRUNKEN BLUR) (Dark Horse, May)
Written by Mike Mignola
Pencils by Richard Corben
Cover by Mike Mignola
This is one of those occasions you just have to the post the entire solicit. From Dark Horse:
"During the 1950s, Hellboy caravans across Mexico with a trio of vampire-killing luchadores, finding the undead; evil turkeys; a terrible bat god; and a little too much tequila."
I am so fucking amped for this.

MARVELMAN CLASSIC PRIMER #1 (Marvel, June)
Written by John Rhett Thomas
Cover by Joe Quesada
Variant by Mick Anglo
Both an intro to Mick Anglo's classic Marvelman and the contended superhero's Marvel Comics debut. But will we see any Neil Gaiman-penned issues down the pike?

NEW AVENGERS #1 (Marvel, June)
Written by Brian Michael Bendis
Pencils & Cover by Stuart Immonen
New Avengers gets a reboot after Siege. None of these Avengers are particularly new, but it's nice to see a certain blue-eyed Yancy Streeter among their ranks.

BATMAN BEYOND #1 (DC, June)
Written by Adam Beechen
Art by Ryan Benjamin
Cover by Dustin Nguyen
It's about time! Bruce Timm's futuristic Batman fable gets the miniseries it deserves.

SERENITY: FLOAT OUT (Dark Horse, June)
Written by Patton Oswalt
Pencils by Patric Reynolds
Cover by Jo Chen
Patton Oswald's tribute to Wash contains three new adventures of our favorite dearly departed wiseacre pilot. I'm getting a little choked up here.

BUZZARD #1 (Dark Horse, June)
Written by Eric Powell
Pencils by Eric Powell, Kyle Hotz
Covers by Eric Powell
More weird adventures from Buzzard, a side character from Eric Powell's always charming The Goon.

ABE SAPIEN: The ABYSSAL PLAIN #1 (Dark Horse, June)
Written by Mike Mignola, John Arcudi
Art by Peter Snejbjerg
Cover by Dave Johnson
A Mike Mignola-penned BPRD flashback tale about Abe Sapien investigating a downed Soviet sub. And look at that cover!