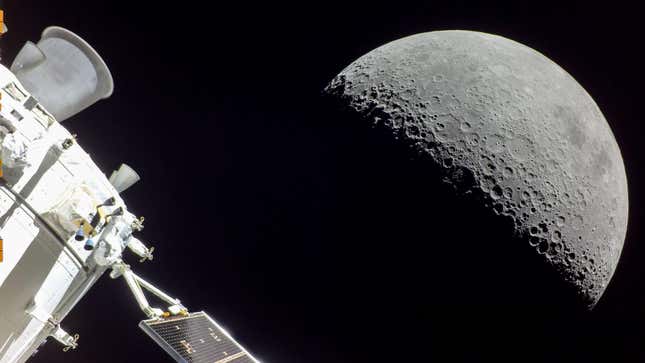 Relativity Space is poised to make history on Wednesday with the launch of Terran-1—a rocket primarily constructed from 3D-printed parts. Japan is also set for an inaugural launch, with the delayed H3 rocket now set for a do-over launch.

We're now into March, and things are really starting to heat up in the world of spaceflight. It's going to be a busy week along Florida's Space Coast, with at least three launches ready to rock. We've also got our eye on a secretive Russian mission and an upcoming NASA press briefing about the recently concluded Artemis 1 trek around the Moon.

Maiden voyage of Japan's next-gen H3 rocket
The Japan Aerospace Exploration Agency is preparing to launch its H3 medium-lift rocket on Monday at 8:37 p.m. ET (Tuesday, March 5 at 10:37 a.m. local time). This marks JAXA's second attempt at launching the rocket, which sputtered on the launch pad during the first attempt on February 17.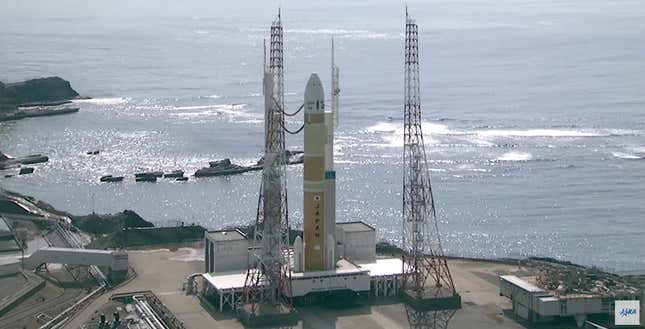 Ten years in the making, the two-stage H3 rocket, which features an innovative new engine, will replace Japan's H-IIA and H-IIB rockets and provide Japan with continuous access to space. Excitingly, a future version could be used to shuttle cargo to the Moon.

3D-printed rocket poised to make its first flight
California-based Relativity Space is set to launch Terran 1, a rocket that's 85% 3D printed, making it the "largest 3D printed object to exist and to attempt orbital flight," according to the company.
The two-stage, 110-foot-tall (33-meter) rocket is scheduled to launch from Florida's Cape Canaveral Space Force Station on Wednesday at 1:00 p.m. ET. The mission, coyly named "Good Luck, Have Fun," will attempt an orbital launch, but as a demonstration mission, Terran 1 will not carry any payloads on its first attempt to reach space.
New Artemis 1 insights
On Tuesday, NASA will hold a media briefing at 12:00 p.m. ET to provide an update on the latest analyses of data gathered during the Artemis 1 mission. The mission ended on December 11, 2022, as the Orion spacecraft concluded its 270,000-mile (435,000-kilometer) mission to the Moon and back.
There's potentially lots to discuss, including the performance of NASA's new Space Launch System (SLS) rocket and the Orion capsule, which went to space without a crew. Specific talking points could include damage incurred to the launch pad when SLS blasted off, strange but not mission-critical anomalies experienced during the mission, and the performance of Orion's high-tech heat shield, among other things.
ISS Crew-5 returns home... maybe
After a six-month stint on the International Space Station, the time has come for NASA astronauts Nicole Mann and Josh Cassada, JAXA astronaut Koichi Wakata, and Roscosmos cosmonaut Anna Kikina to return home. NASA hasn't announced a firm departure date, but Crew-5 is scheduled to deliver farewell remarks on Wednesday at 11:35 a.m. ET. Once a departure date and time are set, the crew will climb into SpaceX's Crew Dragon Endurance for the trip back to Earth. The replacement Crew-6 reached the ISS on Friday, bringing the total ISS population to 11.
A mysterious Russian satellite launch
Russia's Proton-M rocket, with a Briz-M upper stage, is scheduled to blast off on Sunday, March 12 at 6:12 p.m. ET from the Baikonur Cosmodrome in Kazakhstan. Russia hasn't officially disclosed the payload, but Next Spaceflight suspects it of being an Olymp-K satellite belonging to the Russian Ministry of Defense. This type of satellite, also known as Luch, has attracted attention before, and not for good reasons; though parked in the geostationary belt, Olymp-K jogs around instead of staying stationary, presumably to eavesdrop on neighboring satellites.
A pair of Falcon 9 flights
SpaceX's torrid launch cadence continues, with at least two Falcon 9 launches scheduled for the coming week. On Thursday, a Falcon 9 will attempt a launch from Cape Canaveral to deliver a batch of OneWeb satellites, while the scheduled launch on Saturday from Kennedy Space Center, designated CRS 27, is a NASA resupply mission to the International Space Station.
More: These Upcoming Missions to Deep Space Have Us Stoked About the Future