The Time Bandits show is finally in the works, yet another example of a cult film being adapted into a TV series—and also, yet another example of how the sheer amount of streaming services (in this case, Apple) has created a seemingly endless need for content to fill them up with to entice subscribers. To that end, and because there's no such thing as too much fantasy on TV, we have some suggestions of other adaptation-worthy fantasy films from the Time Bandits era.

A couple of quick notes before we begin: there's already a Dark Crystal prequel series in the works at Netflix, titled The Dark Crystal: Age of Resistance; it's due sometime next year. Also, CBS already brought us a Highlander series, and we're still thanking them for it. Finally, The Princess Bride is off-limits. Full stop.
Labyrinth
Yes, there's already a new Labyrinth movie in the works from director Fede Alvarez, though when the in-demand director (who also has The Girl in the Spider's Web and Don't Breathe 2 on his plate) will get around to making it is unclear. We've been assured that it's not a remake or a reboot of the 1986 original, which starred David Bowie, Jennifer Connelly, and a wide range of Muppets; instead, it's a "spin-off" that takes place in the same universe as the film. That eliminates the dilemma of having to replace the late rock icon as the Goblin King, and the sprawling story possibilities beg the question: Why not make a TV show instead? It seems like an ideal title for Disney's much-anticipated upcoming streaming service, especially since the studio is already hoping to reboot The Muppets (again) after its 2015 ABC series crashed and burned. Labyrinth is one of Disney's biggest cult hits, and a show inspired by its setting and adventures has definite promise.
G/O Media may get a commission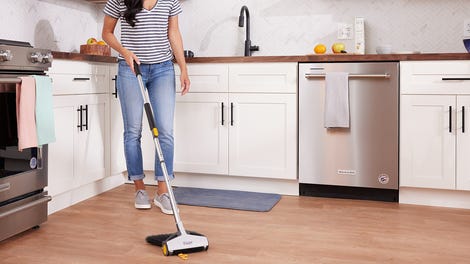 BOGO 50% Off
Flippr - BOGO 50% Off
Krull
Krull kind of has it all—it's set very firmly in a fantasy realm, and is about a prince fighting an evil creature known as the Beast in order to save his royal bride. There are magical crystals and a giant crystal spider, plus there's a cyclops, a sorceress, and an ancient weapon called "the Glaive." But! Also! It's a sci-fi story, too. The whole thing takes place on another planet with laser guns and shiny helmets, and the Beast (who's actually a hideous alien) rides around on a tremendous spaceship called the Black Fortress. The movie has a circa-1983 corniness to it that's part of what makes it so fun to watch today, so a TV version would do well to honor that tone—but a modern upgrade on the special effects would probably be just as important.
Ladyhawke
By day, she's a hawk; by night, he's a wolf. That unusual relationship conundrum forms the heart of this fantasy drama, which Richard Donner directed the same year he made The Goonies, in his mid-period between Superman and Lethal Weapon. Fortunately for the would-be lovers (played by Michelle Pfeiffer and Rutger Hauer), assistance appears in the form of a scrappy thief (a pre-Ferris Bueller Matthew Broderick), who helps them not only communicate (since they're never human at the same time), but also defeat the evil bishop who jealously cursed them. A TV series might be a little tricky since the whole point of the movie is the quest to reverse the spell that's cruelly separated the couple—but Ladyhawke has actually aged surprisingly well. Notable for a film made in 1985, Pfeiffer's capable, kick-ass character is hardly a standard-issue, fantasy-movie damsel in distress.
Willow
"From the creator of Star Wars," trumpets the vintage 1988 trailer above, and Willow now has a two-pronged Star Wars connection, since the film—from a story by George Lucas, and indeed it hits a lot of the same sort of "hero's journey" beats of his most famous work—was directed by Ron Howard. Even beyond that, the whimsical (but sometimes terrifying, at least to little-kid viewers) adventure has a huge ensemble cast and detailed worldbuilding that could translate well to a series. Even its central narrative—about protecting an infant that's destined to bring about the downfall of an evil queen—has the potential for expansion. If Willow the series could get Warwick Davis, who played the title character when he was just 18, back to star, and maybe lure in Val Kilmer for a cameo, there'd be potential for some memorable TV magic. And if Howard has anything to say about it, we could be closer to this one than we think.
Dragonslayer
In 1981, Dragonslayer's visual effects were considered so groundbreaking that the film was nominated for an Oscar in that category (it lost to the only other nominee, Raiders of the Lost Ark). A series based on the story would obviously upgrade to CGI, but it could keep some of the movie's other distinctive elements, including a hero who's actually a woman in disguise, a princess who realizes her kingdom's regular dragon-sacrifice lottery is rigged to protect the wealthy, and a formidable sorcerer whose powers extend beyond the grave. It's worth adding that George R.R. Martin is a huge Dragonslayer fan, calling its monstrous villain "the best dragon ever put on film," with extra props for naming it "Vermithrax Perjorative." There's only one more season of Game of Thrones to go, which means we're inching toward a world where there are no dragons on TV (presumably). Give us Dragonslayer, Hollywood!