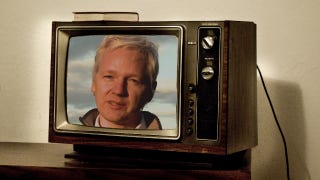 There is literally nothing that Julian Assange won't do. He's dabbled with his own TV chat show, an appearance on the Simpsons, opera, and let's not get started on the details of his bedroom activities. But none of that is enough; now he's seeking a political career.
According to ABC News, Assange has managed to find a loophole that allows him to run for a seat in the Australian Senate, despite currently being detained under house arrest in Britain.
"We have discovered that it is possible for Julian Assange to run for the Australian Senate while detained," WikiLeaks said on Twitter. "Julian has decided to run." Wikileaks also plans to run other candidates, essentially turning itself into a political party. To reiterate: this man will do anything.
Assange is currently on bail waiting for a British Supreme Court decision on an appeal against his extradition to Sweden. [ABC News]