Humans have been obsessed with the weather—and how to control it—since the dawn of time. We talk about it constantly. We spend millions of dollars trying to change it. And, in some cases, we celebrate it—like the eight architects and artists behind these installations.
As far as subject matter goes, the elements are second only to actual human beings throughout art history. Storms, it seems, are almost as compelling to us as ourselves. But it's only been in the past few decades that artists have harnessed the technology to faithfully recreate them. Since then, we've seen an explosion of microclimate installations, from this summer's Rain Room at MoMA to Tokyo Museum of Contemporary Art's newly-opened installation, Cloudscapes. Check out a few of the most interesting, below.
---
G/O Media may get a commission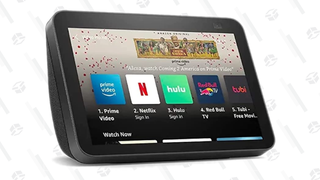 Cloudscapes by Tetsuo Kondo Architects.
This installation, at the Venice Architecture Biennale 2010, created a misty microclimate inside of a two-story glass box. It was rebuilt for an encore, this summer, in the courtyard of the Museum of Contemporary Art in Tokyo.
---
The Mediated Motion by Olafur Eliasson in collaboration with Günther Vogt.
Olafur Eliasson has built his career on installations that recreate the natural world—from rainbows to waterfalls. In this installation from 2001, he and artist Gunther Vogt flooded a gallery and piped in a soil, mist, and smells to create a multi-sensory artificial environment.
---
Nimbus by Berndnaut Smilde.
Dutch artist Berndnaut Smilde carefully controls the climate inside the spaces where he makes his work. The perfect balance of cool temperatures and moisture mean that a puff of mist—like the ones you see above—hang suspended like clouds.
---
The Blur Building by Diller + Scofidio
Created for the Swiss EXPO in 2002, this was the building that launched Diller + Scofidio to fame. The temporary pavilion was outfitted with 13,000 nozzles that spewed mist continuously to create a 300-foot-wide cloud around the viewing platform (which also included a weather station to regulate the "blur").
---
The Rain Room by rAndom International.
The installation that took New York by storm this summer, so to speak, Rain Room is a carefully-constructed square of rain that—by the magic of motion sensors—visitors can walk through without getting wet. Check out Gizmodo's coverage here.
---
Symphony in D Minor by Patrick Gallagher and Chris Klapper.
Another motion-sensing installation, Symphony in D Minor is a series of 22-foot-long rolling axles that visitors are invited to spin. When they do, the system triggers a volley of thunder and rain noises—so that the more you spin the axles, the bigger the thunderstorm.
---
Sensing Nature by Tokujin Yoshioka
This 2010 exhibit encased hundreds of pounds of white feathers in a 45-long acrylic box, creating a shifting drift of "snow" backlit by a warm light.
---
Data Sculptures by Nathalie Miebach.
Nathalie Miebach's intricate sculptures look psychedelic, but they're actually based on weather data drawn from storms. She weaves the pieces using traditional basket-making techniques, culling the weather data from her studio on Cape Cod.
---
Are we missing anything? Drop it in the comments!