Standing in line at the pizza place, you've got a couple of minutes to kill, so you stare down at your phone, and fire up. Rather than browsing through a long list of inane tweets or matching jewel colors up against each other, you can actually be using that time productively.

---
1) Learn something new
Apps like Duolingo and Memrise, put a complete set of foreign langualearning tools in your pocket. A ton of language learning apps are available, but what we like about those two in particular is they let you dip in and out of exercises, and set you small challenges that you can tick off each day.
Aside from languages, anything you can read up about on the web, or watch a video for on YouTube, you can learn on your phone (though obviously you can't practice the piano or juggle clubs while you're on the move). Another idea is to refine skills you already have, by watching new videos about coding for example, or catching up on posts about the latest cookery tricks for the kitchen.
G/O Media may get a commission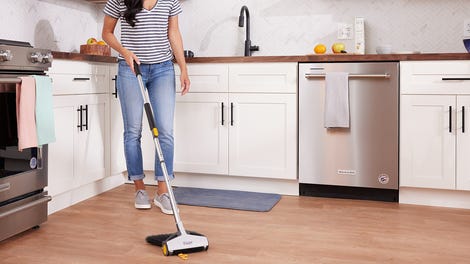 BOGO 50% Off
Flippr - BOGO 50% Off
---
2) Give something back
You can use your spare smartphone time to help other people as well. Donate a Photo, from Johnson & Johnson, lets you donate up to one photo a day (any photo you want to take) to raise $1 per picture for your chosen cause. Charity Miles works along similar lines, only you walk, run, or bike certain distances in order to unlock the cash, which you can then direct to one of a list of pre-selected charities.
You're not actually making money out of free air from these apps—in most cases the cash has already been raised and donated elsewhere, but by interacting with the app you're helping to decide where it goes. Give 2 Charity asks for some location data in return, and pings you with occasional surveys, but again you can raise money just by using your phone and then choose how that cash gets spent.
---
3) Help out science
Scientists can use your phone's processing power and your brainpower to help chew through complex problems—Folding@Home from Sony and Stanford University, for example, uses the spare processing power of your Android phone to study protein folding, a process crucial to our understanding of health issues like Ebola and Alzheimer's. You don't actually have to do anything.
There are plenty of other options as well. Secchi turns your phone into a phytoplankton measurement tool, so you can help scientists monitor changes in the marine food chain, while MyShake is developed by UC Berkeley and uses your phone to detect ground tremors, readings that are then fed back into a global database, and could eventually be used to improve earthquake detection.
---
4) Improve your well-being
You can also use your spare smartphone downtime to help yourself. Meditation apps such as Headspace and Calm are specifically designed to be used on phones, so no matter how short the window of time available, you can get yourself in a better frame of mind by following a few exercises before returning to the world.
---
5) Expand your horizons
We've already talked about learning new skills through your phone, but there's another closely related option, which is expanding your knowledge in general. Instead of firing up a pointless puzzle game, head to the Wikipedia article of the day, for example, or maybe learn a new word a day through the Dictionary.com apps. Go read bite-sized summaries of important non-fiction books via Blinkist.
---
6) Catch up on your reading
There's never enough time in the day to read everything you want to read—or maybe there is, if you catch up on your reading on the bus, or just before bed, or while you're waiting for the kids to get ready. For the most basic catch up experience you can simply bookmark articles in your browser on the desktop, install the mobile version of the same browser on your phone, and sync the links over.
If you want a solution that's a bit more polished, Pocket and Instapaper have been helping time-poor people catch up on posts for years, so they're both very capable options for installing on your phone. If you're a heavy Kindle user, consider getting the Kindle app set up on your smartphone as well—you can sync your reading position with your physical ereader and make progress wherever you are.
---
7) Get creative
Finally, you can replace that mind-numbing game or social media feed with something that gets your brain firing instead—choose something creative you enjoy, whether it's writing, drawing, making music, shooting photos, or something else, and get hold of an app that lets you do it on your phone. You've got a host of options to pick from, from Ulysses for writing to SketchBook for drawing.
Obviously some creative endeavors are better suited to small mobile screens than others, but you should be able to find some way of exercising your imagination, even if its just for a few minutes. You can quickly pull together some sounds with Auxy or Figure, for instance, and get your creative juices flowing with your phone, even if you're not going to break into the charts with the end results.