Get enough fireworks on the 4th? Neither did we. Here are 75 fantastic photos of fireworks to appease your inner pyromaniac.
WINNER: Man Vs Nature


I took this shot in Pittsburgh PA on July 4th 2013. The shot was captured on top of Mt Washington over looking the city. The storm missed Downtown by less than 5 miles and we almost were rained out. I was able to capture two amazing shots like this that night. The other was a single pencil style bolt but this one with the different licks of the bolt is my favorite. It was taken with a Nikon D5100 and a Sigma 17 - 70 lens 4 second exposure, f8 ISO100 in full manual mode.
- Evan Hasley
---
Danilo Maynard


Trying to get a perfect shot with fast shutter speeds and slow ones, I finally tried to take out-of focus shots. I've done this in past years with an image bokeh but this year I didnt have the designs with me. So I just went ahead and took them normally. After two or three, I stopped and went back to focus. Long story short, one of my bokeh shots looked nicer than the ones in focus. Hope you like it Location: Ridgefield, NJ Date: 7.3.2013 Canon T3i 50mm Lens ISO 100 f/2.8 Shutter Speed: 1 sec
- Danilo Maynard
---
Jorge Sevilla


G/O Media may get a commission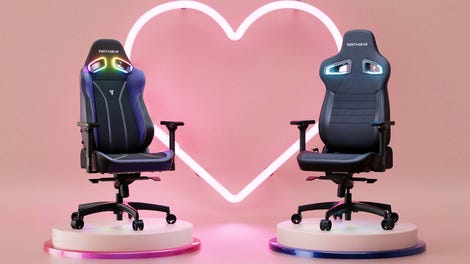 Up to $150 off
Vertagear Gaming Chairs
Okay so I was heading to a client's house last night (in Long Beach) and at the end of one of our conversations, i excused myself to go get some "air" - More like SoCal greenery to be honest. So my buddy told me we should walk down the Blvd to check out the firework show. How perfect, herb and exploding fire bombs in the sky - excellent combination. So i set up my tripod - Attached my Canon T1i along with my Tamron 18-270mm lens. Set my exposure to BULB fired off by a trigger - set my focal length to 27mm - Set my f/ stop to 8 at ISO 100 - and Began to fire off 6 sec shots! And BOOM! (pardon the pun) - I capture this beauty.
- Jorge Sevilla
---
Derek Heidemann


This was shot on a Canon 60D at 85mm, f/22, ISO160, and on bulb mode (exposure was probably 4-6 seconds). This shot is from the Portsmouth, NH fireworks show last night. They were right overhead so I wasn't really in any position to get a nice wide shot of the city, so I decided to do a lot of in-camera cropping. This is one of my favorites. I like how at the edges you can't tell if it's something furry or something on fire. It was a pretty breezy night so I ended up with some really elegant wisps of light.
- Derek Heidemann
---
Bruce Mohon


Today was a stormy day in Florida and we decided to not to drive to Tampa to watch the fireworks. My girlfriend and my son set up some chairs in the front yard after the rain and watched the neighbors light off some bottle rockets and firecrackers. For kicks I got out the camera to try and catch something, then behind our house a larger display started. I got this one with my Nikon D80 w/ AF Nikkor 50mm lens ISO 100, f/11, 2.5s.
- Bruce Mohon
---
McCabe Jamrosz


This 8 photo panorama of Baltimore City's Fireworks was taken by McCabe Jamrosz. The camera used was a Nikon D5100 shot at 26mm f4.2 at 2.5 seconds iso 100.
- McCabe Jamrosz
---
Jeff Bisti


The trees are too high to see the town's fireworks from our house, and we were too lazy to actually drive somewhere closer, so we did what any red-blooded American would do and just waved around a bunch of sparklers in the back yard. This is a 45 second exposure on a Canon 5D3, 17mm at f/7.1 ISO100. I lit the sparkler, started the exposure (using Magic Lantern to dial in the exposure time in Bulb mode), drew out the letters, then stood still while my wife hit the pilot button on a flash for the portrait at the end. This was the third take.
- Jeff Bisti
---
Josh Matthews


I went to a very nice fireworks show we have every year here around central Mississippi. This is the first time I've taken July 4th this serious since I'm now in photography school. This was the best out of many shots although I did get a BUNCH of amazing pictures. This was taken at 6 seconds. ISO 100 and Aperture f/18. I was very happy at how this turned out and I look forward to doing this every year on July 4th!
- Josh Matthews
---
Lin Dunsmore


Fireworks, exciting. Photos of fireworks, not always so much. So I brought my friend Sergey to punch up my fireworks photo, and he doesn't disappoint. In this one, I can just hear the national anthem in the grungy sound of electric guitar playing along with the fireworks. Canon 5D Mark III with EF24-105mm f/4L IS @ 35mm 15, f/8, ISO 100 Manual flash @ 1/2 power with 2nd curtain sync
- Lin Dunsmore
---
Dan Durakovich


I went down to Long Beach, CA on July 3rd to grab my fireworks shots. Less crowds, less hassle, better for everyone. I decided to grab a whole bunch of tightly framed shots while moving the focus ring around during the exposure. This resulted in numerous really bizzarre looking shots with this particular one being my favorite. I cooled off the white balance in post which helped to give it that extra "other worldly" touch. Shot on my Nikon D600 at these settings: f7.1 / 4 seconds / ISO 100 / Nikkor 24-85 @ 70mm.
- Dan Durakovich
---
Whil Piavis


This was shot on a Nikon D50 (Old school?) with a Nikkor 18-55 DX VR f3.5-5.6 lens. It was shot at 20mm focused to infinity at an ISO of 200 and fstop of 3.5 for 10 seconds. So the story? I have the great fortune of living on Oahu, and in the morning we were heading out to the east side to hike Koko Head and saw that Mauanaloa Bay boasted "the best fireworks display." So after some grill'n in the afternoon, as every American should, we headed back out that way. Our plan was to sit on China Walls, but ended up with the sentiment of "We probably can't see anything from here." So we walked on down to some unnamed beach access and chilled out with a flock of folk's play'n Hawaiian music and watch'n the fireworks. There was a huge house party rocking behind us that lit up the top of the nearest palm trees with pretty cool effects, and I'm loving how the water lit up like lava. Appropriate, since we were sitting on a crater.
- Whil Piavis
---
Robert Ho


This photo was taken with a Canon 60D with Tamron 17-50mm 2.8 lens, ND8 filter on a tripod, ISO 100, lens at 20mm, F16, Exp. 50 sec. with timer remote. Disneyland always has the best Fourth of July fireworks in town, so I took advantage of my annual pass and made a trip there. This is the first time I shot a firework with ND filter, I like the results hopefully you like it too.
- Robert Ho
---
Marc Ziccardi


Canon G10 F8 2.0 sec exposure ISO: 80 PNY Elite-Performance Class 10 SDHC Card Fireworks over Lake Mohawk in Sparta, NJ. Because of the valley you get great echo with the big booms. They launch from a barge out in the lake. Great spot for Fireworks.
- Marc Ziccardi
---
Carl Schuett


This was taken with a Canon Rebel T31 using the kit 18-55mm lens. I put a variable ND filter on the lens and had it set to its lightest setting. The camera was in manual mode with the ISO at 100, the aperature set to f8, and the shutter speed set to bulb mode. I cropped the image at the bottom in Camera Raw and used a graduated filter on the bottom part of the image to fix the exposure a bit. I live in a neighborhood with a hill at the edge that provides a great view of the surrounding community. I set the camera at the top of the hill, pointed it at the houses and set the shutter open for a few minutes to see what I could capture. It was part experimentation and part luck since it took a bit of trial and error to get the settings right. I also had to be pointed towards a bunch of houses that all happened to be setting off fireworks at the same time.
- Carl Schuett
---
Nikhil Nawathe
I wanted to get the fireworks and the new One World trade center building (the Freedom tower) in the same shot. Wish I had a wider lens, but 18 mm was just good enough.
- Nikhil Nawathe
---
Steven Talunay
Canon 5DMarkIII My photo was taken in Toronto on the Toronto Islands directly across from the CN Tower and the Harbourfront. This was the first time in years that the Harbourfront hosted a fireworks show so I was able to find a spot that wasn't crowded and was able to setup my tripod comfortably. This was my favourite capture because the fireworks lines are crisp and the different coloured (colored) lights reflected on Lake Ontario. Shooting Summary Canon 60D w/ 18-200mm f/3.5-5.0 IS Exposure: 6 seconds Aperture: f/6.3 Focal Length: 18mm ISO Speed: 100 Exposure Bias: 0 EV Exposure Program: Bulb

- Steven Talunay
---
Todd Lundgren
After spending nearly six hours in a kayak, I was able to get a few shots off before the rain came. Long exposures and waves don't seem to mix well so I turned over to Automatic and snapped away to see if I could get anything worthwhile. I like this one because it shows clearly the skyline of Columbus, the army of kayaks underneath and of course, it wasn't fuzzy like every other freaking long exposure shot I tried to take. The camera used is a Sony DSC-HX200V on the automatic setting. I am sure a DSLR would take a better picture but nothing was going to do much better when your boat is constantly rocking. No matter what you spend on gear, setting you choose or how steady your hand can be. Not that I would turn down such a gift.
- Todd Lundgren
---
Mark Alan Andre


This image was shot using from the ground of the Marine Corps Memorial in Washington, DC. I used a Canon 60D with an EF-S 18-135mm lens, f/16 with 4 separate 15s exposures blended in photoshop.
- Mark Alan Andre
---
Natalie Stasiowski


Camera: Nikon D80 Lens: Nikon DX AF-S Nikkor 18-135mm 1:3.5-5.6G ED ISO: 800 Story: Picture was taken at a Fourth of July Block Party. There were a lot of little kids who were oohing and ahing at the fireworks. Especially the few aerial fireworks.
- Natalie Stasiowski
---
Luke Reidy


On the afternoon of the 4th, I hiked over to Memorial Drive in Cambridge with my camera, tripod, cold drinks, food and a chair in tow (there was lots of sweat involved) to get a good spot for the evening's fireworks here in Boston. Most of the resulting shots were pretty standard, but I thought these little fireworks towards the end of the show were rather different, kinda like little multicolored feathers. Shot with a Nikon D5100 & a Tamron 10-24mm lens @ 24mm, ISO100, f/14, & a 5.5 second exposure, and cropped slightly in Lightroom 4.
- Luke Reidy
---
Brian Przypek


The photo was shot with a Canon 7D and a Canon 10-22mm Zoom at 800 ISO, f3.5, with a .5 second exposure time. There were some obnoxious kids with lanterns behind me but the added front light turned out working in my favor. Shot in Ridgefield CT.
- Brian Przypek
---
Dan Tan


Titled ... "Red, White & Blue" Lake Ann Park, Chanhassen, MN w/ the Family Canon Rebel XT ISO 100 17mm 8s @ f11 Tripod w/ Remote Shutter Release Cropped to 5x7 w/ minor Exposure, Clarity & Vibrance adjustments in Lightroom
- Dan Tan
---
Ryan Clark


Camera: iPhone 4S (using native iOS camera app) Edited with: VSCOcam app This was taken a couple of miles from downtown Indianapolis. Indy shoots its fireworks off the top of the Region's Bank Tower in downtown. There wasn't much in the way of a breeze that night, so the smoke just kind of stayed at the top of the building, and from my vantage point this is all we saw for the "big finale"— a large plume of smoke. Made for a very dramatic looking show, if not a colorful one.
- Ryan Clark
---
Joe Robinson


Equipment: Canon Rebel SL1, 18-55mm Kit Lens, 3 Foot Tripod Settings: F number = 5.6 Exposure time = 1/15 ISO = 1600 Technique: Guess & check. Hope for the best. Story behind shot: Amateur photography with a shiny new camera trying to figure out what works best. Figured the fireworks show on the lawn of the nations capital was the best place for this.
- Joe Robinson
---
Ryan Floyd


The Las Vegas 51's baseball team has fireworks after the game on July 3rd. I used a longer exposure to get more of the light of the fireworks. Hope you enjoy. The exposure for 5 sec at f 6.3 35mm kit lens.
- Ryan Floyd
---
Aaron Hinckley


While taking photos of various fireworks being shot off at a party, one of the motor tubes was placed at a shallow angle in the sand. At the time I was experimenting with higher ISO and a shorter shutter speed in attempts to trim down the extended trails, and being able to shoot by hand. I was on a beach with no tripod, so I didn't want all my photos turning up blurry. This shot came out perfectly. I anticipated the detonation and snapped the shot just before the motor shell exploded, and the shutter closed before the rest of the bright parabolic trails set in. Very happy with how this one turned out. Camera: Olympus OM-D EM-5 Lens: Panasonic 20mm 1.7 Pancake ISO: 500 Shutter: 0.77 sec No tripod
- Aaron Hinckley
---
Austin Taliaferro
This image was captured during fireworks display in downtown San Antonio. Of course, that's about the only thing that went right. We meant to go all the way into the park where they were launching the fireworks but showed up too late to get a good spot. I brought my tripod with me, hoping to use that to create this photo but of course, forgot the adapter for my camera. So I realized my only way of creating any sense of focus was using the Tower of the Americas prominently displayed on the left side of the photograph. Canon T2i set to 1/400 exposure time with f/3.5, lens at 14mm, and ISO 6400.
- Austin Taliaferro
---
Rashid Mannan


I took this picture during the 4th of July fireworks show at the Brookhaven Amphitheater in Long Island, NY. I tried to follow the "spiky fireworks" tutorial over at http://www.diyphotography.net/long-exposure-… but it was harder than I expected. Guess I'll have to wait another year to try my hands at this again. Used my Canon 7D on a tripod. I used the Bulb mode to capture the firework, and then focused out and in while the picture was being taken.
- Rashid Mannan
---
Luis Rego


Shot on a Canon 60D with EF 24-70mm f/2.8L II USM. 15 sec, f/18, 39mm, ISO 100. I just moved to Duluth, MN from Minneapolis and this was at their 4th of July fireworks at Canal Park. I went with my family and friends and was decided to get a good shot to enter my first Gizmodo photo contest. This is one of my favorite shots because of the colors red, blue, and white representing the colors of the american flag.
- Luis Rego
---
Rory Schumann
My girlfriend and I decided at the last minute to go catch a local fireworks show in New Jersey. We stupidly thought we could arrive at the last second and find a good spot. Long story short we wound up parking a 1/2 mile away sprinting to the park and finding the last bit of open grass just before the lights went down. I set up in the dark using my cellphone for light much to the dismay of everyone around us. However I think with the final result it was all worth it. Shot with a Nikon D600 with Tokina 16-28mm at 24mm. The exposure is 3 seconds at ISO 100.
- Rory Schumann
---
Nick Scala


Equipment: Canon EOS 7D Canon 24-105mm f/4L lens Canon TC-80N3 Remote Tripod Taken in RAW and edited in Photoshop CS5.5 Story: Took this shot from Hoboken, NJ Pier C. First year going to NJ (I'm from Queens) to see the Macy's Fireworks. It was surprisingly nice for New Jersey (sorry NJ people). Anyways shot is taken on a tripod using bulb with a remote control shutter release (3 seconds) and f/11 aperture. I'd like to think I got lucky with the fireworks that landed on the image sensor. Shot it in RAW and edited it in Photoshop. Spent about 6 hours trying to remove this giant crane through the fireworks. I guess New Jersey isn't that great of a place. LOL just kidding, Happy 4th everyone and God Bless America!
- Nick Scala
---
Robert Beeman


This is a shot of the fireworks show held every year at the country club about a block from our home. I took this shot from our front steps so that our blinds and screen didn't interfere, but this is basically the view that we are lucky enough to have from our living room couch. The silhouette in the foreground is my neighbor's roof and tree. This 4th of July was my first attempt at shooting fireworks. I was initially timid and shooting with 1-3s shutter speeds, but soon started experimenting with up to 10-15s. This shot was taken with my Canon T4i and 18-135mm kit lens. It was shot at 50mm, f/8, 6.4 sec., and ISO 100.
- Robert Beeman
---
Robert Hartley


I call this photo: Anytown, USA I recently got into long exposure photography after I purchased my first DSLR last week, so I decided to experiment with it at my towns fireworks last night (July 5th) I tinkered with all the settings until I got something right, and honestly I had no idea what I was doing. My friends wanted a spot by a tree in the back of the field, so that's where I decided to setup. After getting some abysmal shots, I took this, and I really feel that this shot defines the awe and amazement that fireworks bring when people watch them. IT reminds me of a waterfall made of fire. I decided not to edit the image at all even though it could use a bit of work. Shot with a Canon t3i, 39mm, f/22, 10 sec exposure, 3200 ISO.
- Robert Hartley
---
Jordan Boulger


My fiance and I went out to the Chicago Lakefront to watch the fireworks on the Fourth and found a nice spot on a service road in Montrose Harbor. The Navy Pier fireworks were probably 8 miles down the lakefront, so none of those pictures were quite right with the small kit lens I have. There were a few groups of people with mortars right at the mouth of the harbor who were putting on their own shows. It was nice to have these other sideshows going, since the official show was only 15 minutes long. Gotta love the budget problems in Illinois... Picture was shot with a Sony NEX-C3 using the 18-55 kit lens, f/5.6 at 40mm with a 2 second exposure.
- Jordan Boulger
---
Stephen Garber


To shoot this photo I used a Sony A65 with an 18 - 55 mm lens at iso 100. Story: This is my first attempt shooting fireworks so I was skeptical about the result. On the fourth my girlfriend and I and went to a fireworks stand and purchased a small amount of non artillery fireworks that I thought would work great for shooting with my new camera. We first went tot he local fireworks show, but without planning ahead we scoped out a spot obstructed by some street lights and power lines (oops). After this we went home and got some good shots in the backyard with the fireworks we purchased. I only wish I would have thought about framing the images better, but I'm pretty pleased with my attempt shooting fireworks.
- Stephen Garber
---
Brian Tom


Canon 7D 28-135mm f3.5 Camera settings: Shutter speed 1/125, Aperture F3.5, ISO3200 "Starry Eyed Night" It was hard to pick one photo, but this photo stuck out to me because of the lighting and expression of wonder on my little brother's face. This is the second time celebrating the 4th of July with my little brother using fireworks and I knew he would be a perfect subject. It was a beautiful and brisk day in our backyard, but we were having issues getting the sparklers to work properly. To make a lng stroy short the sparklers would not light and then they wouldn't sparkle/work properly. SO we finally got a couple of them lit and sparkling. In the image I am holding two sparklers in front of my zoom lens at 28mm while my little brother is placing two sparklers in the ground like placing candles on a birthday cake to to celebrate our Independence Day. I was waving them around, but trying to get a unquie photo I started playing around with the angle. So I got lower to the ground and began clicking away. I wish the reflection in my brothers eye was brighter but overall I love this picture. I hope you like it, and I tried to pick something different from what you typically would see from this shooting challenge. God Bless America and my Thoughts and Prayers are with SFO.
- Brian Tom
---
Ryan Francis


Shot with a Canon T2i, f/6.3, 8 second exposure, ISO-400. I was trying out the remote shooting feature of this camera this year, so I was sitting on the ground in front of the camera watching the fireworks with a little live view screen in my lap. I shot with bulb mode and forgot to stop the exposure a few times because the fireworks looked so good. A street light up and to my left caused the flare in the corner.
- Ryan Francis
---
Joshua Moore


On the Fourth, I was visiting with some friends watching the local fireworks display when I caught this interesting shot. I had been shooting with one finger on the shutter button and one eye on the viewfinder so as not to miss the experience so I didn't notice this interesting shot until I loaded it up on my computer. Minor adjustments to white balance, crop, etc. made in RawTherapee and GIMP. I just purchased a DSLR several weeks ago and I'm trying to force myself to practice by entering some shooting challenges. This is my first submission to a photography contest. Canon T3i with EFS 18-55mm lens f/11.0 3.2 sec ISO 100
- Joshua Moore
---
Nate Packer


I decided to call this shot "The Morning After." (The rules didn't state that the fireworks needed to be going off at the time of the photo.) I was going for a bike ride the morning of July 5th, and noticed all the piles of spent fireworks on the curb that had been swept up and hadn't quite made it to the trash bin yet. I'm no photographer, but thought it would be a fun take on the challenge. Used my Canon Rebel T4i, f/10, 1/250 sec, ISO-100, 55mm. I did absolutely nothing to the photo. Probably would have if my four kids would have given me the time.
- Nate Packer
---
Brad Herman


I am a father of three young kids, the oldest of which has been fighting cancer for 2 years. You may have seen him in the videos from last years Make-A-Wish / Nerdist Course of the Force. He is "The King of Fast" in the R2 outfit I made him. In fact we will be running in that event this upcoming weekend to help raise money for other kids to go on wish trips like we did. The best thing about shooting fireworks is spending hours with my family having fun out at the park. Enjoying the fact that our son is still fighting and doing well enough to be out with us. We have missed more holidays and events than I care to recount. My eldest son Elijah sat on my lap and used the remote trigger for some of the photos, The contest rules are clear on 1 entry per e-mail and no multiple emails from one person. Being 5 1/2 years old he doesn't have a dedicated email address. This is the best of his photos: http://www.flickr.com/photos/bradher… and the one I would have entered on his behalf. The rules state that I could mail it in, however there is no way the mail would get to you before the contest ends on monday. It's an image of a new type of "shell within a shell" firework effect. For My submission, I have a lot of photos from this day that I am proud of. I have included attached to this email the one that my friends on Facebook voted their favorite. It's one of mine as well. It's well stacked in height and shows ground cakes and 3 sizes of mortars along with a good view of the statues at the Coliseum gates. Canon 5D MkII f/13 9s 200iso 17-40L @ 17mm Manfrotto 055XPROB Pro Tripod with 808RC4 Head Quick Release Cable, Bulb Mode. I Shoot RAW, processed in Lightroom 5 I have been photographing fireworks for several years now at my local show. Unfortunately our local show in Culver City was dark this year due to field renovations. We where tipped off by our friend Mike at Pyro Spectaculars that the longest show in the state would be down at the Los Angeles Coliseum and he would be triggering it. We setup a few hours early with a big tripod all setup to make sure I could get the shots I wanted. Using google maps and the shell info from Mike I was able to calculate (pythagorean theorem) the 61 deg angle of to the top of the highest shells. I aimed my 17mm (91 hFOV) lens up at 30 deg and prefocused my rig to infinity. I try and keep the camera a good 6' off the ground to make sure I can get the crowd in the shot. Without the crowd you lose the scale. In this case it also let me see about 60 cell phones taking photos of the fireworks. In many of the images you can clearly make out the shots they where taking on their screens. With my family by my side we sat and watched the show. More or less every 9 to 20 seconds I would start a new exposure. That part is less science and more art. I just like to figure out when the screen with have a good canvas of light. I shoot stopped down to f13 so I know I can do a 30 second exposure of the background before I get into over exposure. It also helps with the focus. Each Image is like a painting that I can't control, I often try and get a mix of cakes, flares, and mortars in the shot. Those are my favorite where the whole image can be filled with Light. There where 2,000 lbs and 1,300 fireworks launched at Los Angeles Memorial Coliseum by my friend Mike Tockstein for Pyro Spectaculars on July 4th 2013. You can see the rest of the set here, along with some behind the scenes shots of the mortars, control board, and techs:
- Brad Herman
---
Kelsey Ito


I'm Kelsey Ito and I'm from Hawaii. Because the fireworks display for our town is very small I decided to go to our local Walmart and buy a few cheap ground bloom fireworks for this weeks photo challenge. When I threw one of the ground blooms in to my backyard I didn't expect much, but after I took a few photos I found that these small cheap fireworks look just as cool (if not more) than their big brothers. I shot this photograph with my Canon 5D Mark III with a EF 70-200mm f/4L lens. It was set at 1/25 sec at f/4.0 with ISO 125. I hope you guys like it.
- Kelsey Ito
---
Victor Oliveira


Here it's my 1st submission, I used Cannon t3i 45mm lens with the following settings: ISO:100 F/16 5" Shutter speed. This was my 1st attempt as doing fireworks we kinda got there little late and totally unprepared, not really sure where the fireworks would be launched from once i realized where people where seating up to watch I use my car antenna as tripod and remove stabilization and timed triggers and prayed. It was great experience so why not share heheh
- Victor Oliveira
---
Matthew Johnson


We went to my sister-in-law's house for the 4th where amazingly, they still allow fireworks. We got to set them off in the backyard; something I haven't done for over 20 years. We had a blast and my kids loved it. I feel my shot is quite simple and I like how the lamps frame the small firework in the middle. Tech info: 2.5 seconds, f/16, 20mm, ISO 400
- Matthew Johnson
---
Christina Crowner


Everyone has a little bit of crazy in their family. Mine has a plentiful amount. One of our favorite crazy family traditions is throwing a 4th of July dock party in downtown St Pete, Florida. This involves no little bit of booze and the creation of tin foil hats to protect ourselves from stray fireworks (with the added benefit of thwarting alien brain scanning devices). So, here are a few of the crazies enjoying the fireworks in their tin foil hats. Canon Rebel T3i f/3.5 1/30 ISO 2000 18mm
- Christina Crowner
---
Nils Rohwer


This weekend was the triennial "Zürifescht" which is essentially a party thrown by the city of Zürich to celebrate the city of Zürich. Part of the show is the Friday and Saturday night fireworks display which is half an hour of pure awesome, in the literally sense. Musically choreographed and fired from barges in the lake this even draws around 3 million people to the usually quiet Swiss city. I was out shooting a timelapse of the event so this is one of the frames from the 5000 I shot over the weekend.
- Nils Rohwer
---
Paul Valerio


I shot this on a Canon T4i with a Sigma 18-250, 4 second exposure at F/11. As the shutter opened, I slowly unfocused the lens to add a nice flowering effect. Worth the mosquito bites and humid summer air if you ask me.
- Paul Valerio
---
Dan Fain
Taken with a Canon Rebel XTi with 17-50mm lens at f/2.8, 2.5s shutter speed, ISO 100 This photo was one of a large set that I took from a bridge overlooking my local 4th of July firework show. I borrowed a friend's tripod for the latter half of the set, which helped a lot. The RAW file was postprocessed a bit in photoshop to tweak exposure and the like.
- Dan Fain
---
Tobias Ammann


So due to a lucky coincidence my city here in Switzerland (Zürich) was having its 3-day-long self-celebration. Two nights of Fireworks, perfect for me to participate in the challenge. So everyone was sitting on a grassy slope and I was primed with my small tripod, But like always it takes one guy to ruin it for everyone, As soon as the show began, a guy stood in front of everyone and started taking pictures of the fireworks with his phone, blocking the few for everyone behind him. As group dynamics go; at first everyone screamed at him but eventually everyone was standing. Fireworks were great, especially when not viewed through a lens or on a smartphone...
- Tobias Ammann
---
Jack Gebhardt


So I call this "The Flower". I love the fact that its an entire life of a fire work. Your get to see the climb, the explosion and the color in one shot. To get the shot was a pain. I got to the area to set up really early. It turns out they changed the launch point of the fireworks from previous years. So once the show began I had to relocate very fast. I was sprinting with camera equipment through mud to get to the new location which was very muddy. I missed half the show relocating. I watched a video earlier in the day from FroKnowsPhoto.com explaining firework photography. I was really suprised that ISO is set really low with it. Camera : Nikon D5100 Lens : Nikon 18-55mm 3.5 F-stop : 4.5 Exposure : 4 sec Iso : 160
- Jack Gebhardt
---
Aaron Schurman


Camera: Olympus OM-D Lens: Panasonic Leica 25mm F Stop: 3.5 ISO: 1250 Shutter: 1/400 Story: Just trying to take some cool photos of sparklers and extreme DOF and I was failing miserably. Realized the lens I shot with in the past was a 50mm on an APS-C chip (similar to 80mm on a 35mm setup) and I was now shooting with a 25mm on a micro 4/3rds setup (similar to 50mm on a 35mm setup). After melting my lens hood from getting too close to the sparklers, I gave up and started shooting more in the dark. Got this freak smoke heart as a result. Fireworks=Love. Worked out in the end!
- Aaron Schurman
---
Casey Mills


This picture barely qualifies, but if you look closely there are two fireworks in the background. Before the local city fireworks began I took a few long exposures of the Fair. Little did I know, from this vantage point I could see 5-6 other firework shows in the valley. After two sudden rain showers I packed up my camera and headed home before the Fair fireworks started. Camera: Canon T3i Shutter Speed: 20 Aperture: 25.0 ISO Speed: 100 Lens: EF-S18-55mm
- Casey Mills
---
Spender Lund


.8 sec. | f/11 | ISO-800 | Nikon D7000 For the 4th of July I went to Seattle and saw their fireworks show on Lake Union. My dad has an office with a balcony overlooking the lake, so I wouldn't have to deal with other people. However, a marina sits between the balcony and the barge the shot the fireworks off of, so I had to go vertical rather than horizontal to avoid having sailboat masts in the shot. Towards the bottom of this shot you can see a couple people on the lake in kayaks, illuminated by the red fireworks.
- Spencer Lund
---
Brock Girard


I set up for my city's annual fireworks display a few blocks away with my family. Fortunately, my office is close to the park where they are shot, but far enough away that I can dodge most of the traffic! This shot was obtained using my Canon Rebel T4i with a Canon 28-135 IS USM telephoto lens. The ISO was set at 100 with an aperture of 8. The shutter was set at Bulb and I used an IR Promaster remote to control it. I grabbed tons of great shots that night, but this is one of my favorites because of the shape that was created. Unlike the traditional "round" burst, this reminds me of a dragonfly.
- Brock Girard
---
Armont Van Dyck


This image is titled "Explosions in the Sky" (yes, just like the band!) ______ This past fourth of July, I visited a family friend on the East Coast (my first time being there) and had an amazing time. I'm from California and was amazed at how patriotic everyone there was! We were in North Carolina; more specifically the Outer Banks (OBX) and had our very own beach house for the week. Over there, they go big—a huge outdoor stage with live band, parades all day, and numerous shows and attractions. Everyone congregated at around 9 PM and then the live music stopped; all we could here was the buzzing and anticipation in the crowd. Then before we knew it one of the biggest and most spectacular fireworks shows I'd seen was playing overhead. We were so close to the action that I didn't need to zoom in much to grab this shot. I knew I liked it the moment I saw it. It captures the action, intensity and beauty of the fleeting fireworks that so many people come to see every year. This image was shot with my Canon Rebel SL1 fitted with a Tamron 18-200mm lens. It was shot at ISO 100, with an aperture of f/4, a 2.9 second exposure and a 38mm focal length (~60mm equivalent).
- Armont Van Dyck
---
Andrew VandenHeuvel


I started this challenge with a few different ideas on what type of shot I wanted. I wanted my photo to tell a story, I so I framed it with some silhouettes to give it that feeling of having fun with your friends. Since I didn't have my tripod with me, I found this challenge particularly difficult. And with minimal light, auto-focus was not going to happen. It took a while, but I finally dialed in the focus and took the shot. My ISO was all the way up (3200) so I could stay faster than 1/20 sec to avoid camera shake. Although in this shot I stepped it down to 1/6th and was still able to avoid (most) camera shake. I used Lightroom to add some 'Pop' and remove some noise.
- Andrew VandenHeuvel
---
Matthew Lass


Shot with a 5D Mkii, 70-200 F/4 L IS in Bulb mode at 70mm on a tripod with Yongnuo shutter release wireless transceivers. ISO set to 50 since I knew I'd be doing long exposures. With Independence day falling on a Thursday, and having to work the next day, I decided to continue the tradition of launching safe and sane fireworks in my driveway, while everyone around me was lighting M-80s and the like. None of the nieces and nephews were coming over, so the fireworks were purely for my photographic pleasure. I chose this shot because it looked different than all of my others, which were recognizable as fireworks. This one looks reminiscent of many different things, though I have a hard time trying to describe it.
- Matthew Lass
---
Carl Basdeo


My name is Carl Basdeo and this is my submission, "Event Horizon". This Fourth of July, my cousins and I decided to make our own fireworks like our aunts and uncles did when they were young. We tied steel wool to a wire, lit the wool on fire, and created the spectacle in the photograph by swinging the wire, showering the place with molten metal. There were many minor burns, especially one cousin who somehow always seemed to be standing in the wrong place at the wrong time everytime. However, it will be remembered as the greatest Independence Day we've had together. From the many photos taken during that night, this photograph really conveys the epic-ness we all felt. The photo was taken with a Canon T3, 18-55mm kit lens, 18mm, f/8, 1/4, ISO 3200.
- Carl Basdeo
---
Rob Ogilvie


Last year's submission was made without a tripod or remote shutter. This year, I set up with a tripod and remote shutter on my Sony Alpha a65 with a nifty fifty lens. I left the lens fairly open at f/6.3 and had exposures ranging from a second to nearly a minute. This shot was exposed for about three seconds and edited in Lightroom with some fairly generic cleanups. I really like how the framing worked out based on my location (which I didn't get to choose) and the location of the fireworks (which I definitely didn't get to choose).
- Rob Ogilvie
---
Sanket Shah


The Bulb is Mightier than the Shutter Went to see Macy's fireworks from the New Jersey side of the Hudson for the 2nd year in a row. Tried out the DIY modified hands-free shutter release I read about here. Played with Bulb mode for the first time (so much easier than guessing shutter times!!). Best shot of many good ones. Shot on my Canon T3i, 7 sec exposure, f/11, 100 ISO, at 35 mm (standard kit lens).
- Sanket Shah
---
Anand Devaraj
Title: Color Spatter Place: Bradley Beach ,NJ Camera: D90 Lens: Tokina 100mm Macro ISO: 200 The July 4th Fireworks has become a family tradition for us ever since our daughter was born. This year we went out to the very first beach that she visited as a baby, Bradley Beach, NJ. It was quite special for us to watch her play and remember how tiny she had been on her first visit. She was not really looking forward to the fireworks as she was still a little scared of it. But once the fireworks started, another first happened for her, as she began to enjoy the beautiful colors that the fireworks were painting across the sky. As an added bonus we could also see other fireworks displays going on along the Jersey shore right from where we were sitting on the cool breezy beach. I wanted to experiment a little with the pictures, this time so I shot it all using my macro lens. The fireworks seemed to look like welding sparks, to me, bright,clear and intense!
- Anand Devaraj
---
Hanna Tacha


Camera: Nikon D3000 Nikon DX (kit) Lense ISO: 200 F 13 Shutter Speed: 3" Annually I share in the excitement of large-scale, sky-filling fireworks shows with friends and family on Independence Day. Secretly however, I await my favorite type of fire-powered magic, sparklers.
- Hanna Tacha
---
Claudia Rocha


Visiting my husband's family for the holiday, we decided at the last minute to go watch fireworks. Ended up in the parking lot of a Home Depot in Freehold, NJ, watching the fireworks through trees, above the building. I had my tripod but was apparently missing the plate, so I just balanced my camera on it and went with a shorter exposure length. I kind of like the featheriness that happened with my slight shaking, though. ISO 400, 52 mm, f/3.5, 2.5 seconds with my Nikon D80 and AF-S DX VR Zoom-Nikkor 18-200mm lens.
- Claudia Rocha
---
Joshua Davis


I took this shot on July 4th at a firework show near my sister's school in Summerville, SC. I had some issues getting decent shots because of a few reasons. I set up rather close to where the fireworks were being launched, the fireworks were shot rather low, the wind was blowing the smoke toward me (thus each explosion was illuminating the smoke and creating a blur in most every picture) and across the street the school had its floodlights on which created some nasty light pollution. I used a Canon EOS Rebel T1i, with a18-55 mm lens, my settings were: ISO 100, f/3.5 with a 2 second exposure and I was shooting in RAW. For post processing I used Photoshop CS6 to do clean up some of the smoke and light pollution from the school.
- Joshua Davis
---
Ken Janeczko


This image was taken on 7/6 off my brothers dock on McKane Lake, Argentine Township, MI. Everyone around the lake was lighting off fireworks (including us) and then there was this main showing off a platform in the middle of the lake. I liked this one the best of the bunch. Especially the reflection in the water. Nikon D90 Sigma 18-50 at 27mm ISO 200, f/8, 20sec
- Ken Janeczko
---
Jesse Opgenorth


Details: Canon EOS REBEL T3i, Kit lens, 20mm, f/20, ISO-100, 15 sec exposure, Beer, Fireworks Because my neighbor and I were confined to our apartment complex because of beer, we chose fireworks and photography as a great way to expend our time. We chose to experiment with the available resources which included a pool and some water features. This was the picture that I felt reflected the capability of fireworks.
- Jesse Opgenorth
---
Michael Starr


After grilling and playing ladder golf all day, my wife and I decided to get a close-up of the fireworks on Fort Lauderdale beach. The beach was packed but we managed to find a small patch of sand to set-up a few towels on. It always amazes me how crowded the beaches get during holidays compared to a normal day. The fireworks were launched from a barge only a few hundred yards from shore. I was fortunate enough to capture a few images I liked but I really enjoyed the variety of colors in this particular photo. Nikon D5100. ISO100. F/11. 11 seconds.
- Michael Starr
---
Jeff Peffer


After a long day in the sun and my share of adult sodas, I didn't think I would be participating in this challenge. It turned out my spot by the campfire not only had a great view of the fireworks show, but also a jagged piece of rock to hold my GorillaPod and camera. This shot was taken at the small community of Sunland Estates, just outside of Quincy, WA. This small spit of land sits just below the Gorge Amphitheatre on the Columbia River. Being so for north and west, we had to wait until almost 10:00 before it was dark enough below the cliffs to see the firework show. Shot with a Canon 7D and a Canon 18-135mm lens. Shot at 18mm, f/22, 5 second exposure with the ISO set at 500. As this is my first time submitting to a Shooting Challenge, I decided not to do any editing other than slight cropping.
- Jeff Peffer
---
Sharon Joshi


Thanks to my wife's workplace we were able to score a primo spot to watch the Seattle fireworks on Lake Union. We got there early and I got my tripod setup on the perfect spot. Everybody attending got really into it and would shout "Did you get that one?!" after a really nice explosion. It was a lot of fun to see everyone get excited about photography. I got quite a few good shots, but this one stands out because of least amount of smoke, multiple explosions, beautiful color and the nice light trails on the bridge in the background. Camera: Canon t3i. 55mm at f/11, ISO 100 and 7 sec exposure.
- Sharōn Joshi
---
Tracy Johnson


My husband and I went to La Push, Wa, this weekend to enjoy the beach. He brought along his fireworks for July 4th and I thought it was the perfect opportunity to get a good photo in for the contest. It finally got dark at around 10 PM and we got to work. After multiple pics, this one with multiple explosions in one produced the best effect. Edited a little bit to adjust exposure of the background and the beach. Canon T3i, 12 mm. ISO 100, f8, 20 sec exposure.
- Tracy Johnson
---
Amie Hauck


Nikon D7000 35mm ISO100 1.3 seconds f 2.8 tripod shutter cable release View of Washington DC's annual 4th of July fireworks from Mt. Vernon, VA overlooking Lincoln Memorial and Washington Monument. The glow of the multi colored fireworks mixed with the silhouettes of the boaters on the Potomac River couldn't have made it more aesthetically pleasing.
- Amie Hauck
---
Daniel Rivera
Equipment Camera: Nikon D800 Lens: Nikon 18-105mm DX Aperture: F/14 & 11 Shutter speed: 15.0 Sec ISO: 50 My wife and I spend this past weekend in Catalina Island, California and had a blast. I knew there would be fireworks so I brought my camera. Upon checking in to my hotel I went out scouting to find the best place for my shot or where to position myself in order to get the shot I wanted. Unfortunately I found the perfect spot but due to transportation and the strick restriction they have on the island I cloud not get the the spot I had previously wanted. As the time got closer I decided to find the darkest place I cloud find, so that I wouldn't get any light contamination from the street lights. I found the perfect place near the shore called "Lovers Cove". It was pitch dark and the perfect place to set up. I took multiple pictures and then went back into photoshop and layered them together. I changed the blending mode to "Lighter Color" bringing in only the colors and leaving my foreground black as the night. Thats all their is too it, I had a blast shooting this challenge as it was my first time entering. This is actually also my first time ever taking pictures of fireworks so it took me a couple of shots to get the exact settings to capture it the way I imagined it =)
- Daniel Rivera
---
Long Hong


Canon EOS Rebel T4i - 18mm - ISO200 - f/10 - 5 sec This was my first foray into Fireworks Photography with my newly purchased DSLR. (I've had it less than 3 months time.) I had never really shot fireworks before except on my iPhone, so I figured why not just throw myself in the deep end and shoot on the 4th of July, I very briefly read up on photo articles and blogs and followed links on your site to get a basic understanding of what I needed to do to shoot fireworks. As expected, several things did not go well. I didn't scout my location at all, I just picked what was available to me on Mt Washington in Pittsburgh and hoped for the best. I set up my tripod (which I bought the night before), on grass, not flat pavement and got my camera and settings ready with 5 minutes to spare before the show started. The lens I used was the 18-55mm lens that came with my camera kit and I had no idea if I focused to infinity properly as there was nothing on the lens to let me indicate or let me know. My one saving grace was probably the wireless remote I bought along with my tripod the night before. I basically stood beside my camera and just snapped photos with my wireless remote pointing back at the receiver on the front of the DSLR. It may have looked odd for any onlooking person, but it allowed me to gauge the timing of the fireworks with both my eyes on the actual show and not with one eye in the viewfinder, which I think helped me capture the photo I'm submitting successfully. This wasn't my most interesting shot of the night, but the one I feel is most indicative of what I want to see at a fireworks show. A lot of red, white and blue.
- Long Hong
---
Kayleigh Billings


I shot this with an Olympus e620, with the 70-300mm zoom lens. I was on a bridge with my friends to watch our town's fireworks show, and the little girl and her mother next to me kept lighting sparklers and throwing those little poppers. She would offer them as well to us as well, and tell us "Throw them at the same time," or give us candy. She was really cute and it looked like she was having a lot of fun, so I thought this was a cool shot.
- Kayleigh Billings
---
Moira Flood


I took this shot during a neighbor's fireworks display on the shore of Keuka Lake in the NY Finger Lakes. The red glow at the bottom of the frame hints at the bonfire that was burning on the beach. Canon EOS REBEL T1i 50 mm lens ISO 800 f/4
- Moira Flood
---
Jose Sanchez


Well I had went to Rosarito Beach, Mexico for my 4th of July weekend. So we went down to the beach and got front row seats to the firework show. Fireworks were going off every where, it felt like a color-full war. I used my Canon Powershot S5 Si and set it to fireworks setting
- Jose Sanchez
---
Petar Kraguljac


Canon 5D Mk II Canon EF 16-35 f2.8L II USM 10 seconds at f16 in bulb mode using a trigger f16 at 18mm ISO 400
- Petar Kraguljac
---
Cullen Malone


Title: Custer's Last Stand Originally I was very excited about this shooting challenge because I was going to be at Mount Rushmore on the 4th of July, what could be more 'merica than that! However, when we got there we discovered that they no longer do fireworks because of fire danger. Disappointed, we ventured through a few small towns looking for firework shows and landed on Custer, South Dakota where we actually ended up seeing one of the best firework displays I've ever seen. I was annoyed at first when this couple walked through my shot, but in the end I decided to make them a part of it and they managed not to move at all for the 13 seconds it took to take the shot. I think they add a bit more personality to the image. Sony a77; ISO: 200; F/11; 13 sec. exposure; 22mm
- Cullen Malone
---
Wow, you went all out this week. On one hand, I hope we didn't ruin the fireworks for the 75 of you who elbowed your way through crowds to set up a tripod and watch the festivities through a viewfinder. On the other hand, they sure are some pretty photos. And these fireworks will never burn out.
Thanks to everyone who participated. You can find the wallpapers on flickr.