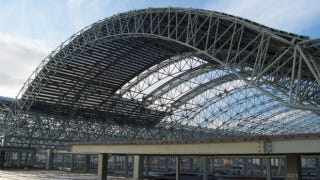 The East Coast just got hit by a 5.9 magnitude earthquake. That's nothing. Comparatively the world's largest earthquake-proof building can withstand a magnitude 8.0 quake.
Turkey perpetually sits on the verge of seismic hail and brimstone. Thus, The newly-built 2 million square foot terminal at Sabiha Gökçen International Airport in Istanbul, which is the largest earthquake-proof structure in the world.
Designed by the seismic geniuses at Arup, the terminal is epic. A sprawling 32-foot-tall cage forged from steel and steel-reinforced concrete. It's built on top of 300 seismic isolators which work like huge rolling pins that help dissipate the vibrations that might take the building down. As Wired's reported, the building's isolators reduce the amount of seismic acceleration the steel has to absorb by one-fifth. Arup ran their design through 14 different earthquake simulations to make ensure the terminal could really survive a 7.5 to 8.0 quake.
And it's a good thing! The airport handles more than 11 million passengers per year—with plans to expand to more than 23 million in the next decade. Scientists are forecasting a devastating quake in the region by 2030. [Constructalia - Wired - Construction Magazine]