This one-eyed spaghetti monster is not the official map of the Tokyo, but one designed by Korean design studio Zeroperzero. It not only shows the system itself, but also the landmarks, acting as a tourism guide too. They have other maps for cities like New York, London, and Paris.
Tokyo Railway System is a railway map of Tokyo metropolitan area whose overall image is inspired by the circle of the Japanese national flag, Hinomaru. Intricate scheme of lines spread out to span the entire city area along concentric circles, with the Yamanote line forming the central circle. This map includes more than 1500 stations and over 100 lines covering not only Tokyo but also the surrounding regions of Yokohama, Chiba, Omiya, Hachioji, and Kawagoe.
NYC System is a railway map of New York City inspired by the shape of heart from Milton Glaser's "I♥NY" logo. Famous landmarks and tourist attractions such as Empire State Building are incorporated into the map, creating a sense of New York City as a tourist spot.
The inspiration for the design of Paris Railway System came from the Eiffel Tower, a Parisian symbol.

On this map, the Seine sketches the arch and silhouette of the Eiffel Tower, upon which the Parisian railway combination of Metro, RER and Tram are laid, filling in the body of the Eiffel Tower. The beams of searchlights zooming out from the very top of the Eiffel Tower and the clouds representing the zone system mingle with the railway map to complete the nightscape of Paris.
G/O Media may get a commission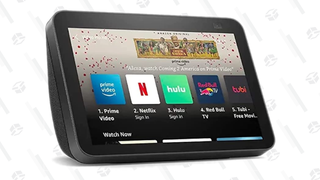 Berlin Railway system takes a motif from bear, the symbol of the city. The shape of the "A" zone on maps looks like a bear's head in profile.
The design of London Railway System first lays down the zone system, taking elements from the round-cornered cross section of the Tube and from the Union Jack, and then sets the railway lines on it. The zone system is made up of rectangular zones that grow at regular intervals; this draws the viewer's attention to the central part of London as do the diagonal patterns of the Union Jack.
---
SPLOID is a new blog about awesome stuff. Join us on Facebook