This past Monday, the Los Angeles Times was the first media outlet to report on the 4.7 magnitude tremblor that struck the region. Incredibly, it wasn't a human who wrote the post — but an automated system pre-programmed for the task.
This "robo-journalist" — called Quakebot — was developed a little over two years ago by Ken Schwencke, a journalist and programmer for the LAT.
It works like this: Whenever an alert comes in from the U.S. Geological Survey about a quake above a certain intensity, it pulls the required information from the report and plugs it into a template. Quakebot then sends it to the LAT's content management system where it awaits approval by a human editor — in this case, Schwencke, who published the article under his byline.
Here's the article in all its automated, dispassionate glory:
A shallow magnitude 4.7 earthquake was reported Monday morning five miles from Westwood, California, according to the U.S. Geological Survey. The temblor occurred at 6:25 a.m. Pacific time at a depth of 5.0 miles.
According to the USGS, the epicenter was six miles from Beverly Hills, California, seven miles from Universal City, California, seven miles from Santa Monica, California and 348 miles from Sacramento, California. In the past ten days, there have been no earthquakes magnitude 3.0 and greater centered nearby.

This information comes from the USGS Earthquake Notification Service and this post was created by an algorithm written by the author.

Read more about Southern California earthquakes.
So, from the moment of the earthquake to the time of publication, only three minutes had elapsed. Wow.
G/O Media may get a commission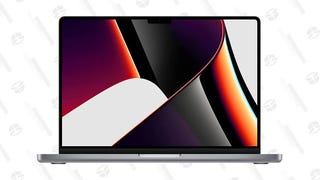 Save $300
2021 14" 1TB MacBook Pro
Over at Slate, Wil Oremus considers the potential — or lack thereof — for this futuristic brand of journalism:
Robo-journalism is often hyped as a threat to journalists' jobs. Schwencke doesn't see it that way. "The way we use it, it's supplemental. It saves people a lot of time, and for certain types of stories, it gets the information out there in usually about as good a way as anybody else would. The way I see it is, it doesn't eliminate anybody's job as much as it makes everybody's job more interesting."

Having spent some years as a local news reporter, I can attest that slapping together brief, factual accounts of things like homicides, earthquakes, and fires is essentially a game of Mad Libs that might as well be done by a machine. If nothing else, a bot seems likely to save beleaguered scribes from scouring the thesaurus for synonyms for "blaze." (Lacking an ego, Quakebot does not concern itself with elegant variation.) And in the case of earthquakes, an algorithm may actually be better at judging the newsworthiness of a particular small quake than your average gumshoe reporter or editor. Quakebot knows, for instance, that a magnitude less than 3.0 means it's probably not worth freaking out about, a lesson that over-eager wire reporters don't always grasp.

At the same time, Quakebot neatly illustrates the present limitations of automated journalism. It can't assess the damage on the ground, can't interview experts, and can't discern the relative newsworthiness of various aspects of the story. Schwencke notes that it sometimes generates a report based on a false alert or glitch in the USGS system. (Like many of its human counterparts, Quakebot doesn't double-check its facts before publishing.) And this might be nitpicking, but only the densest of sentient journalists would see fit to include the detail that the epicenter of Monday's shaking was "348 miles from Sacramento, California."
More at Slate.
Note: This article was written by a human.