Christopher Nolan's Interstellar has officially found its star. Guardians of the Galaxy adds another villain to the mix. Check out some new videos for Tom Cruise's Oblivion, plus teasers for Catching Fire and the Carrie remake. Three Walking Dead actors get promotions in time for season four. Plus more on Game of Thrones, Revolution, Arrow, and more! Spoilers from here on out!
Top image from Oblivion.
Guardians of the Galaxy
While rumors fly about Star Trek's Zoe Saldana joining the cast as Gamora, there's also a report out about a new character. Specifically, one of the film's villains will reportedly be The Controller — real name Basil Sandhurst, which actually sounds way more villainous than "The Controller" — who "will act as Thanos' main henchman and ambassador." [Latino Review]
Interstellar
Matthew McConaughey, Hollywood's crown prince of shirtlessness, confirmed that he will star in Christopher Nolan's upcoming science fiction epic. The easygoing McConaughey apparently already understands what it means to be in a Christopher Nolan movie, because here's his entire quote:
I'm confirming.
I'd like to think he at least added an "Alright, alright, alright" to that, but sometimes the universe fails us. [Star Tribune]
G/O Media may get a commission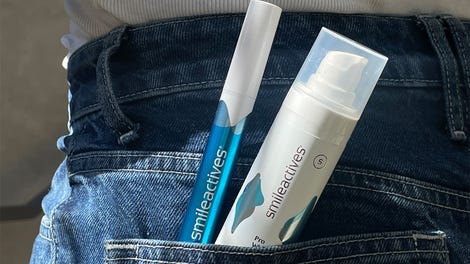 58% off
Whitening Powerhouse Pen & Gel Duo
Catching Fire
Here's a sneak peek at the first full trailer for the Hunger Games sequel; the actual trailer will debut at the MTV Movie Awards. [/Film]
Oblivion
Here are interviews with star Tom Cruise and Quantum of Solace's Olga Kurylenko,
Carrie
Here's the second teaser for Boys Don't Cry Kimberly Peirce's new adaptation of the Stephen King story, starring Chloe Moretz and Julianne Moore.
Doctor Who
Stars Matt Smith and Jenna-Louise Coleman offer this introduction to Saturday's episode, "The Rings of Akhaten," written by Luther creator Neil Cross. [Life, Doctor Who, and Combom]
BBC South Africa has revealed these short, presumably accurate synopses for the final four episodes of the season. Notably, this offers our first real insight into what to expect from Steven Moffat's season finale:
JOURNEY TO THE CENTRE OF THE TARDIS
The TARDIS has crashed, Clara is lost inside, and the Doctor has 30 minutes before his ship explodes!

THE CRIMSON HORROR
Something ghastly is afoot in Victorian Yorkshire, as bodies are found with their skin a waxy, glowing red.

NIGHTMARE IN SILVER
Hedgewick's World of Wonders: the perfect theme park day out - and ground zero for a deadly silver resurrection.

UNTITLED FINALE
Someone is kidnapping the Doctor's friends, leading him towards the one place in all of time and space that he should never go.
The obvious place that the Doctor should never go is Trenzalore, which according to "The Wedding Of River Song" will be the site of "The Fall of the Eleventh," and "Silence must fall when the question is asked," and so on and so forth. And while a trip there is certainly possible, considering each of the two previous season finales have represented progressions in the Silence and River Song storyline, it does kind of seem like one would save "The Fall of the Eleventh" for Matt Smith's regeneration story. So it could be somewhere else, possibly even somewhere that we won't actually learn about until later this season. [Blogtor Who]
Meanwhile, there's also a somewhat old rumor that the title of the finale is "The Funeral of River Song," which would match up nicely with last year's "The Wedding of River Song"... though of course River dies way back in her first appearance in "Silence in the Library"/"Forest of the Dead," so make of that what you will. There are a couple supposed insider sources that passed along the title, but even the original report stresses it's unconfirmed. [Bleeding Cool]
Game of Thrones
Here's a video interview with stars Kit Harington, Rose Leslie, Sophie Turner, Maisie Williams, and Natalie Dormer. [Wired]
The Walking Dead
Chad L. Coleman, Sonequa Martin-Green, and Emily Kinney, who play Tyreese, Sasha, and Beth on the show, have all reportedly been promoted to series regular status for season four. [TV Line]
Revolution
Star Billy Burke discusses what's ahead for Miles in the rest of the season:
As Monroe starts to sink further and further into the abyss, and Charlie basically takes on all the characteristics of Miles that he would never want to see in her, especially, let alone anybody else, he starts to reveal some things about himself that he would never have even admitted to, and he starts to realize that there's more to care about than himself. He's just a selfish bastard, but he starts to realize that these annoying fucking people that he's been hanging around with for so long, he actually does start to care about them. So, we'll start to see that more and more.

What's he going to do with Nora and Rachel?
Well, it gets dicey, you know? People have emotions and things that happen, along the dusty path that we're on. And people have got to make babies in the future. He's just really following his instinct and, at this point, trying not to destroy more than he builds.

What can you say about the evolution of Charlie and Miles' relationship?
Well, Miles doesn't have any kids of his own, that he knows about, so when this little brat comes along and snivels her way into his life, he wants no part of it. Now, he's looking over his shoulder, every moment, for where she is. Does he want to be doing that? No, he doesn't, but he can't help it now. And then, he starts to almost enjoy seeing her evolve and become this little warrior. But, as that starts to grow and build, and she starts to get deeper and deeper into that, she starts to become all those things that he would never have wanted her to be, and all the things about himself that he would just as soon deny. So, it gets real dicey and interesting there.
There's more at the link. [Collider]
Arrow
Celina Jade discusses her character Shado's relationships with fellow islanders Slade Wilson and Oliver Queen:
It's actually a really cool dynamic. I think Shado sees herself as an equal to Slade. There's a little bit of his alpha male status creating a competitiveness between them. In terms of Oliver, she is the first person to really say, "You're not a loser. You might have some funky hair, but I really believe you have a lot of potential and that you can become a fighter. You can find the strength within you to get through these times on the island so we can get out of here." She has a different methodology than Slade does, because Slade's way is more normal. "Toughen up. This is how you fight. You've got to be quick if you want to survive." But her methodology is that she's a mentor, but the way she teaches him martial arts and archery is more of a philosophy as opposed to just technical stuff. I like to think of her more like Mister Miyagi in "The Karate Kid."
Being Human (US)
Here are a couple excerpts from a recent conference call, in which star Meagan Rath discusses what to expect from the end of the season:
Well I mean I think it's pretty obvious to everybody that things are coming to a head right now, especially for Sally. She's made this decision that she's going to let herself die and decompose. And next week's episode — I don't know if you've seen it — but that does happen. And she's forced to go through Donna's door and face her. So there's a big showdown. And more people are involved than you think.

I want to know also like if we're going to get more human touches. Right now it's been lost of different aspects of like paranormal-ish scary side of things. Are we going to get some normalcy coming back?
Yes, as we're getting to the end of the season this show is a supernatural show. So it's - all our fixed plot points are coming to a head. But, you know, I'm just going to - I think we see this in the preview. But next week is Josh and Nora's wedding. So that's really for Josh the closest to normal it's going to get for him and that's the reason he wanted to marry Nora in the first place. So it's a really beautiful symbol that we do get into next week.
Teen Wolf
Dylan O'Brien — who plays Stiles, as though any of us didn't know that already — discusses what to expect from season three:
I could tell you that it's bigger in terms of cast, obviously, there's a lot more characters introduced, a lot more wolves, new pack coming into town and you don't really know their motives, the history of it all. It all has to do with all the characters we've come to know in the first two seasons. And we kind of start finding out a little bit more about that background of the Deaton world and how they came to be involved, how the Argents and the wolves came to be in a battle, a war. They had some treaty in place. You start finding out the background of this whole world a little more this season which I don't think we've touched on much the first couple of seasons, so that's something that I've totally dug this year, just in reading the scripts, I'm like, oh, okay! That's why that guy does that.
He also reveals how Stiles deals with the difficulties he faced at the end of the second season:
We pick up four months from that point, but yeah, that was definitely a boiling point where he hit a couple of walls, one with his dad, it was the first time he'd really been physically harmed in one of these circumstances, essentially, where it's the kind of danger - it just becomes more real at that point, I think. He's obviously known that this whole thing is dangerous for him to be involved in but he gets used to it, in a sense, and then when he gets hurt, that's jarring. With Lydia, too, that just never seems to work out and that sucks! And then yeah, with his dad, he's struggled with that and it just keeps getting worse and worse as things just escalate for his dad, for him, for everything, and they're both always involved directly. And he can't tell him and he doesn't know if he tells him, would it put him in danger, would it make him more safe? It's just a struggle. So yeah, coming into season three, he kind of wants to take more ownership of himself in all of it and protect the ones he loves, and that includes Lydia, even though he's kind of putting that on hold 'cause it hasn't really worked out for him. He's more just focused on saving everybody, protecting everybody, being that detective, that guy - his dad, essentially, is what we're seeing him kind of become.
There's plenty more at the link. [Collider]
Additional reporting by Katharine Trendacosta and Charlie Jane Anders.