Here's the driver's dream: A vehicle that sends us where we want to go, plays the music we want to hear, and allows us to communicate (within reason) with the outside world, all with minimal distraction. It's the vision of the connected car, and it's a promise many automakers hope to deliver for 2015.
But how close are we to this future? Last week, I combed the floor of the Los Angeles Auto Show with Ron Montoya, Consumer Advice Editor at Edmunds.com, sliding in and out of dozens of vehicles, smearing touchscreens with our fingerprints, and, in some cases, syncing our own phones to the next generation of connected vehicles to decide which of these systems we'd recommend to our readers.
The connected cars of tomorrow
For a certain breed of car customers, these tech-drives will become as important as test-drives. "You certainly want to get a feel for the car itself, but it's just as important to test the technology," says Montoya.
For 2015 autos, this technology will either be a customized "infotainment" system or basically a killer app: syncing the car with a drivers' in-phone system, a la the recently announced Android Auto or Apple CarPlay. Some smart cars will eventually offer both options.
Another big development for next year is that a hands-free, voice-control option will come standard in connected vehicles. So all the 2015 cars we saw had one of these guys:
G/O Media may get a commission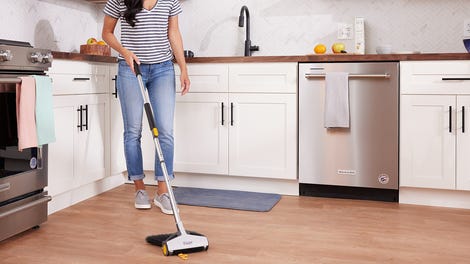 BOGO 50% Off
Flippr - BOGO 50% Off
The goal here of course is for cars to do everything you want without having to ever press a single button. But until we all have cars that understand us as well as K.I.T.T., we'll also need touchscreens, which is where the designs almost always let us down, as you'll see.
Automakers can't seem to agree where the touchscreen should be, and—bizarrely—if they should be touched at all. That's because screens are also notoriously difficult to use while driving. Case in point: After Ford announced a sweeping all-touchscreen/voice control system, they went back and added volume knobs in 2013.
But here's the biggest problem with all these systems: "There's a lot of ego with car companies," says Montoya. Every company wants its own proprietary system, with its own design, which means that almost every auto manufacturer is reinventing the wheel—so to speak. Each car's software system has its own ridiculous learning curve.
Plus, why would we want to learn how to interact with a completely new interface, touchscreen, and voice control system when our phones are already so comfortable to us? Notably, GM is delaying its connected car program, probably just to see how the whole Android Auto/Apple CarPlay scenario will play out.
Here are seven brand-new connected car systems, plus two aftermarket solutions, with our recommendations.
---
Android Auto | Hyundai
One of the most highly anticipated demos at the show was Android Auto. Google released the API last week and is encouraging app makers to get to work creating relevant content for the system, so you'll soon see additional music, news, and messaging apps, in addition to the ones we saw for Spotify and Google Play.
A long list of automakers has pledged to support Android Auto but we demoed it installed in a late 2015 Hyundai Sonata where a fairly large touchscreen in the center dash allows you to poke at the screen (you can't pinch or zoom) or control it by voice "Ok, Google..."
Here's where the phone/car convergence becomes so poetically sweet. Using Google Now, it knows all your destinations, schedule, contacts, etc. So say you get in the car and have an dinner reservation or a flight to catch. The navigation will cue up directions and tell you when it's time to go and when to get going.
Yes, the absolute best part of Android Auto is, unsurprisingly, the maps. Gorgeous maps, incredible navigation, better than any other car's proprietary system. And it's an interface you're totally familiar with so that should (should!) keep you safer behind the wheel, right? Your phone must have Lollipop, and if it does, it automatically pairs when you get in.
---
Apple CarPlay | Hyundai
A few feet away, the same late 2015 Hyundai Sonata was running Apple CarPlay, which requires iOS 7.1 or better and a lightning cable to connect. You've likely seen the demos online for this as well, but this was the first time I got to play with CarPlay in person.
I have to say it felt much more true to the Apple experience than the Android one did, more like my iPhone or iPad was right there with me in the car. I'm an iPhone user so I immediately felt comfortable being to interact with it hands-free, thanks to Siri's intelligence, for better or for worse. We sent texts, got directions, found music, no problem.
Although the experience feels much more integrated than Google's, CarPlay didn't seem as snappy as Android Auto. The maps are not nearly as good for driving. And since Apple hasn't released its API publicly yet (they're only working with a handful of private developers so far) there won't be as many app options when this car hits the market.
But that's not really a reason to switch operating systems just for your car—whichever you're comfortable with will be better for you. Hyundai is working to accommodate both systems and its simple touchscreen makes it quite easy and lovely to interact with them. If you're totally itching to get into a car with CarPlay, you'll have to wait for this car, or one of the compatible Volvos or Mercedes models to hit the market.
---
Virtual Cockpit | Audi
One of the most futuristic takes on the display was Audi's Virtual Cockpit, which moves all of the action right to a huge full-color screen right behind the steering wheel. You can switch from a regular-looking dashboard, to a music-focused screen, to a glorious full-color navigation system, with the click of a button on the steering wheel or a tap on the clickwheel on the center console (more on that in a second).
While I worried that this was extremely distracting, I realized quickly that not having to glance over to the right at some other screen all the time was actually quite nice, and really, having the map right there was a huge improvement over most cars.
After two screen-only demos, it was funny how much we really appreciated the clickwheel. As Montoya noted, it's very hard to judge your actions when you're tapping away at a screen. Yes, you can use your voice, and almost all of these can be controlled by buttons on the steering wheel, but sometimes you really just need tactile feedback.
Another quirk of the Audi system was that all the radio/media remains behind the steering wheel always—there are no extra screens for your passengers to see, which doesn't make it easy for your them to control your music (but maybe that's a good thing in your car). The Virtual Cockpit will be available on all Audi's TT models for 2015.
---
Remote Touchpad | Lexus
Lexus made some supposedly impressive upgrades to its connected car system, but I couldn't deal with any of it because the interface was so poorly designed. The icons displayed on my thermostat screen at home are more legible and the little mousepad on the center console felt like it was from the 1990s. Even worse, it wasn't at all responsive; I felt like I was trying to play Ouija with some unseen force in the car. Pass.
---
XC90 Tablet Infotainment Screen | Volvo
One of the best designed in-car experiences was found at Volvo, where a new "infotainment" screen is embedded in the center console. Like the Audi Virtual Cockpit, some of your navigation is moved to behind the steering wheel, where you'll get decent directions alongside the rest of your digital dashboard information.
But unlike the Virtual Cockpit, in addition to all of that you still get this beautiful full-size screen in center of the dashboard, which is one of the biggest and prettiest I've ever seen in a car (it's very similar to what Teslas have, although theirs are bigger). We happily tapped away at the touchscreen, dreaming about what it will be like to get CarPlay on this big, pretty screen, which will happen for 2015 (for a preview, here's CarPlay on a Volvo Concept Estate). They'll also support Android Auto.
---
Control Knob With Touchpad | Mercedes
Mercedes' new connected car system will be available on both its new C and S Class cars for 2015, and you can already also see how the same system will support Apple CarPlay. A screen that sticks up, way up, above the dashboard almost looks like some kind of add-on, but it's designed that way to make it more visible. Okay, go safety! The navigation was actually very nice and although the voice control was a bit wavery, it got the job done. We found our way to a local gas station without too much weirdness.
The dirty, fingerprint-smeared secret about that alluring screen? YOU CAN'T TOUCH IT. Which means: two knobs in the center console. While we didn't hate this one, we found it overly clunky. You can either navigate through the screen using the clickwheel seen on the bottom, like Audi, or a kind of Magic Mouse-esque device that sits above it. This was just silly. Again, the tactile feedback of the wheel is is nice, but why can't we just touch the screen, Mercedes?
---
IntelliLink/MyLink | GMC/Chevrolet
Known by a two different names depending on which kind of car you're in, Chevy's MyLink/GMC's IntelliLink has a bunch of sweet features that boosts it above many of the other, fancier systems. First of all GMC can turn your car into a wifi hot spot, meaning passengers can get online (you gotta buy a data plan, of course).
But it also means that your car can download software updates for itself. I'm guessing updating some of the other cars might require a trip to the dealer. The other great thing GMC is doing is installing vehicle-to-vehicle communication in every car—an important first step towards autonomy.
Beyond that, I was able to easily pair my iPhone with the car (no downloading of apps required, just Bluetooth) and practice sending and receiving text messages. One funny quirk is that you have to use their predetermined responses, because, you know, you wouldn't want to be too distracted. The design here wasn't overly sophisticated but this system is standard on all 2015 models, which shows how committed GMC/Chevy is to the technology.
---
The Others
There were two new systems announced this week which we did not get to test. First was the JustDrive app by Jaguar Land Rover which will allow drivers to usee voice control within their cars' InControl systems to access their own apps hands-free. And second was HondaLink, which turns your phone into a "digital hub" for your car. I later found out it required four apps (one of which was $60) and a special HDMI to lightning cable that costs $100.
---
Aftermarket Options
I said at the beginning of the article that there's no way to get CarPlay in a brand-new car today. Well, that's not exactly true. There are two aftermarket car stereo options you can install that play nice with CarPlay: Alpine's iLX-007 and Pioneer's AVIC-X8000NEX.
Both of these can run CarPlay in much the same way we saw it integrated into the Hyundai. They'll cost you ($800 to $1400, plus installation) and as Montoya pointed out to me you have to worry about these units getting stolen, just like you would any high-end stereo system. If that's worth the risk to you, and you've just gotta have a connected car now, investing in one of these systems for your current clunker might be the way to go.
Which brings up another interesting point that Montoya and I chatted about as we left the floor: Will we someday choose our cars based on how well they integrate with our preferred operating system, which are quickly becoming like "lifestyle dashboards" across all our technology?
Maybe. But the bigger issue looming is that these companies are trying to add too many features to the driving experience. The answer is really to start removing what we can do behind the wheel. "There is such a thing as cognitive overload, and we're already maxing out the amount of things we can process," says Montoya. "A lot of us are crappy drivers as is."